The first time I offered virtual assistance services, I was using a 5-year old Samsung laptop that my parents bought when I graduated from college. I liked using it for the first few years since it was fast and the screen was big.
As time passed by, it was clear that I needed a new laptop, one that's fast and sufficient for my needs. I wanted a unit I consider "future-proof" that should last at least 5 years before I needed to buy another one again.
As a virtual assistant, your main weapon will be your laptop (or desktop computer, if you're more into that). There are hundreds of them on the market, so choosing one that best suits your needs is a work of its own.
That's why I wanted to write this article — to show budding virtual assistants (and those who would like to upgrade) what laptops to buy. But first, let's discuss what particular specs you would need for what work.
So let's start with that!
What will you need in a laptop?
The specifications you need in a laptop depends on your work as a virtual assistant. Of course, you can buy a laptop that's more than enough for your needs. But you shouldn't choose one that can't handle the tasks you're doing.
A virtual assistant could be anything — from someone who manages the calendar of a busy entrepreneur to someone who edits the video clips of a local influencer.
The laptop you need will vary and will depend on your services as a virtual assistant.
Further reading: If you're planning on offering virtual assistance services, I wrote a guide on how to become a virtual assistant. Don't hesitate to check it out!
Let me explain the basic components you need to consider:
RAM (Random Access Memory)
CPU (Central Processing Unit)
Hard drive
Of course, there are a lot more components than the three I mentioned above like battery life, screen resolution, and size. However, I consider these three to be the most important especially if you would like to get your money's worth.
Don't Settle for Less Than 8 GB of Ram
RAM is the component that dictates how much work your laptop can do. It stores and maintains short-term memory for quicker access. The more memory you have, the more applications you can open at once.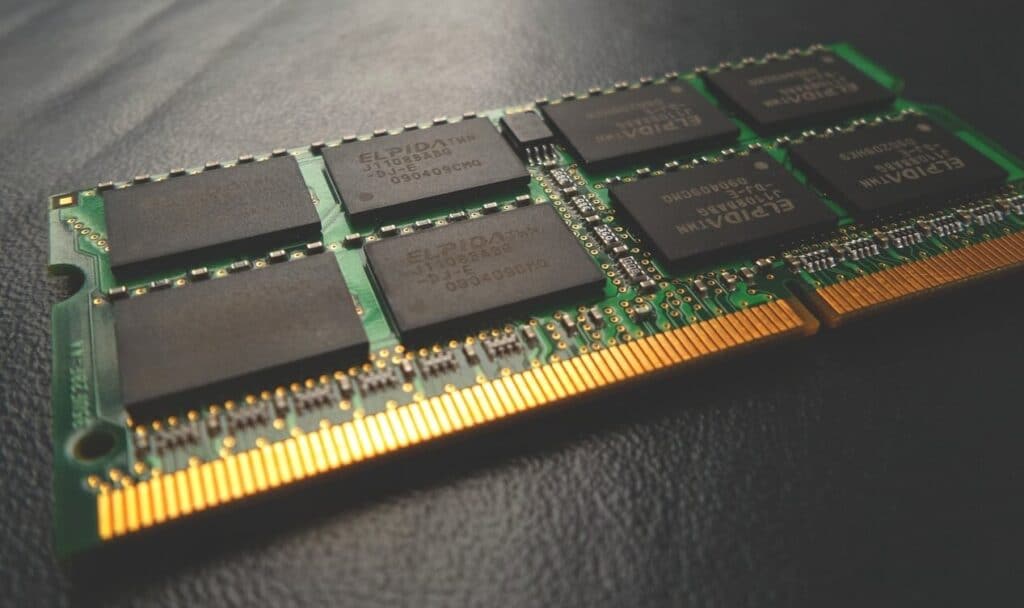 If this isn't the first article you have read about the subject matter, then I'm sure a few of them mentioned how you can get by with just "4 GB of RAM". It's "cheaper" and you "won't be needing more than that".
Wrong!
Here's why:
First, the price isn't really that big of a difference. The cost of an 8 GB RAM memory module is only 1.5x that of a 4 GB RAM memory module.
Second, it's not unusual for a virtual assistant to have more than 10 tabs opened on the browser. If you would like to work in peace without feeling like smashing your laptop, then you shouldn't settle for one that has less than 8 GB of RAM.
To give you an illustration, while writing this, I'm using the Microsoft Edge browser with 9 tabs opened with 6 active extensions. That already consumes a little more than 1 GB of memory (not including other apps that are opened).
That's why you will need at least 8 GB of RAM. Better be on the safe side of things than suffer later because your "browser keeps on crashing" and you can't open Photoshop while browsing Facebook.
Use a Minimum of 8th Generation i3 Processor (or Equivalent)
The central processing unit (CPU) is the brain of your laptop. This component determines how fast your laptop is when doing tasks. Don't take the CPU for granted, especially if you want to get things done right away.
What's difficult about CPU is that there are so many variations out there. Different brands, base models, and even extra features. That's why those who don't know computer-speak have a hard time choosing the right CPU.
At the very least, you should get a laptop with an 8th generation i3 processor (or an AMD equivalent). If you would like a future-proof processor, choose a newer model, and avoid Celeron and Atom processors.
Always Choose SSD Over HDD
The previous components may not be familiar to some, but everyone knows what a storage drive is. Aside from its obvious usage of storing files, choosing the right type of storage drive has a great influence on the speed of your laptop.
With most Windows machines running the Windows 10 operating system, it's important that you choose a laptop that uses a solid-state drive (SSD) rather than the old hard disk drive (HDD). At the very least, choose one that's at least 128 GB.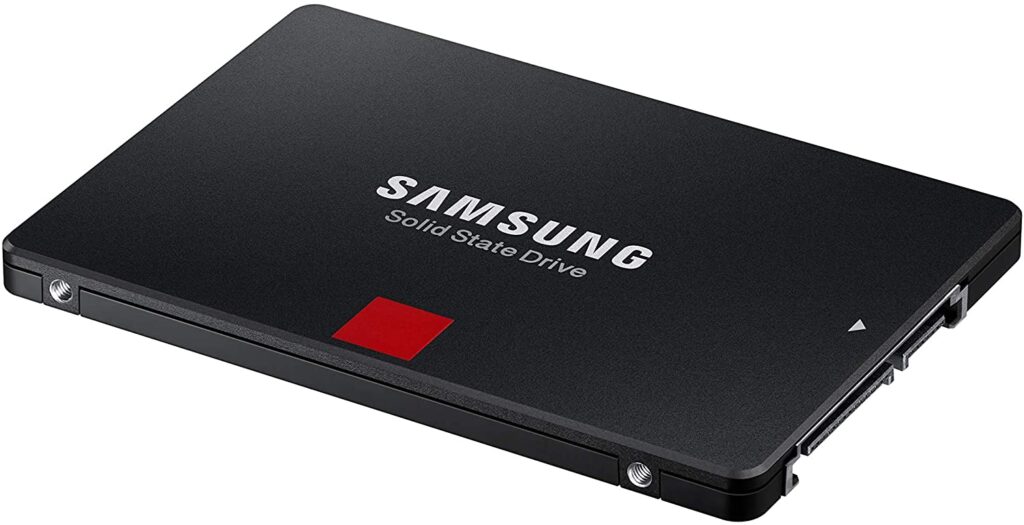 The majority of the laptops sold only have one storage drive. But there are also some that have both an SSD component and an HDD. Whether you select a laptop with only one drive or two, always go with the one with an SSD in it.
(SSD components are more expensive than HDD. But they're worth it! From experience, I realized that no matter how much RAM you have and what CPU your laptop is using, you will still have a slow experience if the operating system is installed on an HDD.)
Sign up for exclusive updates, tips, and strategies
What is the best laptop for virtual assistants?
Now that we have discussed the three main components that you have to look out for, let's go through the different laptops I recommend starting with one that's perfect for general uses and productivity tasks.
Again, the laptop you should use must be able to support your tasks and services (and if possible, your hobbies).
Currently, here are the best laptops for virtual assistants:
Let's start!
1. ASUS VivoBook 15 Thin And Light Laptop
I wish I knew about this laptop during my early days. It's an awesome laptop that passes everything you read earlier. The reason why it's ideal for those starting up? It doesn't cost more than $450-ish!
This ASUS VivoBook 15 laptop is perfect for virtual assistants who are doing tasks like social media management, writing (and editing), admin work, ecommerce, and even minor graphic and video editing.
This laptop fits the bill for any work that's done in a browser or any light applications.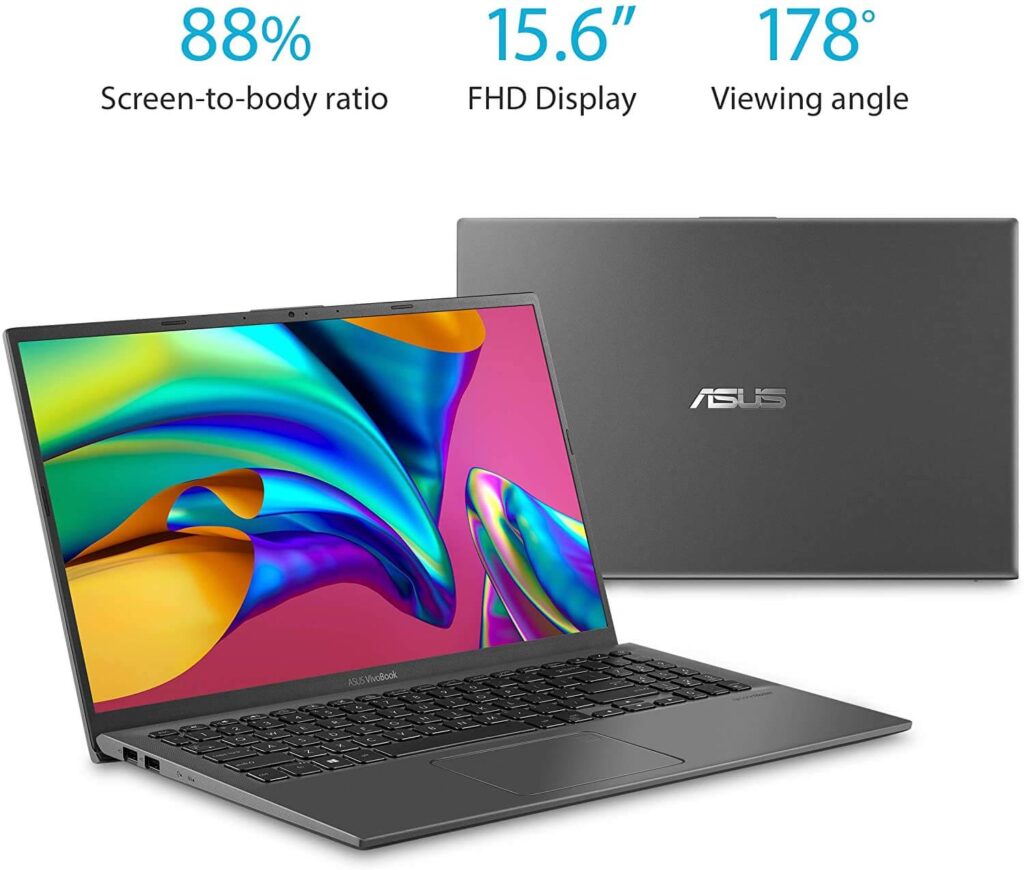 Here are the technical specifications of this unit:
8GB DDR4 RAM
Latest 10th Gen Intel Core i3-1005G1 CPU
128GB PCIe NVMe M.2 SSD
15.6 inch Full HD (1920×1080) 4-way NanoEdge bezel display
Fingerprint Sensor
I consider the big screen of this unit a big bonus! Obviously, the bigger the screen, the more things you see. That's especially helpful when you're working with documents and spreadsheets or doing graphic design.
(For my local folks who are interested in buying this unit, you could check it out here.)
2. Acer Aspire 5 Slim Laptop
Some people associate "cheap" with "compromised quality". There's no need to be suspicious of the laptop earlier especially when it's made by a popular brand such as ASUS.
But if you insist, then you should check out this Acer Aspire 5 Slim laptop.
This laptop is below the $650-price range but packs a serious punch. It's a lot more expensive than the ASUS laptop earlier but with more or less similar features, though this Acer Aspire laptop is more powerful and faster.
Here are the technical specifications of this unit:
8GB DDR4 Memory
10th Generation Intel Core i5-1035G1 Processor
512GB NVMe SSD
15.6″ Full HD (1920 x 1080) Widescreen
NVIDIA GeForce MX350
Since it's running with an i5 processor, it's definitely a lot faster than the ASUS laptop. Also, the 512 GB SSD makes this laptop more suitable if you store a lot of files and install a lot of applications.
(For my local folks who are interested in buying this unit, you could check it out here.)
3. HP Pavilion x360 Convertible Laptop
While shopping for a new laptop, I fell in love with this at first sight! It's what I'm currently using to write the draft of this article and I like it! The reason why I chose this laptop is another story to tell, but suffice to say that I like it for a lot of reasons.
The screen of this HP Pavilion x360 Convertible laptop can be rotated 360 degrees. You can essentially turn it into a fully-functional Windows tablet (though it's a bit heavy compared to traditional tablets).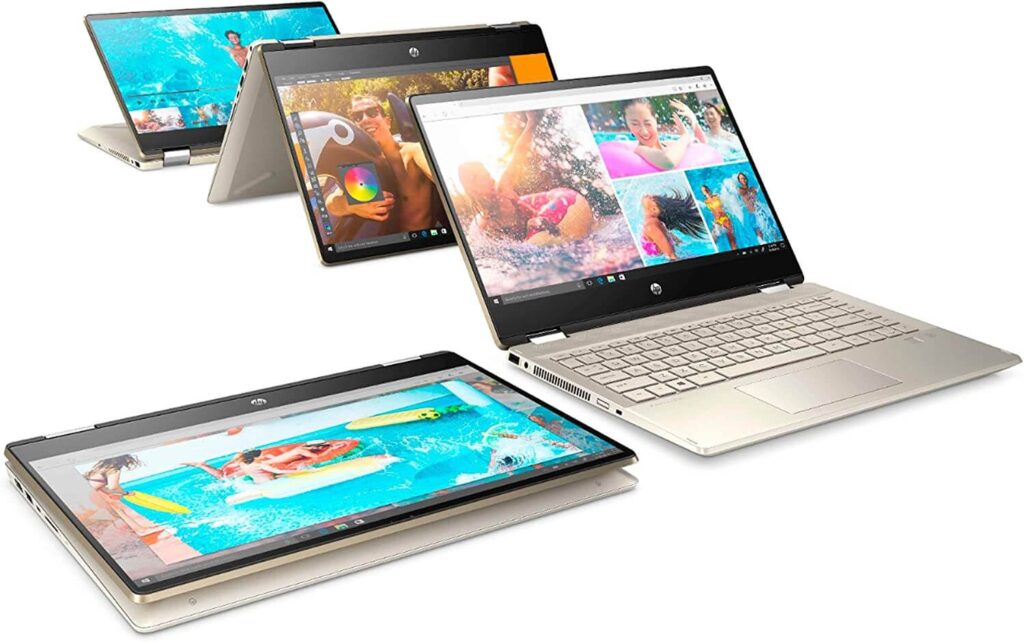 Here are the technical specifications of this unit:
8 GB DDR4-2400 SDRAM
Intel Quad-Core i5-8250U
256GB SSD
x360 14″ diagonal FHD Glass Monitor (1920 x 1080)
Multitouch-enabled Screen
If I'm not using this for work, I'm using this laptop to watch Netflix and YouTube. It also comes with a pen of its own so my wife can use it when she wants to doodle.
By the way, this laptop has a touchscreen display and it's awesome!
(For my local folks who are interested in buying this unit, you could check it out here.)
4. Acer Spin 3 Convertible Laptop
This is a pricier alternative to HP Pavilion. I'm specifically including alternatives so you would have more than one option on a category. In terms of core specifications, it doesn't differ that much with the HP laptop earlier.
The one difference that Acer Spin 3 Convertible laptop has is its rechargeable active stylus. There's a stylus dock on the laptop that would charge the pen. And for what it's worth, this stylus is certified by Microsoft and integrates Microsoft Pen Protocol (MPP).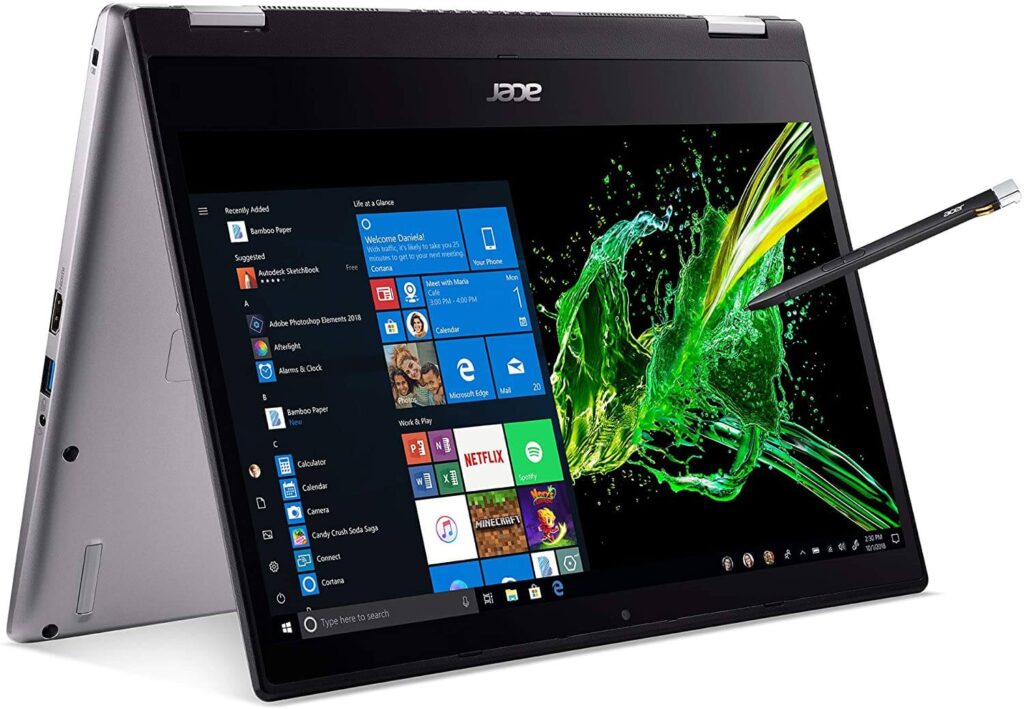 Here are the technical specifications of this unit:
8 GB DDR4 RAM
8th Generation Intel Core i5-8265u Processor
256 GB PCIe NVMe SSD
Rechargeable Active Stylus
x360 14″ Full HD (1920 x 1080) Multi-touch Display
In terms of power, it has more or less the same capability as with the first two laptops mentioned in this article. However, since you can rotate the screen of this laptop, this makes it ideal for virtual assistants who are doing work related to art (with the use of a stylus).
(For my local folks who are interested in buying this unit, you could check it out here.)
5. Acer Nitro 5 Gaming Laptop
If your virtual assistance services mainly revolve around videos (editing, animation, and special effects), then the laptops earlier will only slow you down.
You need a more dedicated system with specs that would allow you to work faster.
This Acer Nitro 5 Gaming laptop is an example of such a system. Gaming laptops like this one have a dedicated graphics processing unit (GPU) that will allow you to render videos faster. In addition, most of them have higher than normal specifications.
Here are the technical specifications of this unit:
16 GB DDR4 RAM
9th Generation Intel Core i7-9750H
256GB PCIe NVMe SSD
NVIDIA GeForce RTX 2060 Graphics with 6 GB of dedicated GDDR6 VRAM
15.6″ Full HD Widescreen IPS LED-backlit Display
One of the perks of having a gaming laptop is that you would be able to play most games in higher definition. Aside from that, you also have a better unit in general.
Make sure to check on the temperature every time you use it for video-related tasks.
(For my local folks who are interested in buying this unit, you could check it out here.)
6. MSI GL65 Leopard 10SFK-062 Gaming Laptop
Like CPUs, there are also different types of GPUs. The GPU of the Acer Gaming laptop earlier is already pretty solid. But this MSI Leopard Gaming laptop takes it a notch higher with its newer, more improved video card.
Unfortunately, the CPU on this one is lower than the Acer Gaming laptop. However, you might barely feel the difference unless you're actually measuring the performance on purpose.
Here are the technical specifications of this unit:
16 GB DDR4 RAM
10th Generation Intel Core i7-10750H
512 GB NVMe SSD
NVIDIA GeForce RTX 2070 8G GDDR6
15.6″ FHD IPS-Level 144Hz 72%NTSC Thin Bezel Display
Because of the better GPU and 10th generation CPU, the price is significantly higher than the other gaming laptop. But rest assured that with the specifications this laptop comes with, it will blow your mind (and your business).
(For my local folks who are interested in buying this unit, you could check it out here.)
7. Apple MacBook Pro
Every laptop on this list is powered by Windows except for this one. If your entire ecosystem runs on Apple, then it makes sense to use a MacBook for your work. Plus, I've seen a lot of clients who are specifically asking for virtual assistants that use a MacBook.
(Also, Apple fans might kill me if I don't include a single MacBook in this list.)
With that said, MacBook is a great tool to use. I don't use one since I don't use Apple products and I see them a bit more expensive than their value. But nevertheless, this Apple MacBook Pro is more than enough for your needs as a virtual assistant.
Here are the technical specifications of this unit:
8 GB RAM
8th Generation Quad-core Intel Core i5 Processor
256 GB SSD Storage
Intel Iris Plus Graphics 645
Brilliant Retina display with True Tone technology
One thing you should understand about MacBook is that prices could go sky high real quick. For example, the unit I referred to here uses lower specifications. But if you choose one with more SSD storage and a newer operating system, the price will double easily.
(For my local folks who are interested in buying this unit, you could check it out here.)
Start your VA career with the right equipment
It's not necessary that you use a laptop instead of a desktop computer for VA tasks. However, doing so will give you flexibility and freedom that a desktop computer will not be able to give you.
Aside from the laptops I mentioned here, there are still hundreds of them on the market with different specifications. However, to save you the trouble, you can start with the laptops on this list and move to different brands that offer the same products.
As you have read earlier, if I knew about these laptops earlier, I would've bought the ASUS laptop, then the HP Pavilion. If I would ever need a laptop for video works, I will probably buy any of the two listed here, depending on my budget.
On the other hand, if you're really low on budget and you need a laptop to jumpstart your virtual assistance business, you could also look for refurbished laptops. There are a lot of them on Amazon and on some of your local tech stores.
But if you do, make sure to buy one with the right specifications. At the very least, choose one that has 8 GB of RAM, an 8th generation i3 processor, and 128 GB SSD. These specifications will at least make your laptop future-proof for 5 years.
Now it's your turn. Here's what to do now:
If you are in need of a new laptop, make sure to scan each one listed here.
Then, come back here if you have decided to buy and let us know how you feel about the unit.
Share your thoughts in the comment section below.
Sign up for exclusive updates, tips, and strategies
Related Posts: