One of the best investments you could ever make as a virtual assistant (or as an aspiring one) is to learn new skills. One way to do that is by taking up online training courses made by experts.
If you're one of those people who dislike online courses or learning stuff from videos, you're not alone.
In fact, I used to be one (since I prefer reading books ). However, I realized that there are things you could learn more effectively from videos and online courses.
In addition, these resources are made by experts who have lots of experience behind their backs. Sure, you could still learn these things for free. But you got to find every nugget out there and piece them all together.
That's why if you want to improve your virtual assistant career, you should take on courses.
Fortunately, there's no need to do the research yourself. I've already compiled the best virtual assistant training courses you could take this year.
Let's start with the first one.
1. Work From Home as a Virtual Assistant
Before checking this course out, read my article first about how to become a virtual assistant even without experience. If you still want more, this "Work From Home as a Virtual Assistant" course is perfect for you.
There are many "beginner courses" in becoming a virtual assistant out there, but this one is the best that I could find.
The reason? Much like my article, Tina, the instructor, covered everything you need to know about how to literally start your business right away.
This course is not a simple overview of what you need as a virtual assistant. It will actually teach you how to build a VA business and even how to register your business legally. You would also learn what to do to get clients and how to do the consultation part.
For almost five hours' worth of content, you would surely get everything you need to work from home as a virtual assistant.
One of the sections I like most about this course is how Tina will teach you the processes of running your VA business. As a former virtual assistant, I know for a fact how hectic your schedule will be especially when you work for a lot of clients.
Sign up for exclusive updates, tips, and strategies
2. Powerful Social Media Marketing For Beginners (2020)
Surely, you know how to post a status on Facebook or how to change your Twitter profile picture. But do you know how to create a viral post on Facebook? Or design a post that will generate leads for customers?
If not, then this "Powerful Social Media Marketing For Beginners (2020)" is for you!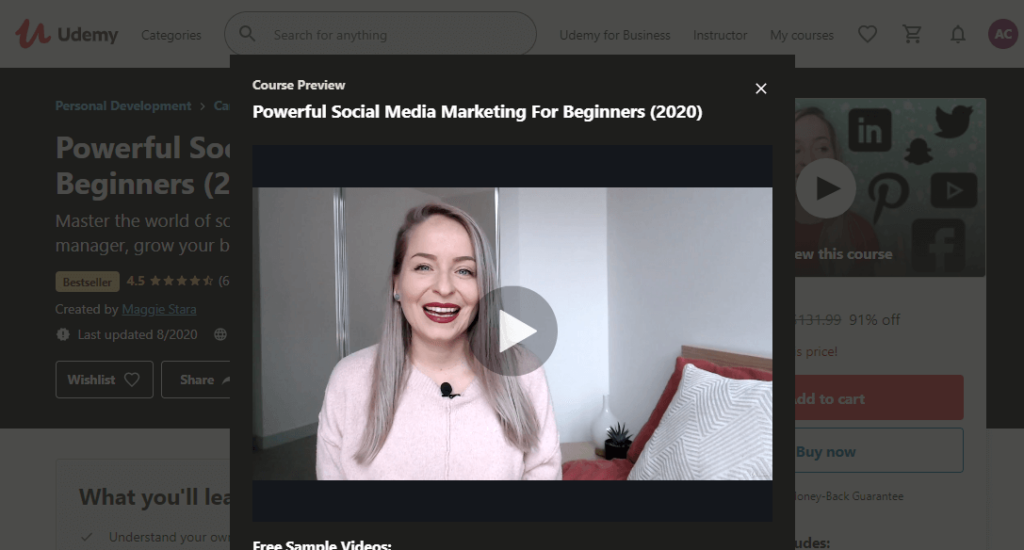 One of the most in-demand services from virtual assistants is social media marketing and management. Social media is fun when you're using it for personal reasons. But for business? It could become cumbersome really quickly!
That's why you'll see numerous job posts looking for virtual assistants with social media skills like this:
Although a good hour and a half of this course are designed to give you the basics of different social media platforms, including TikTok and Snapchat, the rest of the sections are focused on branding and other core tasks.
As a bonus, this course also teaches Facebook Ads. Believe it or not, this is gold! Lots of entrepreneurs are looking for people to manage and create their FB ads.
There are focused courses about it, but this course has a dedicated section just for it.
3. Canva 2019 Master Course | Use Canva to Grow your Business
Have you seen all the cool images on this blog? It wasn't Photoshop or GIMP. I didn't even hire a graphics designer for them. I used Canva, a free online graphic design platform!
But just because Canva has a free plan and it's not as complicated as Photoshop, it doesn't mean you can design something that easy. You have to understand how the platform works and what buttons to press.
That's where this "Canva 2019 Master Course" comes in.
Yes, this course was created in 2019 and the instructor hasn't released a 2020 version. But there's no need to worry since Canva hasn't been majorly updated since then. Plus, the course content was updated in September 2020. (If there's a new course for this, I'll update this entry too.)
As a virtual assistant, you'll love this course since not only will it walk you through the basics of Canva, it will teach you how to do specific tasks within the platform like designing social media visuals and blog graphics.
Cool fact: Since the instructor specializes in personal branding and social media marketing, the lessons are applicable, he included lessons about how to create a landing page and a mini website to promote an event.
4. Canva Next Level: Become a Canva Expert
"Another Canva course? This must be a mistake…"
No, I didn't list another Canva course by mistake. This "Canva Next Level" course is something you would really want to take on if you plan on focusing your services on graphics and multimedia.
Many clients are confused. They're not sure whether to find a graphic designer or a virtual assistant with graphic skills.
Here's an example…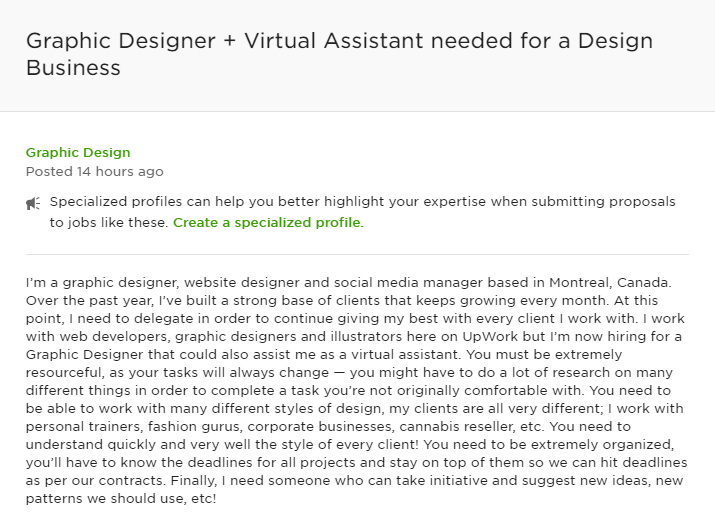 Why not both? Why not become an expert in creating thumbnails, graphic designs, and even beautiful mockups?
Yes, this course offers them all including some advanced lessons like creating a bitmoji and creating animated Zoom backgrounds.
This course is created by the same instructor as the previous course on this list. He included lessons about how to shoot professional photos without a studio as well as how to create convincing business proposals.
Those are awesome photography and business lessons! I'm not sure why he thought of including those lessons, but thank goodness he did!
5. The Complete Beginners SEO Course – Learn SEO Fundamentals!
SEO agencies and experts are expensive. But those who can afford will definitely get one because of the high returns!
After all, if you're the business owner, why would you hesitate to get SEO help if you know doing so could triple your website traffic and revenue in 6 months?
Unfortunately, not everyone has an insane budget for it. That's why some people opt to find virtual assistants with SEO know-how to help them. This is why this "Complete Beginners SEO Course" is valuable.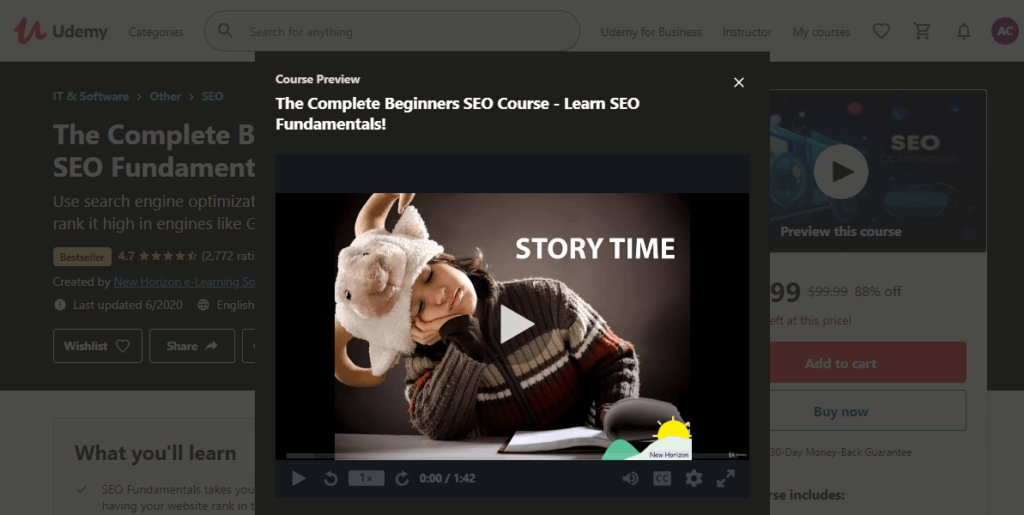 If you know SEO and you're good at it, you could even raise your rates (some even match their rates to that of experts).
If you're planning to do so, my advice to you is to create a case study about how you were able to help someone 2x, 3x, or 4x their traffic with SEO.
Show that to your clients and I could assure you, you'll get paid handsomely for it!
As someone who has a fair amount of SEO knowledge, I can say that this course is definitely worth it. Not only does this course include lessons about keyword research and on-page optimization, but you also get to learn how to build trusted links.
6. WordPress for Beginners
As someone who has websites myself, I know for a fact how hard it is to create and manage websites. WordPress makes it possible for those without technical prowess and coding knowledge to make beautiful websites.
But it's far from easy and simple. You need hours and hours of testing and changing things to achieve the desired design. Heck, for this website alone, I spent about five hours trying to tweak the email opt-in boxes.
That's why you will find this "WordPress for Beginners" course valuable. As more people want to use WordPress for their websites, you will see a lot of demand for WordPress website creators and designers.
What I like most about this course is that not only will you get to learn the basics of WordPress, but you would also learn how to build a business website yourself. Everything you need to know, like what specific pages to add or how to set up the footer, is in the course.
Bonus points to the course creator for adding a section about SEO and security. You don't want to learn these things by accident.
7. The Complete Shopify Aliexpress Dropship Course
If running a website is hard, then running an online store is at 2x harder. Before, store owners outsource tasks related to maintaining their online stores and websites.
Now, they outsource everything from building the store, what products to add, to branding and marketing! They are becoming more like financers and investors since it's the virtual assistant who's running everything.
The why taking on this "Complete Shopify Aliexpress Dropship" course is worth it. It will teach you everything you need to know about dropshipping and running an ecommerce store.
It's important for this course to learn from an established instructor since one mistake would cost your client his business (and therefore, your business).
Fortunately, the instructor is a successful online entrepreneur since 2005 and one of the Internet's best-selling "make money online" instructors.
The only limitation I can find from this course is that it only revolves around the Shopify platform. If you would like to learn how to create an online shop with WordPress (and Aliexpress Dropship), check out this "WordPress Aliexpress Dropship" course made by the same instructor.
Continue Upgrading Your Skills and Services
I have only mentioned the seven best virtual assistant courses I could find. But I'm pretty sure there are more of them that could prove valuable to your career (like video editing, creating presentations, or even building new applications).
If there's one thing I learned from my virtual assistant experience, it's that you shouldn't stop learning a skill, ever. You never know who would need such a service in the future. Or, like me, you could end up using your skills for your own business.
Now it's your turn…
Do you have another training course for virtual assistants to add?
What online course helped you the most in your career?
Don't hold back! Share your thoughts below.