Crafting an Upwork cover letter that wins you the job is one of the two things that drive new Upworkers crazy (the other being how to get approved on Upwork).
This drove me crazy too when I started out. In fact, I must have spent countless hours and sent so many proposals before I started getting replies.
I almost purchased a $300 course just to get access to their community's Upwork proposal vault.
If you're in a similar position, you have come to the right place.
In this article, let's discuss how to write an effective Upwork proposal cover letter that will win you the job.
Let's get this started!
From Zero to Hero
When I started using Upwork, it was a while until I was able to land a contract.
When I did manage to land my first contract, I thought I had cracked the code and all I had to do was submit the same cover letter again and again.
Here's what that (cringy and embarrassing) cover letter looks like:
(Good thing it happened before Upwork started banning accounts who submit way too many proposals without getting an offer.)
Using that stinky cover letter above, I still receive a few replies. But that's it — no new offers or whatsoever.
Two realizations hit me:
I knew then that I didn't crack the code.
Canned, word for word cover letters don't work.
After three years, here's my marketing effectiveness:
Stick until the end and I will show you an example of an Upwork cover letter I used to land a premium deal with a client.
Now, here's how to make your cover letters better:
Sign up for exclusive updates, tips, and strategies
Answer the Additional Questions First
Many job postings will require you to answer additional questions besides submitting a cover letter.
Here's a good example:
As you can see, the cover letter comes first followed by the additional questions you have to answer.
Naturally, you may spend most of your energy trying to make that cover letter flawless and then, answer the additional questions with a one-line sentence only, like an afterthought.
What you may not know is that when the client reviews your proposal, he will see the additional questions first.
I discovered this when I posted a job on Upwork.
Here's one of the answers I got:
As you can see, clients will see the answers to the questions first. The cover letter will be the last element. That's why when you see questions in the job posts, focus your energy first on the questions.
In a way, additional questions are more important than the cover letter itself.
Address the Client by Name
Whether it's an Upwork cover letter, a cold email, or a private message on Facebook, addressing the client by name has a great impact.
After all, names are the sweetest and most important sound in any language according to Dale Carnegie's How to Win Friends and Influence People book.
But does it really increase the effectiveness of your Upwork proposal?
Well, calling the client by name is just the first part of making your cover letter more personal.
It shows that you have done your research and most likely, the content of your cover letter isn't canned.
As an example, let's say that you're the client and you need someone to write new articles on your website.
One of the proposals you received is this:
Would you hire him? Exactly!
The question is, where will you get the name of the client?
How to Find the Client's Name
It's easy enough when the job post has the client's name.
Like this: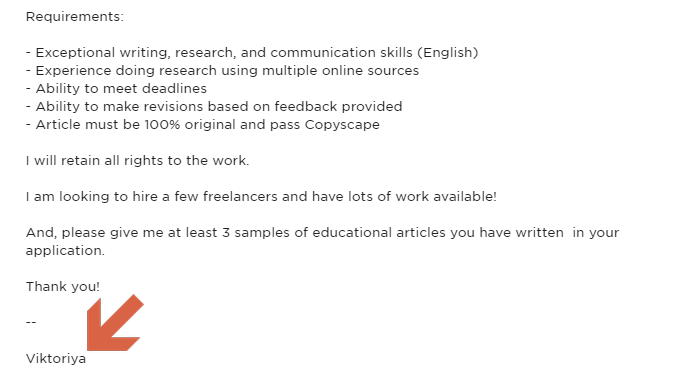 Unfortunately, only around 1 of 10 posts has the client's name.
If this is the case, scroll down to the client's recent history and find reviews from past contractors that mentioned the client's name.
For example, this job post doesn't contain any clue about who the client is.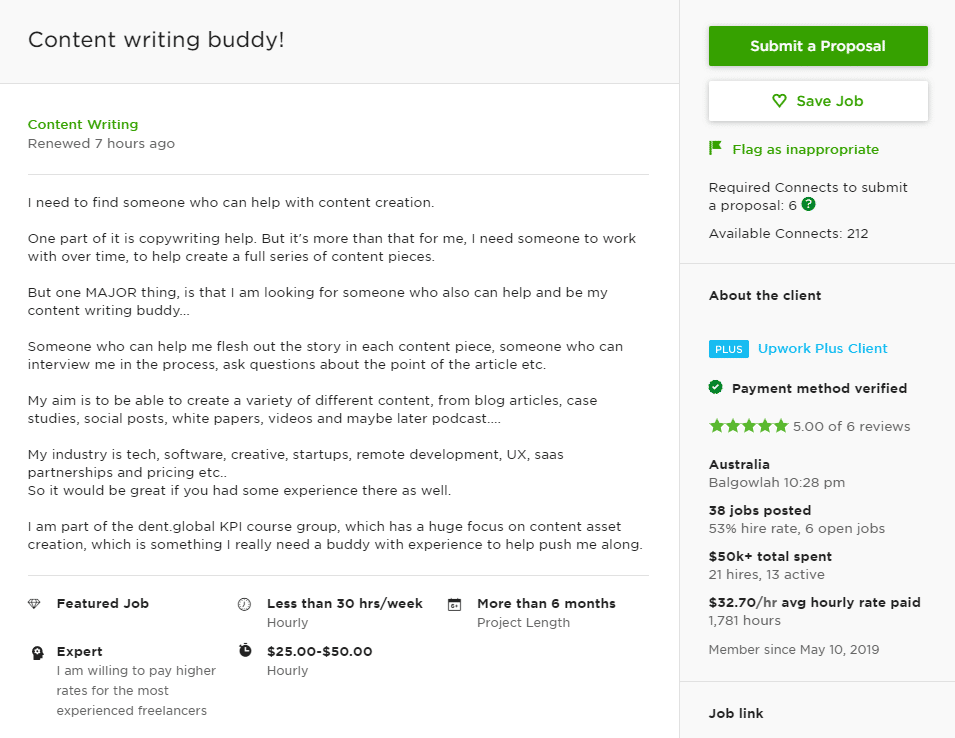 But on the client's recent history, you will find two mentions of his name there.
Sometimes, you may find different names on the client's history. Some may have addressed the client as Darren, Karen, or John.
To make matters easier, use the name mentioned in a review from a freelancer with similar services as you.
Let's say that you're a content writer. A past content writer left a review and addressed the client as John. In this case, use John in your cover letter.
There may also be instances when the client, together with his name, wrote the name of his company. There's a lot of gold in here simply because you can make even more research.
One of my clients, when he posted the job, only displayed the company name. There was no clue about the recent history of his name. But since the company name was there, I was able to dig deeper.
Here's a portion of the cover letter I sent that I'm quite sure caught his attention:
This has led to an active partnership. (I can also confirm that working with his particular client's team is fun and exciting!)
Show Interest
By that, I don't mean writing a line that says "I'm interested in your job post."
There are usually two ways to do this:
Make a suggestion
Or ask a question
Let's use this job post I found about a client looking for a content writer for his travel website:
Just because the job description was short, it doesn't mean you have to put in the same effort and make your cover letter short.
This is often a mistake I see new freelancers do.
But how will you add value to a post as short as this?
If I were to submit a cover letter to do this job post, here's what I would do:
Explain to the client what an awesome about us page is and what it contains. (If you're not aware, the about us page, in addition to telling your story, is an excellent waypoint to different pages or content on your website.)
Include links to show him what I mean.
Suggest how I can do the same.
Ask him for a link to his website.
You can also show interest by mentioning something that only someone who dug deeper will be able to know. An example of this is the cover letter I showed in the earlier section where I mentioned something about the client's team.
The Rate Matters
This part isn't much about the cover letter itself but on what job post you submit your cover letter.
One of the things I have learned over the years is that there could be a mismatch between your rate and how much your client can afford or is willing to spend.
For example, no matter how good your cover letter is, it's impossible for you to ask a high rate for this project.
How did I know this? Looking at the client's recent history, he paid someone a measly $25 for an educational blog.
From the client's recent history, you can be certain that he's only looking for freelancers with (super) low rates.
One more thing: Avoid low-ballers.
These clients will not pay you for what you're worth. You will only be wasting six connects which you could have used to submit a proposal to a premium project.
Further reading: There are a few job posts that have a high budget but will actually pay you peanuts — they lure freelancers by posting big budgets. This is one of the things I shared in my tips for Upworkers article. It's perfect for those who are still starting out in Upwork.
Mention Your Experience
I have read numerous posts from "freelance gurus" that you don't need experience to land premium contracts.
Although there's truth to it, it's not the whole truth.
As a client myself, I would like to make sure that the freelancer has the capability to do the tasks and that he's willing to learn if he doesn't have the skills yet.
However, freelancers who have previous similar experience and can prove it will most likely win the contract.
Why? Because it's more certain that they will be able to do the job better and faster, which is a win for clients who go into hourly contracts with freelancers.
In addition to experience, include samples of related work or outcomes that you know the client will love.
For example, after including relevant samples of my work, this client has responded well to my cover letter and we ended up working together.
If you don't have any relevant samples, just create one, and show it to the client.
Include a Call to Action
At the end of your cover letter, invite the client to do something. It's proven that they will likely do something if you tell them exactly what to do.
It's tempting to say "Hope to hear from you soon" or "Hoping for your kind consideration". But it doesn't really invite the client to do something.
Here are good examples of effective CTA (call to action):
Hit that reply button over there to continue our conversation. (Favorite)
How about we hop on a five-minute call to discuss your business needs?
If you want to collaborate, let's discuss it more over the chat.
I have been working with different combinations and so far, the first one has worked best for me. However, I don't think there's much difference as long as you keep your call to action, clear, specific, and easy to commit to.
Keep a Swipe File of Upwork Cover Letters
If you're not familiar with what a swipe file is, it's basically a folder where you keep all awesome ideas, copies, content, and ideas you have encountered.
In this case, keep a swipe file of Upwork cover letters that worked. Then, reverse engineer them and see why they work.
This is actually how I started improving my cover letter. I found and saved the winning cover letters I found online and try to understand why they worked.
I usually have three places where I store them:
OneNote (favorite)
Google drive
Local drive
A piece of advice: save your cover letters that worked.
Here's mine:
Since I have a record of what works and what doesn't, I regularly update and optimize my cover letter to reflect what I recently learned.
That's how I knew which call to action I thought worked best.
In addition, you may want to include links to your best work too. This makes it easier for you to swap out the samples you want to mention in the cover letter to make sure you only mention the most relevant work samples.
Example of a Winning Upwork Cover Letter
As promised, here is a cover letter I used to land a premium deal with a client.
Note that you can use the pattern I set but make sure you don't use exact words. This cover letter was designed solely for the certain job post to this cover letter was submitted to.
In a gist, here's how I did it:
Hey [name],

I'm sure you've got a lot of pitches to deal with so I'll keep this short.

I help [your target industry] [the outcome your client would like to get from your service].

In the past, I helped [a previous client you worked with] [the outcome you helped your previous client achieve – should be similar to the outcome the client would like to get].

Here are links to some of my work:
– [link 1]
– [link 2]
– [link 3]

[Ask a question or suggest something]

Simply hit that "Reply" button over there so we could continue our conversation.

Regards,
[Your name]
Feel free to use this template.
Win Premium Clients With a Personalized Cover Letter
Writing a winning cover letter is easier than you think. But it will need a lot of practice and trial and error to finally get it right.
As I said, it took me so much time and proposals before I got a reply. From there, I continued optimizing it and seeing what works for my target clients and industry.
I'm definitely positive that as you practice and write more proposal cover letters, you will get better and win jobs.
And if you get lost, try the template I provided above.
Now it's your turn. Here's what to do now:
Go back to Upwork and apply what you have learned from this article.
Use the template and check my sample for inspiration.
Get back here and let us know how it went.
And as always, let me know your thoughts by sharing your comment down below.