Upwork is a great platform for freelancers who need to earn money fast. I consider myself fortunate to be able to work with clients from Upwork without any problems. Unfortunately, not everyone could be on Upwork.
Around 2017, Upwork stopped being friendly to new freelancers.
In fact, one of the reasons some of you are here right now is because Upwork didn't approve your profile. I created a guide about getting your Upwork profile approved, but the last say is always from Upwork.
That's why I thought of compiling a list of freelance sites comparable to Upwork that would let anyone earn money fast.
Some may have a different business model than Upwork while some works exactly like it. The important thing is, each one will enable you to earn money.
Let's start with my second favorite freelance platform after Upwork.
1. Fiverr
Aside from Upwork, Fiverr is one of the freelance websites out there that rings a bell with many people.
I tried Fiverr myself once I knew about it and earned some money from it. But I didn't stay long since I found Upwork more profitable for my freelance business.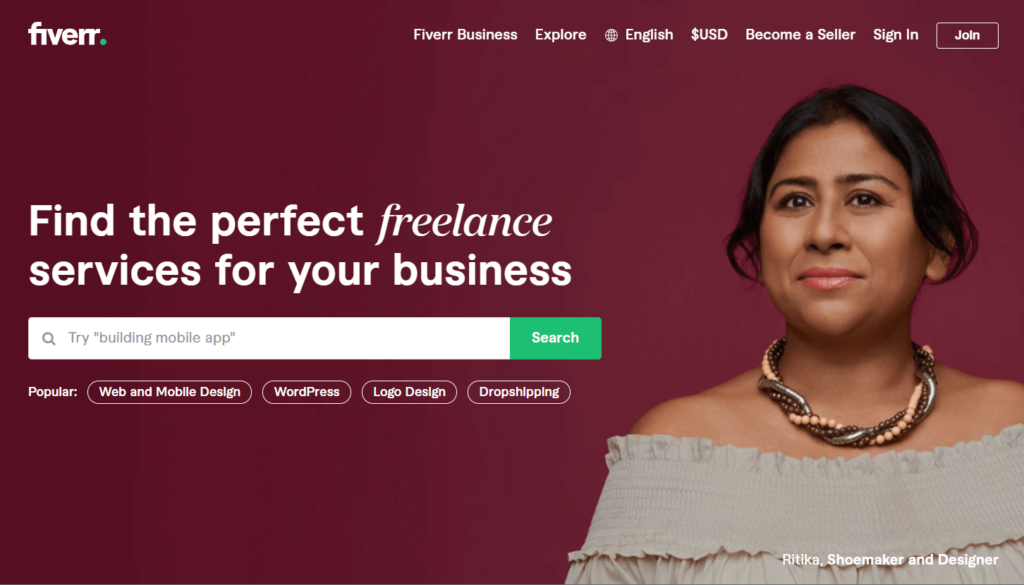 Fiverr works differently than Upwork (though Upwork tried bridging that gap with the "Pre-packaged projects" feature). In Fiverr, you create gigs and wait for a client to pop up and inquire from you about the package.
There's no bidding system like in Upwork. You can't reach out to clients unless they reach out to you first. Fiverr is a literal marketplace that connects freelancers with clients looking for specific skills and services.
One thing you should remember about Fiverr is that it's almost assured that someone is selling the same services as you with only 10% the price. It's called "Fiverr" since a lot of sellers price their services at only $5, even if it should be $500.
You can still reel in premium clients. Fiverr will allow you to customize the "product page" of the gig you're selling. In there, you can design a mini sales pitch to convince would-be buyers that the price is worth the investment.
Sign up for exclusive updates, tips, and strategies
2. FreeUp
FreeUp is one of the newer freelance platforms out there so I wouldn't be surprised if this was your first time hearing about it. There was a lot of chatter about it from freelancers in my country which was how I knew about it.
My first impression of FreeUp is that it's "strict".
They vet out both freelancers and clients and see if they deserve to be on the platform. After signing up, you will have to undergo a non-voice interview where you will have to explain your experiences, skills, and offers.
Part of the process is to make sure that you know what you're doing. One of the questions from the questionnaire that you have to fill out is "What are your core skills, and how do they relate to your freelance work?".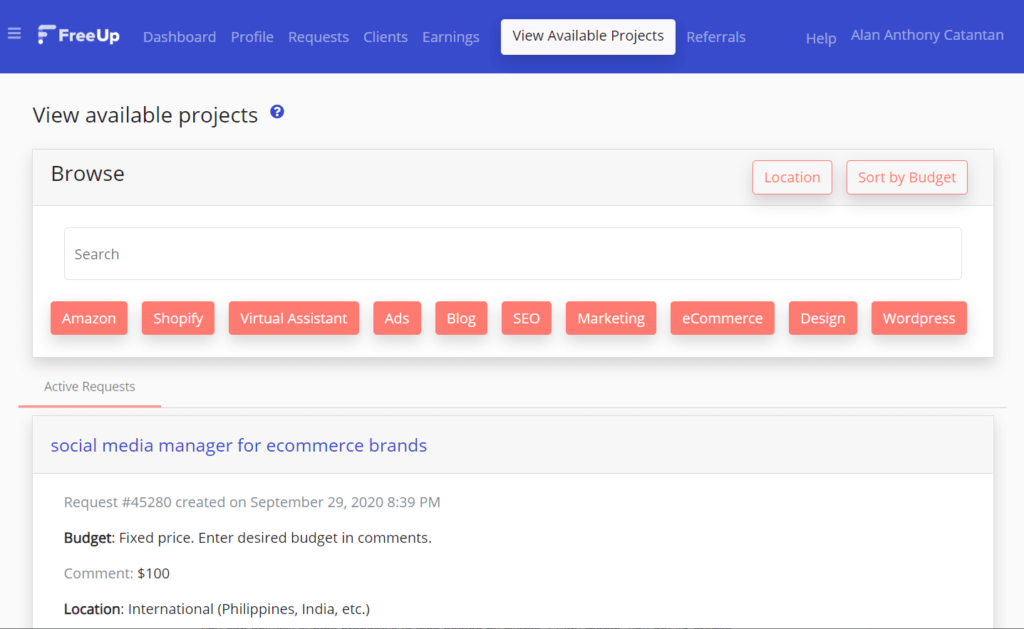 But rest assured, as long as you know your thing and you can explain it from top to bottom, you don't have anything to worry about. The problem here is if you have no idea what services you'll be offering and how to execute it from start to finish.
I'm not sure if it's still the same today…
But I remember how easy it was to get updated with recent job postings on FreeUp. There's a Skype conversation you can join where someone from the platform will send all members about newly available jobs and those that weren't taken yet by anyone.
3. PeoplePerHour
If Upwork and Fiverr had a child, it would be PeoplePerHour. Once you explore the website, you would definitely see its resemblance starting from Upwork's freelancer profile page down to Fiverr's gig list.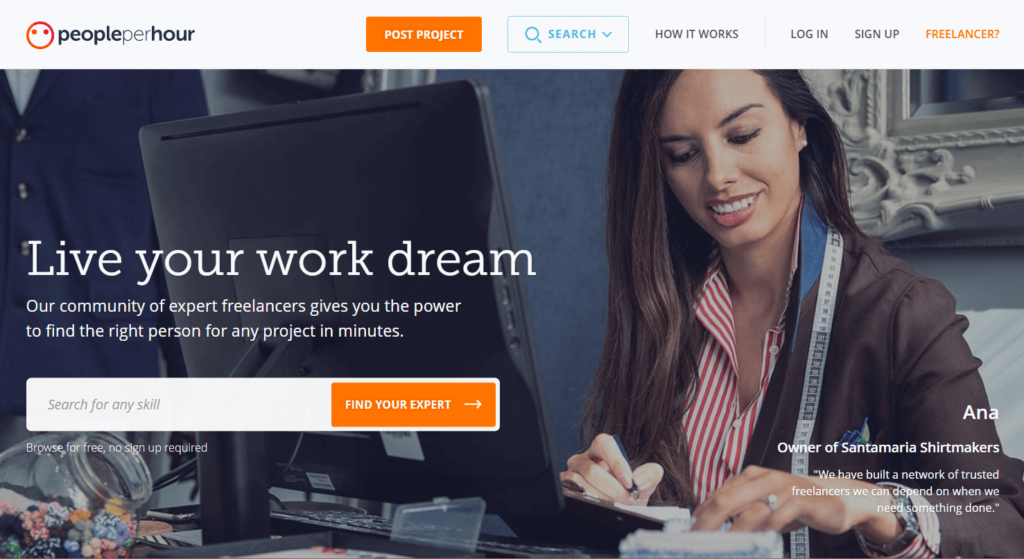 Although it sounds like you could only work at PeoplePerHour "per hour", as its name suggests, you can actually submit proposals to jobs posted by clients and negotiate how much you want to get paid, either by the hour or fixed price.
Every month, you get 15 credits which you can use to bid on projects.
People loyal to the platform may hate me for this, but there have been reports of admins creating bogus projects with the goal of baiting freelancers into spending their credits…
This leads some freelancers to buy additional proposal credits that cost $7.95 each (the more you buy the cheaper it gets).
To put your mind at ease, any platform with a bidding system could have done the same.
In fact, it may be happening right now even on Upwork. But it's not really that hard to spot a scam on freelance sites, even on PeoplePerHour.
To avoid scams, don't jump the gun right away. Carefully examine each project and see if the client has provided enough information.
Aside from this, PeoplePerHour is as good as Upwork and Fiverr. Compared to Fiverr, projects on PeoplePerHour have higher rates, generally.
4. Guru
The most similar platform to Upwork I've seen is Guru. Proposal bids? Check. Membership? Check. Milestone payment systems? Check. They even have similar payment transfer methods!
One of the differences though is that in Guru, there's a recurring payment option available. No such thing exists in Upwork (yet).
As someone who has retainer clients both inside and outside Upwork, I find this feature extremely useful. You and your client can agree to a weekly or monthly payment that's fixed.
Another thing I notice that's a bit different is membership. I like Upwork Plus better than any of the premium memberships that Guru offers. Theirs are more expensive and have fewer benefits, especially on the added proposal bids you can get.
Further reading: Upwork Plus is an interesting offer from Upwork. I expounded more about it in my Upwork review article. Definitely check it out!
Guru also has an interesting feature that you may or may not like…
It's about being able to erase negative feedback from clients on your profile page — for a price. This is more like a double-edged sword/feature. It's a benefit to freelancers, especially those who were unfortunate to work with unfair clients.
At the same time, clients who knew about the feature may trust freelancers from Guru even less. Clients leave negative reviews on other freelancers not (usually) out of spite, but to warn other clients from meeting the same fate.
5. Outsourcely
Outsourcely is an interesting platform. It's geared towards connecting service providers with long-term clients although there are also "part-time" positions available.
It's like the middle ground between freelancing and full-time employment.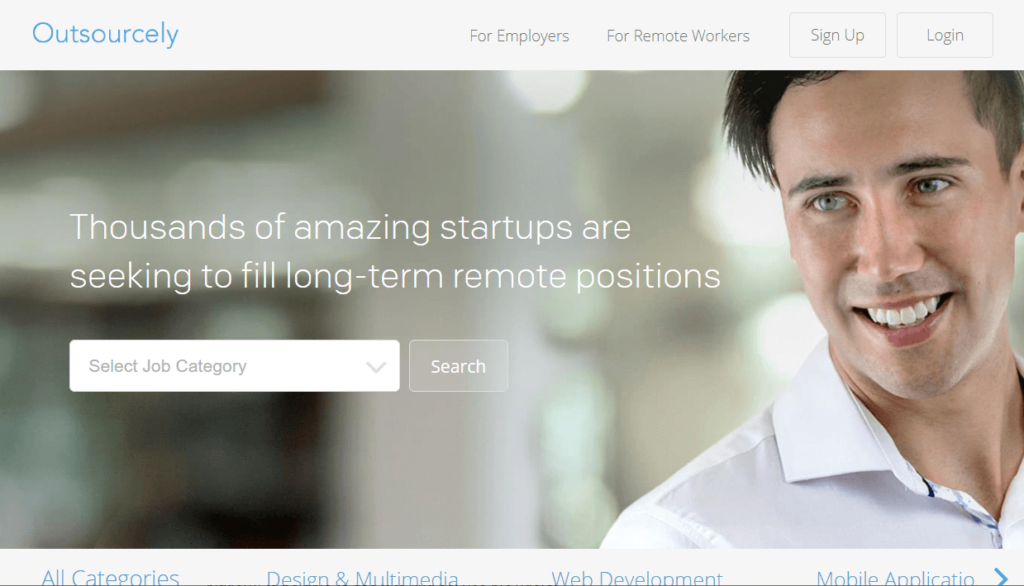 There are opportunities here available for people with various skills. The main clients you can find in Outsourcely are usually startups needing out-of-house help, whether remote or in-person.
It's free and easy to create an account on Outsourcely. It doesn't have any of the bidding systems you find on most freelance platforms. You find suitable jobs for yourself and submit your application.
Another thing to note is that payment is done between the client and the freelancer off the platform. There are no fees to pay to use it. Rather, it's the clients who pay the platform to be able to use it to find service providers.
Communication also depends on the client. It could be chat, voice call, or video call using any platform.
Suffice to say, Outsourcely is more like a job listing platform than a freelance platform. But you can definitely use it to find contractual jobs fast and get paid right away.
6. FlexJobs
You have probably heard of FlexJobs once or twice already as it's one of the most popular job boards on the planet. I actually landed on their platform before without knowing what it is while following a company's job opening.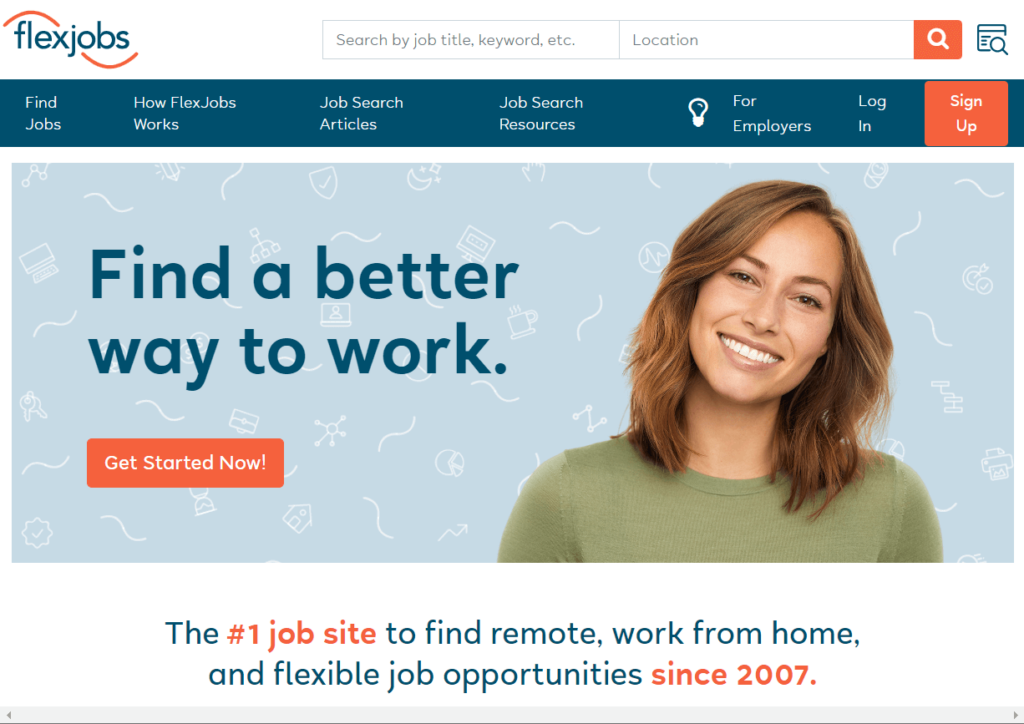 FlexJobs has been here since 2007 and the platform has evolved significantly. It's a great place to find "flexible" jobs, whether remote positions or contractual jobs.
Many companies use the platform to host their job openings. That's why you'll see some companies link to FlexJobs from their "Hiring" page.
Like a regular job board, you can search for a job name, title, service, or keyword. You can then filter the results according to location, remote work level, job type, schedule, and more. This is important since filters will allow you to quickly find the opportunities you're looking for.
Unfortunately, FlexJobs isn't free. There's even no free trial you can sign up for. They do offer a 1-week trial for $6.95.
If you really like to give it a spin, subscribe to their 1-week trial and if you like it, switch to their annual plan that costs only $49.95 (that's even less than $5 per month!).
7. Freelancer
Freelancer.com is probably the biggest freelance platform with more than 40 million registered users! I've also tried using it before but it didn't last for more than an hour (sorry, Freelancer.com).
I wouldn't dare say it's a bad platform. But what set me off was that their free plan that has only 8 free bids where you'll have to pay to get more. I seemed to remember having difficulty finding "good" opportunities there not because there are none, but because of the sheer number of postings.
Aside from that, there seem to be a lot of freelancers who are using the site even more than the other platforms. They now have an "Intro" plan that costs only $0.99 per month and comes with 7 additional proposal bids (15 in total) every month.
Weirdly enough, they don't have any withdrawal fees except if you choose to get your money wired. Instead, they have "examination" fees. That is, you can take exams and display the results to increase your credibility. There are free exams, but the most noteworthy ones cost $5 to $15.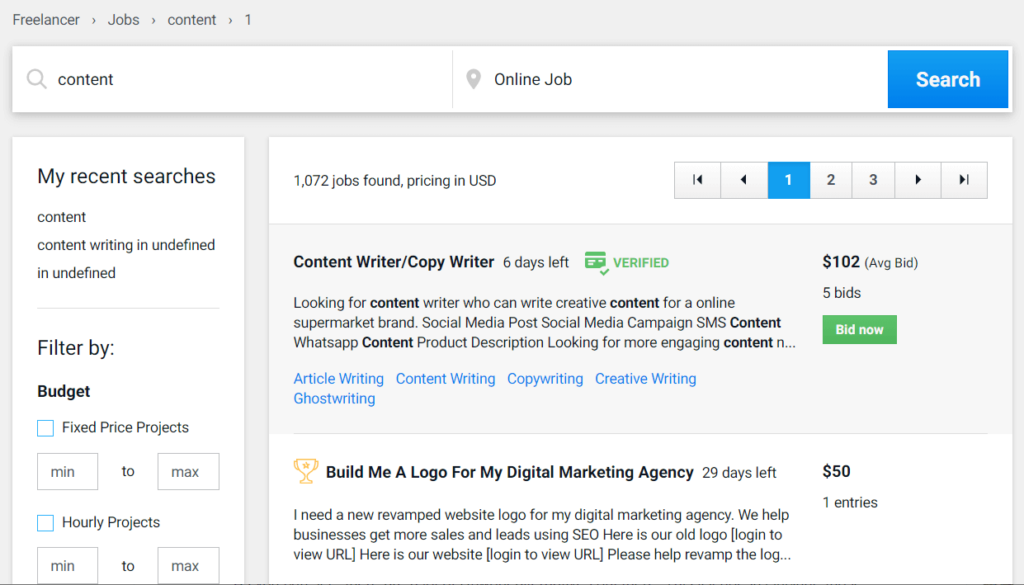 I mentioned I created an account there…
Unfortunately, I can't seem to access it anymore. But it's all for the better since Freelancer.com has rolled a new update where inactive accounts will be charged for maintenance fees (dodged a bullet for this one!).
So if you're planning to find opportunities here, be sure to close your account once you decide you won't be using it anymore.
Try to Reach Out Directly to Clients
As you can see, there are a lot of Upwork alternatives out there. This list doesn't include those that cater to freelancers with specific skills or services. So if you need a freelance job fast, try creating an account on these platforms.
If I were in your shoes, I would start with Fiverr and PeoplePerHour and create gigs there. Then, while waiting for inquiries, I will then browse jobs on Guru, Outsourcely, and Freelancer and maybe subscribe to a premium plan when one of them works out.
If you can spare a few bucks, you should also try FlexJobs. Normally, you can go and hop from different company websites to another and check if there's an opening. With FlexJobs, there's no need to do that anymore since more or less, the job openings will be listed there.
Last but not the least, how about reaching out directly to clients? You can try to be more active on LinkedIn and get a feel of those people who may be needing your services. Direct messages don't cost anything.
Now it's your turn. I would like to know what you think:
What's your favorite freelance website out there?
Did you have any success with one of the platforms listed here?
Share your thoughts below in the comment section so others would be able to learn from you as well!