A year after I started taking freelance work from Upwork, I switched over to Payoneer from PayPal when transferring large sums of money.
The reason is, Payoneer has a better exchange rate compared to PayPal when converting USD to my local currency.
From experience, I could definitely vouch for Payoneer and that it's safe to use. After transferring more than $38,874 worth of money to my local currency, I have yet to experience a major problem with Payoneer.
Sure, there are a lot of complaints against Payoneer. There are even some who claimed they were scammed and how "you shouldn't trust Payoneer with your money".
In this article, let's take a closer look at Payoneer and see for yourself.
What is Payoneer?
Payoneer is an American-based payments platform you can use for online money transfer and digital payment. It's one of PayPal's fiercest competitors.
Most freelancers and affiliate marketers are familiar with Payoneer, especially those who aren't living in the United States.
Non-US freelancers love Payoneer because of its awesome conversion rate (bold for emphasis). Affiliate marketers also use Payoneer for companies or platforms that require a bank account.
Creating a Payoneer account is like opening a virtual bank account.
For example, my USD account has its own bank name, bank address, account number, and routing number as if I created a bank account with an American bank.
Over the years, Payoneer developed a lot of cool features and even removed a few annoying ones. Right now, I use Payoneer to bill some of my clients directly in addition to transferring money from Upwork.
After using its services a few times, I learned that billing clients directly using Payoneer didn't use to be that easy. Before, Payoneer will require you to receive $5,000 from companies before you can use the billing feature.
Sign up for exclusive updates, tips, and strategies
How much does Payoneer cost?
Creating a Payoneer account is completely free. I haven't spent a dime since I created my Payoneer account and added USD, GBP, and EUR receiving accounts. I don't expect this to change anytime soon.
In addition, Payoneer is free to use, too. I even consider Payoneer to be freelancer-friendly (as opposed to PayPal's client-friendliness). Since most of my clients are using credit cards, the transactions are subject to a 3% fee.
Here's a table about Payoneer fees when getting paid: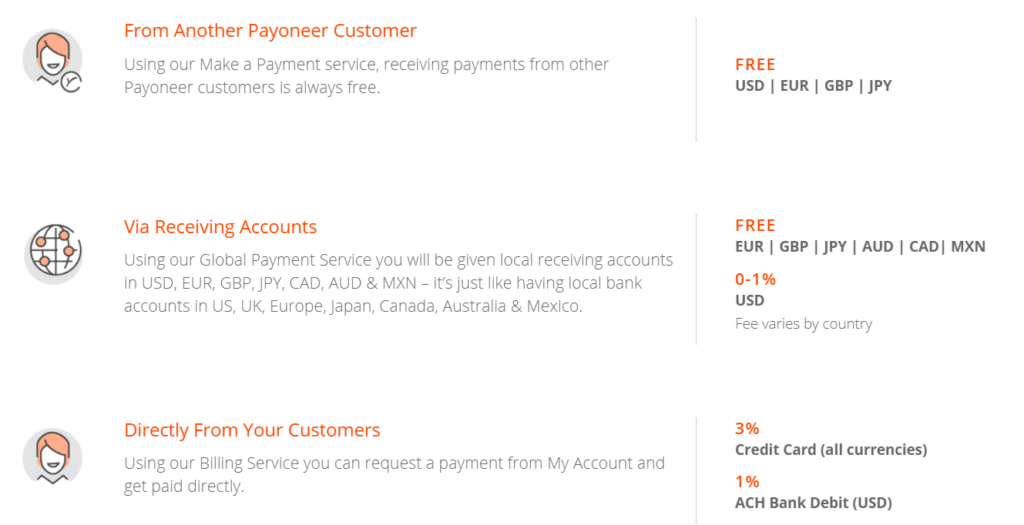 By default, that fee is shouldered by the client/receiver/buyer…
If you bill $1,000, you will receive $1,000 though the client will have to pay $1,000 + transaction fee. Of course, you could negotiate with the client to split the fees.
PayPal does the opposite…
If you bill $1,000, the client will pay $1,000. The transaction fees will be deducted from the amount you will be receiving.
(To be honest, I intended to just talk about Payoneer. But somehow, I can't help myself comparing it with PayPal.)
By the way, there's a $29.95 annual fee that Payoneer charges only if you didn't have a single transaction on your account or on your Payoneer MasterCard.
If you use Payoneer regularly to receive funds, there's no need to worry about the annual fee.
If you're curious about how Payoneer makes money, you only have to pay something when you transfer your funds to your local bank account.
This varies per user depending on the originating Payoneer receiving account and the recipient account for the transfer.

In my case, I have to pay 2% of the total transaction amount per withdrawal. Compared to PayPal, this fee is nothing especially when you're transferring large sums of money.
What is this Payoneer Prepaid MasterCard?
Payoneer has its own prepaid MasterCard which you can use to withdraw money from ATMs or use on stores and online transactions that accept a prepaid card. Each card is associated with a single receiving account.
Contrary to what others say, getting a Payoneer MasterCard isn't obligatory. In fact, only eligible users can order a MasterCard.
Some freelancers I know of ordered a Payoneer MasterCard believing that they must own one to withdraw their money.
But you don't need a card to withdraw your funds. You can simply send your funds to your local bank account and withdraw them from there.
Having a Payoneer MasterCard may have its own benefits, especially if wanted to have direct access (and withdrawal) to your Payoneer receiving accounts.
But you should know that owning a Payoneer MasterCard will subject you to an annual fee for card usage and maintenance.
Since I started using Payoneer, I never had a need for its MasterCard. However, things might not be the same on your side so think carefully if you really need one or not.
Is Payoneer safe and legit?
Payoneer is legit and definitely safe to use!
I transferred more than $38,874 to my local bank account with every penny accounted for. If you trust other payment platforms to store your funds or to make transactions, then you can include Payoneer on that list.
Some of you may not need this. But for those who want specifics, let me humor you with some of Payoneer's security features.
That includes:
CAPTCHA requests
Two-step verification process
Web Application Firewalls (WAF)
Bot-locating software
Duplicate-site tracking
Proactive user-account searches
Payoneer started rolling out the two-step verification process last May 2020 (for my account).
This made me trust Payoneer even more since no one could log in to my account unless they have my phone too (which I seriously hope wouldn't come to that).
All in all, Payoneer is safe to use.
On their end, they put up good security measures to ensure nobody gets to your funds. Even so, accidents could still happen especially on your (user) side, like maybe leaving your phone around in a public place without any sort of security.
How to use Payoneer securely?
Payoneer has good security features. You can compound those by making sure everything is secure on your side.
Even if Payoneer has the best, god-like security features, those with ill-intent would still be able to access your Payoneer account if you post your login credentials on Facebook and turn off the two-step verification process feature.
With that said, here are a few things you can do to use Payoneer (more) securely:
Obviously, you should never share your Payoneer username and password to others. This is common sense. But the problem here is what if it's "Payoneer" who will ask for your username and password.
Yes, I'm talking here about scammy text messages and phishing emails.
There are many hellspawn people who feed into the ignorance of others into tricking them into giving their login credentials since they are "from the company" itself and it's perfectly safe.
However, as per Payoneer's official statement, its employees and associates will never ask for your username and password over email, phone, or chat.
That's it. No matter how "professional" the message is from a business email address that seems to be from a Payoneer employee, never give away your login credentials.
2. Never leave your phone unattended
If you're like me who likes to keep things within a phone reach, make sure to protect your device and never leave it unattended. Especially with most platforms using the two-step verification feature and one-time password (OTP), losing your phone will very much compromise everything you have.
At the very least, make sure to activate your phone's security features.
No one should be able to open your phone without knowing a certain pin, password, or pattern. Don't let anyone open a sensitive mobile application without your thumbprint, facial recognition, or pin.
3. Turn on the two-step verification feature on Payoneer
Since the two-step verification feature requires your mobile phone number, it's not automatically turned on once you create an account on Payoneer. Fortunately, activating it is easy and shouldn't take you more than a minute.
To start, hover your mouse over "Settings" on your dashboard and click on "Security settings".
Here, you will find the security settings of your account that you can modify. The Two-Step Verification is found on the lowest part.
To turn it on, simply click the "Turn on" button and enter your mobile phone number.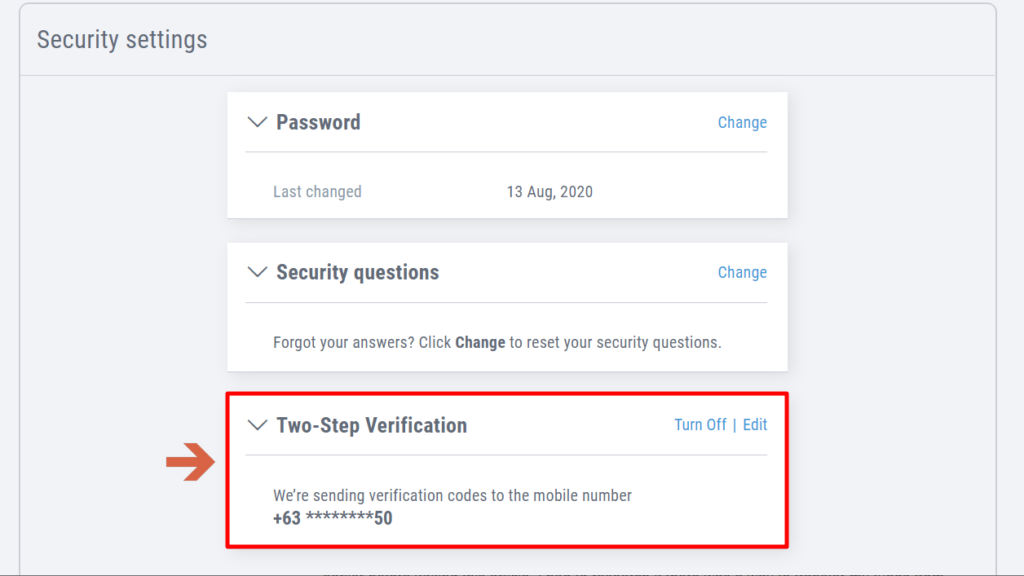 The image shown above is from my own account. Since it's already turned on, you can either turn it off or edit the settings.
4. Use Payoneer only on websites you trust
Payoneer can be used with a number of websites and platforms including Upwork, Fiverr, Amazon (for affiliates), and many others. It's important that you only use it on websites that you trust and know to be safe.
There are websites that work like phishing emails. That is, they will try to trick you into entering your username and password on a "home page" that looks like Payoneer's login page. But that page is static and is designed to capture and save the login credentials that you use.
I believe these four tips to be extremely important. But there are other measures you could take as well to ensure your Payoneer account is safe like creating a strong password or using a password manager like LastPass.
Frequently Asked Questions About Payoneer
It never hurts to have questions especially when it's about your finances.
Just a few months earlier before writing this article, I had to research if there was a way to transfer my funds from PayPal to Payoneer and vice versa (which you will know the answer to in a few seconds).
Here are some FAQs about Payoneer:
Can you get scammed with Payoneer?
Payoneer is safe to use with its strong security features.
Unfortunately, you can still get scammed by phishing emails and websites, and scammy text messages. It's not enough to have a platform with good security measures, you should know how to use it securely too like protecting your phone and not sharing your login credentials.
Is Payoneer FDIC insured?
To answer this question, here's a snippet from Payoneer's legal and privacy policies:
"We strictly adhere to a comprehensive set of global payment regulations in order to ensure the financial security of both Payoneer and our account holders, and have partnerships with banking partners and members of the Federal Deposit Insurance Corporation (FDIC)."
Is the Payoneer card free?
The Payoneer MasterCard itself is free to order.
However, you will have to pay the shipping fees which vary from one location to another. If you want your card to arrive faster, there's also expedited shipping for an additional cost.
Can I use Payoneer with PayPal?
Unfortunately, no. Others say it used to be possible before. But now, you can't use Payoneer with PayPal and vice versa. Meaning, you can't transfer your funds from Payoneer to PayPal and from PayPal to Payoneer.
Can I use Payoneer without a card?
Yes, you can still use Payoneer even without a MasterCard.
This is how I've been using Payoneer too and I never once ordered a card. Without a card, you can only withdraw your funds from Payoneer by sending them to your local bank account.
Is Payoneer better than PayPal?
This is subjective and will depend on your circumstance.
As a freelancer, I find Payoneer more beneficial than PayPal, especially with its better exchange rates. Sending money worth $400 and above has a significant difference in terms of exchange rates and fees when sending from PayPal and Payoneer.
Further reading: Want to start freelancing? I created a guide that will walk any interested readers on how to start freelancing. Make sure to check it out!
On the other hand, you could receive your money from PayPal faster than with Payoneer (though this depends on the bank or platform where you send your money).
That said, it really depends on your needs and circumstances.
Can I withdraw money from Payoneer?
Of course, you can withdraw money from Payoneer either from your Payoneer MasterCard or by sending your money to your local bank account. There's no "better" way to withdraw money since it depends on your needs, circumstances, and even location.
If you need faster access to your funds, then ordering a MasterCard will prove to be better. But if you're not in a rush, you can always send your money to your local bank account. The latter works for me.
Start Using Payoneer Now
If you're still hesitant about whether Payoneer is safe to use or not, even after everything that's laid here, then there's only one way for you to find out. Try it out.
Start small. Try sending $50 from your Payoneer account to your local bank account. If you're not from the US, compare the exchange rate with the payment platform you're currently using and see which one is better.
From experience alone, I know that Payoneer is safe to use. I will continue using it to receive my funds from Upwork as well as to bill some of my clients directly.
Now it's your turn…
Do you know of a payment platform that works better for you than Payoneer?
Have you encountered a major problem with Payoneer?
Share your thoughts below in the comment section.