Before I started my freelance business, I made a bunch of shirt designs that my wife will then post and sell on Facebook. Every time someone buys a certain design, my wife will then rush to a printing stall and have the design printed on the shirt.
From experience, I could tell you that it was more of a side "hassle" than a hustle.
The logistics involved far outweigh the benefits. Sure, we had bulk orders. But unless we buy our own printer and presser, we would never get far with it.
Enter Merch by Amazon. As one of the print-on-demand (POD) services out there, it would eliminate the logistics of selling a shirt. All you need to do is make a design and upload it on Amazon, and they will handle the rest.
But could you really make money with Merch by Amazon? Here's a bit of research I did to find out if the side hustle would've worked out if I knew about Merch by Amazon before and used it.
What is Merch by Amazon?
Merch by Amazon is a print-on-demand (POD) service for apparel products. As a seller, you can create and list shirt designs for free. There's no associated cost or anything and you get royalties for every shirt bought by a customer.
All you have to do is create a design, upload it on Amazon, and set the price. After that, Amazon will handle everything – from printing the designs to shipping the shirts.
Merch by Amazon has been here for a while. When it launched in 2015, there were so many Amazon customers who signed up for the service. Since then, the company changed its service to that of an "invite-only".
The good news is, you could request an invitation from Amazon and fill out an application form.
Naturally, you need to have an Amazon account to do this as well as business contact information, a supported bank account (the US, UK or Germany), and your tax identification number.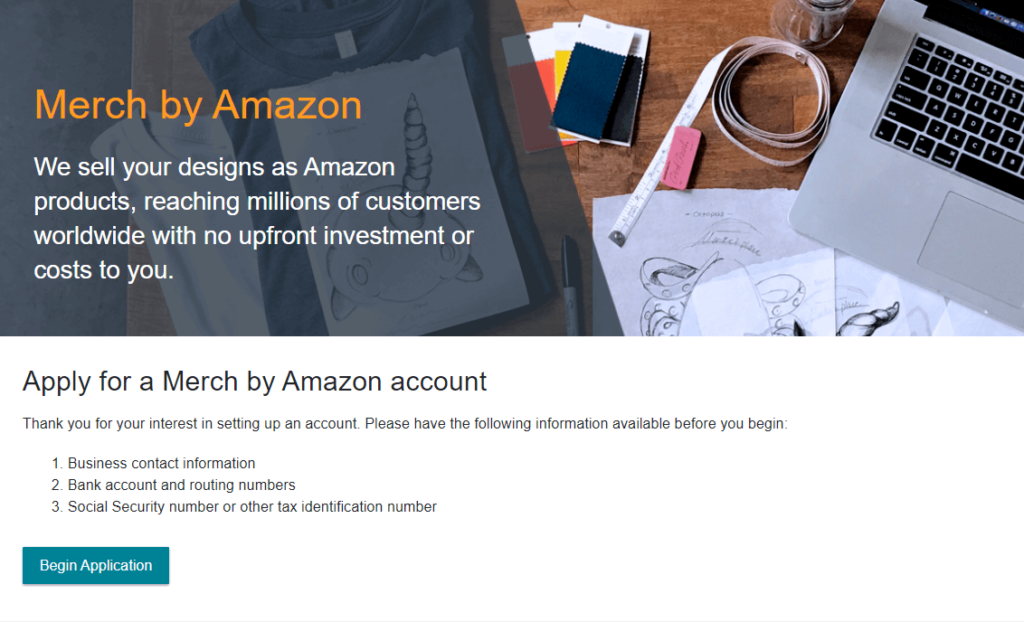 The bad news is, it may take a while before you get approved. It could take several weeks (a month, on average) to almost a year. It seems that Amazon is only letting a finite number of active users.
Sign up for exclusive updates, tips, and strategies
How does it work?
The way it works is fairly simple. Once you get approved, you will be allowed to upload 10 designs. Once you sold 10 products, you will be able to upload more.
For the design, you could use any graphic design software in your arsenal. Amazon doesn't really give a thing whether you use Photoshop, GIMP, or even Canva. However, you will have to adhere to Amazon's Content Policies.
Failing to do so would result in your account being suspended or banned.
(If you're worried about uploading your designs to another platform, rest assured, Amazon doesn't require exclusivity. You're safe to upload or sell your designs elsewhere.)
Amazon also has an awesome "Best Practices" resource page that would help you design the best possible shirt. There's also a list of dos and don'ts at the end of the page.
Once your designs are approved and published, customers will be able to see your shirts and buy them. You could also promote your designs to increase the livelihood of someone buying your shirts.
How do you earn with Merch by Amazon?
When a customer buys your shirt, you will earn a royalty. What you earn will be based on the price of the product minus tax and Amazon costs including the materials used, production, and fulfillment (packaging and shipping).
Amazon has been transparent with the amount of royalties you could earn from Merch by Amazon by location.
Here's a table (taken from their "Royalties" resource page) that shows what you could earn by selling t-shirts in the US:
At the very least, you could earn as much as 13% of the original price. The higher the price of the product sold, the higher the percentage you could earn.
To get paid, you would need to have a supported bank account.
Depending on the location, Amazon could also opt to pay via electronic payments. Wire transactions have a certain threshold ($100 USD for US content creators/bank accounts) while direct deposits don't require any.
Can you really make money with it?
Yes, you can definitely make money with Merch by Amazon. Thousands have already received their payments from selling apparel with Merch by Amazon. But to do so, you will have to do much more than you imagine.
Let me introduce 3 high-earners I researched before I give you the result of 2 awesome experiments about earning with Merch by Amazon.
Neil Lassen
The first one is Neil Lassen. In 2016, Neil and his business partner were able to earn more than $150,000. Even though he didn't show any screenshots to prove his claim, I'm definitely positive that he's been honest with his earnings.
He didn't mention though that what he earned was pure royalty. But even if that wasn't the case, let's say, he only earned 13%, that's still $19,500. In the end, he and his business partner sold the website for $73,091 on Empire Flippers.
In his blog post, he included a screenshot of his current account sales at the time of writing his article: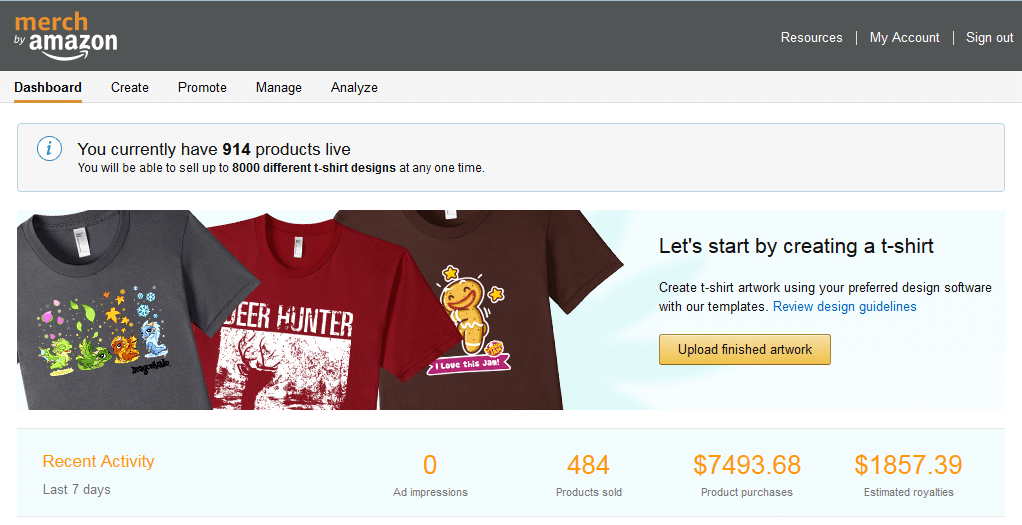 With those earnings alone, I'm definitely positive he was able to make more than $150,000 last 2016.
Elaine Heney
I found Elaine featured on a Side Hustle School podcast. Amazingly, she was able to earn as much as $17,000 in profit in a single month.
Elaine also has her own website where she teaches others about how to earn with Merch by Amazon and shares some of her experiences. I wasn't able to find any screenshot that confirms her claims on the Side Hustle School podcast.
However, I did manage to find a podcast episode where she shared how she sold over $128,295 worth of products with a $53,000 profit with Merch by Amazon in the first 10 months.
Benny from Consistent Me
The last one is Benny who has much more realistic results than the previous ones. By the end of 2019, he was able to sell 802 products and earn about €2.546,90 in sales (around $3,000, more or less).
Here's a quick look at his income chart last 2019:
What I like about Benny is that he documented his steps as well as published income reports.
The latest report I can find from his website was his August 2020 Print on Demand Income Report where he reportedly made almost $600 in royalties from Merch by Amazon.
How much could you earn if you start today?
This is a bit difficult to answer especially now that you have read about some people who have earned a lot with Merch by Amazon. That's why I took some time to also research some people who made experiments with the service.
The first one is from Digital Fodder who didn't earn anything during his short 7 days experiment. One of the most probable reasons why he wasn't able to earn anything is that he himself admitted that he lost interest in the service.
He listed a few reasons why he lost interest in Merch by Amazon. One of them was the lack of search engine optimization (SEO) features.
Here's what he says about it:
"When self-publishing books on Kindle Direct Publishing, I can influence SEO significantly. On Merch, I'm limited to product titles, for example, "Funny Beer T-Shirt." I don't have the ability to influence meta descriptions or add keywords."
You might say now, "isn't 7 days too short?" Well, yes it is! That's why I'll be showing you this next one by Danny (this is a more light-hearted report and will show you that with enough time, you'll be able to earn much more with Merch by Amazon).
After 60 days of trying to earn something from the service, he was able to sell 26 shirts in his 2nd month and earn $121.06 in profit. (If you would like to read his income report after 60 days, here's the link.)

Unlike the guy from Digital Fodder, Danny was able to keep it up until 2018. His monthly income report overview shows that after more than a year, he was able to earn anywhere from $300 to $1,000 with Merch by Amazon.
Not a Bad Way to Earn Money
If you've been designing shirts and selling them locally (and doing everything yourself), you would definitely like Merch by Amazon. You will be paid handsomely for every product sold even if the only thing you did was design the shirts.
However, as the earlier reports indicate, you have to be with the service for a long haul if you would like to earn something significant. Plus, there is a lot of work behind the designs you will be making like spotting trends and marketing the product.
Looking back, if I only knew about Merch by Amazon (or any POD service), I would've used it instead of having my wife go to the printing shops and make the delivery herself (I can't since I had full-time work on a bank).
Now it's your turn…
Are you still interested in making money with Merch by Amazon?
Or are you already making good money with some other print-on-service platform?
Don't hesitate to share your thoughts below!