Do you want to start a blog and earn money from it?
I have been blogging since 2017 and I know how hard it is to get started. But the truth is…
You don't need any prior experience or knowledge of SEO, WordPress, or web design. All you need is the desire to learn and put in some work.
In this step-by-step blog tutorial, I will share with you everything that I learned when it comes to starting a blog and monetizing it.
By the end of this guide, you will learn all the basics regarding how to start a blog, even without technical or marketing know-how.
Excited? Then let's get started!
Chapter 1: Choose The Right Blog Niche
Before everything else, you must select a niche for your blog. Ideally, you want a niche that is popular — with a lot of potential readers — and has a lot of earning potential.
There are three things you need to consider when choosing the right blog niche:
Interest
Viewership
Monetization
Select a niche you're interested in
It's important that you select a niche that you're interested in or passionate about, especially since this is your first time creating a blog. There is a lot of work to do at the start.
No matter how fun it is at the beginning, there's a possibility that your interest will wane over time (for various reasons). You must be passionate about the niche so you can build a stronger foundation for your blog.
What if you want to create a blog based on topics and interests that don't excite you?
You can do it. But there's a good chance your blog won't perform as well as you expect, for a simple reason:
You're not going to remain consistent for long since those topics or things don't excite you.
It's hard work maintaining a blog, especially when it takes hours (or more) to write one article. You will need patience and perseverance — both of which are difficult to maintain if the topic doesn't interest you in any way.
In addition, passion is contagious, so people who visit your site are more likely to become passionate about the niche too. This means they'll be more likely to share your articles with their friends and family.
How to brainstorm niche ideas for your blog
Using a spreadsheet or a piece of paper, form three groups of niche ideas.
Name each group:
Expert (topics or niches you know by heart because you studied them in the past or are/were relevant to your work)
Familiar (niches or topics that you're interested in but you only have limited knowledge about)
Willing to learn (niches or topics that you're interested in but you don't know anything about)
Here's a quick list of my own topics and niches (made with Notion):
Pick a niche with a large potential audience
The larger the target audience the better when it comes to viewership and monetization. The bigger the potential market is, the more opportunities you have to earn money.
You can use a free tool called Google Trends to check how your niche idea trends over a period of time.
For example, let's say you want to start a blog that teaches people how to build relationships.
On Google Trends, when you search for "intimate relationships", you can see that it has a steady interest over time.
This means people are actively using Google to search for things related to intimate relationships — which is a good sign.
When it comes to evaluating the results you see on Google Trends, watch out for the following:
If you see a steady trend, it means people are actively searching for your niche. This translates to stable and healthy traffic.
If the trend has an upward-downward pattern, it means your niche is seasonal. There may be times in a year when you see will a spike in your traffic.
If the trend is downward, it means the interest in your niche is waning. Stay away from niches that show this type of trend.
Aside from using Google Trends, you can also use other types of tools that will allow you to measure the potential market of your niche.
You can also search for competitors and check their audience size using spy tools like SimilarWeb.
How to check the potential niche audience size with Google Trends
For the next steps:
Go back to the three groups of niche ideas you created.
Run each niche idea into Google Trends and analyze the interest over time.
Label each idea as bad, okay, or good (or some variation of these labels).
Here's an example:
Consider the earning potential
Unless you're only writing for fun, and have no serious thought about earning money from your blog today and in the future, you must put serious consideration into the monetization potential of your niche.
Now, some blog gurus may throw me in the fire here, but…
It's important that you analyze the monetization potential of your niche first before actually getting right into creating your blog. Not all niches are created equal — and some have higher earning potential than others.
How to monetize your blog
To date, here are some of the most popular ways of monetizing a blog:
Selling ads: You sell space on your blog where advertisers can put up banners about products and services and they pay you based on a cost per thousand views basis and/or cost per click.
Affiliate marketing: You promote other people's products and services to your readers and you get a commission whenever someone buys your recommendations.
Selling products: You sell your own personal and/or digital products directly to your readers.
Selling services: You sell your own services directly to your readers.
Of course, there are a lot more ways to monetize a blog. But the four above (especially selling ads and affiliate marketing) are the most common methods bloggers use (including yours truly) to earn money.
How to come up with monetization methods for your blog
Go back to your list of niches.
On each one, indicate the methods you can possibly earn money.
To make it easier, here are some guide questions you can ask yourself:
Are there digital products out there that I trust that I can promote?
Can I create and sell my own digital products? (Think ebooks, courses, and others)
Can I sell relevant services to readers?
If you're still having trouble coming up with monetization methods for your niches, check out competitor blogs and see how they're making money.
You can find competitors by simply searching on Google with "niche + blog".
Here's what mine looks like:
Sign up for exclusive updates, tips, and strategies
Chapter 2: Get a Blog Domain Name and Hosting
Once you have a blogging niche that you want to focus on, it's now time to actually start building your blog. Getting a domain name and hosting may get somewhat confusing since there are a lot of options to choose from.
Is it possible to start a blog for free?
Yes. You can start a blog for free with various online services like Medium.com, WordPress.com, and many others. With these services, you won't need to worry about domain name and hosting.
But I don't recommend going such a route, especially if you want your blog to be a source of income.
Since you don't own the space, your content is basically squatting on (digital) land that you don't fully control.
These online platforms have their own agenda and they can close your blog down at any time without notice. You will be limited by what the platform allows.
For example, if you want to make money with ads on your blog and the platform doesn't allow it, you can't do anything about it.
In short, if you want to turn your blog into a business and become a source of income, you must invest a little in the domain name and the hosting.
Select a domain name
Your blog's domain name will be your blog's identity online. Although it won't dictate your success, it's important that you don't take it lightly too.
Remember, it will be the first thing people will notice when they visit your blog.
On the other hand, you don't have to make it too complicated. Your blog doesn't need to have the most remarkable, memorable name online. In fact, you don't need to rack your brain about it.
All you need to do is use a free tool called Business Name Generator — which will generate name ideas for your blog.
Let's carry over the example in the previous chapter about a blog that teaches others about building intimate relationships.
After you input the phrase "intimate relationships", you will get lots of name ideas:
Once you found a name you like, head over to the next section. Most web hosting companies include a free domain in the plans they offer.
On the other hand, if you want to buy the domain right now without hosting, head over to Namecheap. They offer the most competitive prices when it comes to domain names.
Though you don't need to have a .com domain name, consider using a popular top-level domain (like .net, .online, and others). People are more likely to trust a website with a familiar top-level domain.
How to buy a domain name
If you want to buy the domain name separately, come up with a name for your blog first.
You can brainstorm on it — or you can use Business Name Generator to do it for you (at a much faster speed).
Then, head over to Namecheap and search for the domain name you want to buy.
Choose the domain name with the top-level domain that you prefer and press the add to cart button.
Watch out for the green labels beside the domain name. Many of them are promo codes.
To finish the transaction, go to the shopping cart (button at the upper-right corner).
If a coupon code is available, you must sign up or create a free account on Namecheap to make use of it.
Leave all the other settings as they are.
Unless you don't plan on finishing your blog right away, you might want to check out various web hosting companies first. Bluehost, for instance, includes a free domain name for a year on all its hosting plans.
Get your blog hosted
Now that you have an idea for a domain name, it's time to get a blog hosting service. This is an important decision to make since your choice will make a huge impact on the performance of your blog.
If you look up blog hosting services, you will read a lot of terms like shared hosting, managed hosting, cloud hosting, reseller hosting, and many others.
Some of these terms are not completely relevant for small bloggers, and some require technical knowledge you don't need to bother yourself right now.
The only thing you need to learn more about is shared hosting and managed hosting.
The biggest difference between shared hosting and managed hosting primarily revolves around how much control you can have over your blog's server and how much it would cost you.
Of the two, shared hosting is cheaper. It's named "shared" hosting since you share a server with others. For beginners on a tight budget, it's a good way to get started.
On the other hand, managed hosting means your blog will be on a separate dedicated server. Generally, cloud hosting is more expensive since it offers better features than shared hosting.
For beginners, it's completely fine to start with shared hosting. In fact, if you proceed at a normal pace, it would take you more or less two years before you need to upgrade your hosting plan.
When I first started blogging, I used shared hosting. Like many others, I used the most popular service that bloggers use — Bluehost. Later on, you may want to opt to use a more powerful and expensive hosting plan.
How much does it cost to start a blog with Bluehost?
Bluehost has a lot of hosting types and plans. Shared hosting alone has four plans, with different prices depending on the time lock you choose (the longer the better).
Here are Bluehost's shared hosting plans at their cheapest variant:
Basic: $2.75 per month
Plus: $5.45 per month
Choice Plus: $5.45 per month
Pro: $13.85 per month
Here's what I recommend:
If you have the budget to spare, the plus plan is the most optimal. That's because you may want to start another website right away. With this plan, you don't need to spend another dime.
However, if you have a tight budget, the basic plan will do. It already includes 50 GB SSD storage, a free domain for a year, a free CDN, and a free SSL certificate.
This is important:
After your hosting plan expires with Bluehost, and one of your websites has grown that you think you need to switch to a different hosting type, I definitely recommend going straight to cloud hosting (self-managed or not).
Think of it as using Bluehost as a low-cost testing ground for your blogs. The plus plan will allow you to host an unlimited number of websites. Once one of them needs more power, get them out and use cloud hosting.
How to get hosted by Bluehost
Buying a hosting plan from Bluehost is simple and fast. In this section, I will walk you through the steps to take. Refer to the images in case you need to find the buttons or links to click.
To start, head over to Bluehost's home page.
Then, click on the "Get Started" button.
Sometimes, Bluehost changes the images. But you will see the same button on the home page every time.
On the next page, you will have to select the hosting plan you want to buy. You can see that if you opt for a 12-months plan, you will need to pay even more. That's why it's better if you go directly with a 36-months plan.
To select a plan, simply click on the "Select" button for that plan.
If you already thought of a domain name, you can check its availability on the next page (left form). If you already bought a domain name from a different registrar, enter it on the right form.
You can also skip this process now and proceed to the next page.
On the next page, you will have to create an account on Bluehost. Simply fill out the form provided or use the "Sign in with Google" button to use the information from your Google account.
On the package information, you will be able to confirm or reselect your account plan. You can see here that the basic 36-month price is only $2.95 per month while the 12-month plan costs $4.95 per month.
The 12-month plan may look cheaper here. But remember that the total is already 60% of what you will be paying for the 36-month plan.
For the package extras, none of them is essential right now. If you think you need anything here, you can always add it later. But since your website is new, you would hardly need any of these extras.
To unselect any of the extras, make sure no boxes are ticked. If you see one, click on the box to uncheck it.
Finally, all that's left is to seal the deal. Provide your payment information on the form provided.
Don't forget to click the checkbox to signify that you agree to Bluehost's terms of service and cancellation policy.
Then, click on the green "Submit" button to finish the signup process.
After that, Bluehost will congratulate you and will enable you to create your account. This is the part where you can create a password for your account to finish the account setup. Make sure to try logging in after that.
Chapter 3: Create Your WordPress Blog
Now that you have a hosting plan, you can now create your WordPress blog. You can easily do this with Bluehost's website creation wizard.
How to create a new website on Bluehost
After logging in to your Bluehost account the first time, a website creation wizard will guide you through the steps to create a new website.
In the first step, you will have to indicate the kind of site you want to create, the type of website, and who you want to create it for. It's totally okay if you want to skip this step as it doesn't affect your website in any way.
If you want to answer the questions, feel free to select the options that would best describe your preference.
In the next step, you will be able to select the pages to add to your website. Since the goal here is to create a blog, you can check the blog and the about me page as well.
Don't worry if you missed anything at this stage. In fact, you can even skip this step since you can add pages right on the WordPress dashboard itself (more explanation later on).
The third step is where you give your blog or website a name. This will appear at the top of your site, which you can also edit later on while customizing your website.
As for the rest of the forms, feel free to leave them empty. It's unlikely that you have a site tagline or a secondary title. But if you do, feel free to write it down on the form provided.
Later on, I will explain more to you about WordPress themes. However, if you want to go along with the next step, choose a theme that you prefer. Otherwise, feel free to skip this step.
On the next page, Bluehost will inform you that WordPress is being installed on your new website. Wait a few seconds and you will be redirected back to the home page of your account.
Once you're on the home page of your Bluehost account, don't do anything yet. You will still need to configure and design your blog before you can launch it to the public.
Have you started already? If not, no need to scroll up again. Get started now with building the first bits of your blog with Bluehost.
Brief introduction to WordPress dashboard
Now that you have a hosting plan with Bluehost, it's time to go into WordPress and get to know the dashboard. At first, the dashboard may feel a little daunting. I felt the same way too the first time I logged in.
But let me assure you — it's easier than you think.
To log in to your website from the Bluehost portal, simply click on "My Sites" on the left-hand side menu and click the "Manage site" button on your website.
On the next page, click on the "Log in to WordPress" button in the upper-right corner.
That will bring you to the WordPress dashboard of that website.
What you need to know about the WordPress Dashboard
The WordPress dashboard may seem overwhelming at first. But the truth is, it's easy to understand and navigate the more you use it.
The dashboard has three basic parts:
Left menu: Where most of the action happens (contain shortcuts to different functions and features)
Top bar: More shortcuts
Dashboard: Status reports on your site and more shortcuts
The most important part to understand here is the left menu.
Here are the items to know about in the left menu of the WordPress dashboard:
Dashboard: Links to the main dashboard and available updates on your website
Posts: Points to everything related to blog posts (viewing them all, adding new ones, categories, and tags)
Media: Refers to your files (visit the library or add new files)
Pages: Points to everything about website pages (viewing them all and adding new ones)
Comments: See and manage comments on your blog posts
Appearance: Links to everything related to your blog's appearance (themes, customization, widgets, menu, background, and access to the theme editor)
Plugins: See, manage, and add new plugins
Users: See, manage, and add new website users
Tools: Links to the available WordPress tools (don't think too much about this one)
Settings: Manage various settings of your website and blog (writing, reading, discussion, permalinks, and more)
Chapter 4: Design Your Blog
One of the most exciting things in starting a blog is tinkering with its design and layout. In fact, I personally find it even more exciting than writing blog posts that I could spend days just designing my blog.
Now, the theme of your blog is important. It's literally the face of it. But many new bloggers get too distracted with this stage and spend so much energy on it that they couldn't move on.
So here's my advice when it comes to designing your blog:
Don't overthink it — at least at the start. Go with a theme you like and modify it. But don't spend too much time. Wait until you get at least thousands of views per month to do a complete overhaul of your blog's design.
Install a blog theme
With WordPress, you don't need to start from scratch. There are thousands of free blog templates available on the WordPress repository and paid ones from third-party vendors.
Should you use a free theme or a paid theme?
This actually depends if you're willing to shell out extra cash in exchange for access to more customization options and priority customer support.
Most free themes are being used as promotions for their pro (paid) versions. Many of the customization options in free themes are locked and can only be accessed if you upgrade.
In contrast, paid themes are easier to customize. Most premium themes also come with unique features and extras that make them worth the extra investment.
Personally, I recommend using a free theme at the start. In fact, if you know a little about HTML and CSS, you may not need to upgrade as you can customize the theme directly using codes.
What theme to install on your website?
I have tried so many themes in the past. Many of them even come with their own page builders (though I ended up uninstalling all of them because of the bloat they brought to the website).
My personal recommendation is Astra — for both the free and the paid version categories.
I use the free version since I know HTML and CSS and I can edit the website elements as I see fit. That's why my website has a lot of additional CSS.
Unless you know HTML and CSS, a paid theme is more suitable for you. Pro themes have additional customization options that are hard to implement unless you have coding knowledge.
You can always install another theme anytime you want. Like everybody else, you will likely end up changing your blog's theme many times as your blog continues to grow.
In case you don't like my recommendation, you can always look for your own preferred theme.
Here are some ideas on how to find a suitable theme for your blog:
Check the demo first. Before installing the theme, check out its demo site first and navigate to its blog section.
If you're looking for a free theme, check the number of customization options it provides.
Most great themes come with their own plugin and starter templates. Check the templates if they have your preferred layout.
In regards to using a premium theme, if you don't like the premium version of Astra, there's another pro theme you might like — the Authority Pro Theme from StudioPress.
In terms of design and layout out-of-the-box, the Authority Pro theme is definitely better than Astra. In fact, if I didn't know how to code and I had the budget to spare, I would probably go with StudioPress.
To use it, you need to buy the entire Genesis Pro (which comes with all the StudioPress-made themes). It costs $360 per year — a bit pricey for my taste. But totally worth it if you can afford it.
How to install and activate a WordPress theme
To apply a theme, you must first install that theme on your WordPress blog.
If you followed my recommendation on using a free theme first, you must download the theme files to your computer before you can install it.
If you want to try out the Astra theme, visit this website and click on the download button at the center of the page.
The button earlier will bring you to the pricing page.
Scroll down to the bottom of the pricing plans until you see a link to the free version.
Click the "Download Free Astra Theme" link to proceed (you will need to subscribe to their newsletter first — it's free).
If you want to go directly with the Authority theme, visit this website and click the "Get this theme and more…" button to proceed.
By the way, the Authority theme doesn't have a free version. The "Get this theme for free" button on the website means you can get it for free if you buy one of their hosting plans — which I don't recommend.
Once you have the files downloaded, go back to the WordPress dashboard (introduction in the earlier section).
On the left menu, hover your mouse over the appearance category and click "Themes".
Then, click the "Add New" button at the top.
On this page, you can either upload a theme or search for one in the repository.
Click on the "Upload Theme" button and either click on the "Choose File" button or drag the zip file on the box.
Once the zip file is uploaded, click on the install button.
After the theme is installed, you will have to manually activate it.
Click on the "Activate" link on the page you were redirected to.
Customize the blog theme
The theme you installed is simply the starting point. You still need to customize it to achieve the look and feel that you want.
But instead of dabbling directly with the theme customizer, I suggest you start with a starter template. This way, all you need to do is edit the design.
What is a starter site template?
Starter site templates are complete demo websites you can import to your blog. They come with pre-designed pages and layouts using a parent theme.
Using a starter template can save you a lot of time. When you install a WordPress theme, you normally get the most basic form — which needs more customization from you.
With a starter template, you will only need to do minimal changes.
If you followed my recommendation on using the Astra theme, you will be able to access almost 200 starter site templates, editable by various WordPress page builders.
In terms of page builders, I currently use Gutenberg (the default page builder). Feel free to use any builders you want. But beware that some of them can add bloat to your website.
Before I switched to Gutenberg, I was using another page builder to completely customize some of the pages on the blog.
Unfortunately, I noticed that the site got slower, so I got rid of it and redesigned the pages using Gutenberg.
How to import an Astra starter template
To import a starter template from Astra, you must install its importer plugin first. Then, you can choose a template you like and import it directly.
On the WordPress dashboard, hover your mouse on the appearance menu (on the left bar) and click "Astra Options".
On the box to the right, click on the "Install Importer Plugin" link.
After the plugin is installed and activated, you will be redirected to a page with all the available starter site templates.
To quickly find what you're looking for, use the available filters (type of website, free and/or premium, and page builder).
You can click on each one to see the different page templates that come with it. Make sure to preview the site so you can see the design and layout clearly.
Once you find a template you like, you can either import the complete site or import an individual page template.
To import the complete site, click on its button at the bottom.
On the pop-up window, provide the necessary details and click on the "Next" button.
When the pop-up asks for your name and email, feel free to skip it.
After the starter template is imported, you can now view the site.
Now that you have a starter template in place, all that's left is to modify it using the WordPress theme customizer.
You can access it either from the front-end side of the website or from the WordPress dashboard.
If you're on the front-end of the website, click customize at the WordPress bar (top of the page).
To get to the theme customizer from the WordPress dashboard, hover your mouse over the appearance menu and click on the "Customize" option.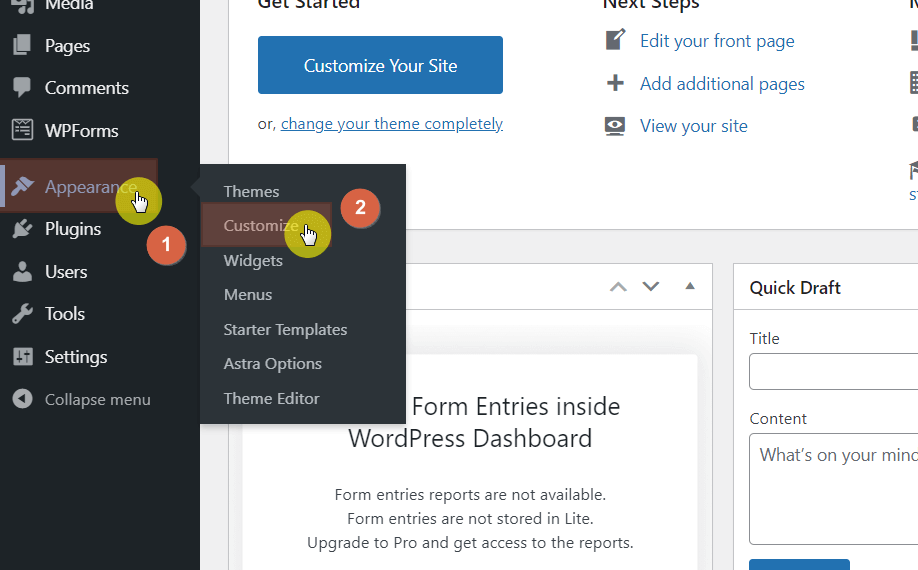 Here is what the theme customizer looks like:
The WordPress theme customizer comes with its own set of default panels regardless of the theme you installed. Advanced themes like Astra (and most paid themes) have additional options to further customize the looks of your blog.
That is the reason why you need to check the customization options of the theme you want to use — especially if you're starting out with a free theme.
How to use the WordPress theme customizer
If you installed the Astra theme (even the free version) on your blog, you have access to more settings than most themes can.
Here are the panels available on the theme customizer when using the Astra theme:
Global: For changing the typography, colors, container, and buttons of the site
Header Builder: For changing the header's general settings and design
Breadcrumb: For changing the breadcrumb's settings (another navigation system)
Blog: For changing the blog's general layout and design settings
Sidebar: For enabling/disabling and customizing the sidebar of your website
Footer Builder: For changing the footer's general settings and design
Performance: Currently, this contains the setting to load Google Fonts locally
Menus: For configuring the menus on your website
Widgets: For changing the settings of the website's widgets
Homepage Settings: For configuring the homepage and post page (blog) of your website
Additional CSS: The area reserved for adding your own CSS code
The theme customizer may seem complicated at first. But when you start experimenting with it, you will see how easy it is to use.
There's no better way to learn how to use it than dabbling with it directly. Use it to change the looks and layout of your blog until you get comfortable.
Again, avoid spending too much time here. This part could easily become a time-draining task (especially when you enjoy it as I do).
Install WordPress plugins
WordPress plugins are software add-ons that allow you to enhance the blog design, security, optimization, and more.
There are thousands of them available in the WordPress repository. While most plugins are free, most of them have pro versions with unique functionalities behind the paywall.
You don't need to invest money in WordPress plugins while your blog is new. In the future, as your blog grows, you may want to invest in premium plugins to do more advanced things to the blog.
What WordPress plugins should you install on your new blog?
Since there are thousands of them available, you may find yourself spending so much time digging through all of them and testing them out.
To save you time, here are free plugins I recommend you install on your website:
How to install WordPress plugins
The steps are fairly similar to installing a WordPress theme.
You can search for the plugins right inside the dashboard or download them from their respective websites.
On the WordPress dashboard, hover your mouse over the plugins category and click on the add new link.
If you downloaded the plugin file, click on the upload button at the top.
Otherwise, use the search bar and when you found the plugin, click on the install button (and press it again to activate the plugin).
Chapter 5: Write and Publish Blog Posts
Now that the technical work is over, it's time to create the bread and butter of your blog. However, writing random articles doesn't work anymore — there has to be a strategy behind your content.
This is the actual part of starting a blog. You must learn to share content your target audience wants to know about. Your blog posts must be valuable for visitors to interact with and keep coming back.
Let's dedicate this chapter solely to blog content — starting with the pages you must first publish on your blog, how to create a content strategy, and how to write and optimize your articles.
Publish static pages
Before everything else, your blog must have a few pages dedicated to helping your visitors understand what your blog is all about, who you are, and various other information.
Here are the basic static pages you must publish on your blog first:
Homepage: This can either be a different static page that you create or simply your blog section (can be indicated on the theme customizer).
About page: This is where readers get to know who you are and what your blog is all about (can also be integrated with your author page or you can create a separate one).
Contact page: This is how readers can communicate with you (usually with a contact form, an email link, or social media links).
Legal pages: These include your blog's privacy policy, cookie policy, terms of use, and others (use a WordPress plugin like WPLegalPages).
Since your blog is new, start with these pages first. As your blog grows, you may want to add new ones. But at the start, these ones would suffice.
How to add a new page in WordPress
There are two easy ways to create a page in WordPress — one of them can even be used while you're on the front-end side (as long as you're logged in).
For the first one, while in the WordPress dashboard, hover your mouse over the pages menu and click on the add new link.
For the second one, while logged in on your WordPress dashboard, hover your mouse over the new button at the top bar and click on the page link.
After writing the content of your page, click on the publish button at the top-right corner to make the page go live.
Create a content strategy
Before, you didn't need a content strategy to win the blogging game. As long as you publish content, all was good. But not anymore.
Now, different bloggers and content marketers have different methods when it comes to content strategy.
You will change your content strategy over time as you learn more things related to SEO, content marketing, social media marketing, and similar forms of marketing.
But since this is only the start, don't burden yourself too much with making your content strategy too detailed.
To make it easier, here are some tips you can use when planning your content:
Come up with categories for your articles first so you would have an easier time figuring out what to write. Categories represent groups of topics you can write on your blog.
Identify which article ideas are your primary "money pages". These are those that will most likely bring in money to your website (usually through affiliate marketing and selling your own products).
It helps to use SEO tools to research ideas and their corresponding keywords on what to write. However, if you're knowledgeable about the niche, listen to your gut first. You can always find out the best keywords for that article.
How many articles should you publish on your blog?
Ideally, you should publish as many articles as you can as fast as possible. Your blog must cover all possible content and answer all questions related to your niche (think Wikipedia).
Although you must make every article the best possible content for that topic, you must also take into account the number of articles to publish. The more you publish the better.
In the realm of search engines, content has something called "maturity period" — a fancy way of saying the content found its place on the search results page.
The more articles you publish, the earlier those articles would mature.
For scaling, document your workflow to help maintain the quality of your articles when the time comes you need to either hire writers to create more content or use artificial intelligence to assist you in writing.
How long should your articles be?
When it comes to the ideal length of your article — the more information you share, the more useful your content is for the readers. The more thorough and detailed your article is, the better.
However, the actual length or number of words in the article may depend on the niche and topic. A 1,000-word article on one niche may be detailed enough that it's comparable to a 10,000-word article on another.
What I do with my articles is that I don't set a clear requirement on how many words they should have. Instead, I try to gauge if it has all the information the reader may need to solve his or her problem.
Write your blog articles
Now that you have a content strategy in place, it's time to put those post ideas into writing.
When writing your articles, make sure that each article addresses a specific problem or question the reader may be having. Think about what your readers want and need to read about.
Others call this "intent matching".
More likely, you already have an idea about the search intent for most of your article ideas. But if you want to make sure whether or not you're on the right track, you can always use Google Search.
How to improve your blog articles?
Writing a blog post is quite different from writing an essay or a report.
It's not about the words you use, how beautiful your sentences are, or how creative your ideas are. It's about how effective and useful the information is for the reader and how easy it is to digest.
Here are some tips to improve your blog posts:
Structure your article logically. Start with an intro, introduce your ideas, provide context and examples, show what to do, and summarize your points in the end. Create an outline to make this even easier.
Break big blocks of text by adding in images, headings, and bullets. Make sure there is enough white space so that it wouldn't feel like it's hard for the words to breathe.
Talk to your reader. Your blog posts aren't reports — they are conversations. Use casual language and make it feel like you're actually talking to your reader. (Can you feel me talking to you?)
Check for grammatical errors and typos. Although no one would be grading your work, part of effectively talking with your readers is making sure your language is clear.
Emphasize your most important points. Bold the words or paragraphs that your readers need to know or are important. You can also be creative by marking them out or using other forms of text designs.
The tips above are only guidelines. You will be updating many of your blog posts for various reasons.
That's why you shouldn't worry about making your blog posts too perfect. Publish them and correct the mistakes whenever you see any.
How to publish a WordPress post
Publishing a blog post is quite similar to creating a page in WordPress.
You can do it either from the WordPress dashboard or through a shortcut on the front-end side (as long as you're logged in).
To publish a post while in the WordPress dashboard, hover your mouse over the posts menu and click on the add new link.
To publish a post from the front-end side of your website (or anywhere on your website), hover your mouse over the new button at the top bar and click on the post link.
Once you are ready to publish the post, click on the publish button in the upper-right corner.
Optimize your blog content
Knowing what content to write isn't enough. You must learn how to optimize your blog content so your target readers would be able to find your blog posts when they search on Google and other search engines.
Search engine optimization involves a lot of things, many of which are even technical. But during the start, you don't need to bother with the complicated ones and only focus on those you truly need.
One important part of optimization is finding the right keywords and how you mold your content to fit the potential search phrases that someone may use in Google and in other search engines.
In the past, people do this by stuffing keywords into a piece of content. But that won't work anymore. In fact, Google may even penalize you for doing it.
Instead of finding a single keyword and putting it everywhere in your blog post, find all the possible phrases people may search for that would help them find similar content.
Once you have these keywords, sprinkle them throughout your article — but not too much.
You need to strike a balance between how many times you mention the keywords while writing naturally and how people may search for them.
How to optimize your content with keywords
One of the tips I gave when planning your content is to research the best keywords that correspond to your post ideas.
Ideally, you should research keywords to use before writing your content.
Although SEO tools like Semrush and Ahrefs are the best for the job, there are free tools you can use to check the keyword volume (how many searches that specific phrase gets) and related keywords.
My favorite so far is Whatsmyserp Whatsmyserp — a browser extension that provides you with all keyword data for free.
For example, if you search for the "best places to visit in Japan", you would see information regarding its search volume and related keywords you can use all throughout the article.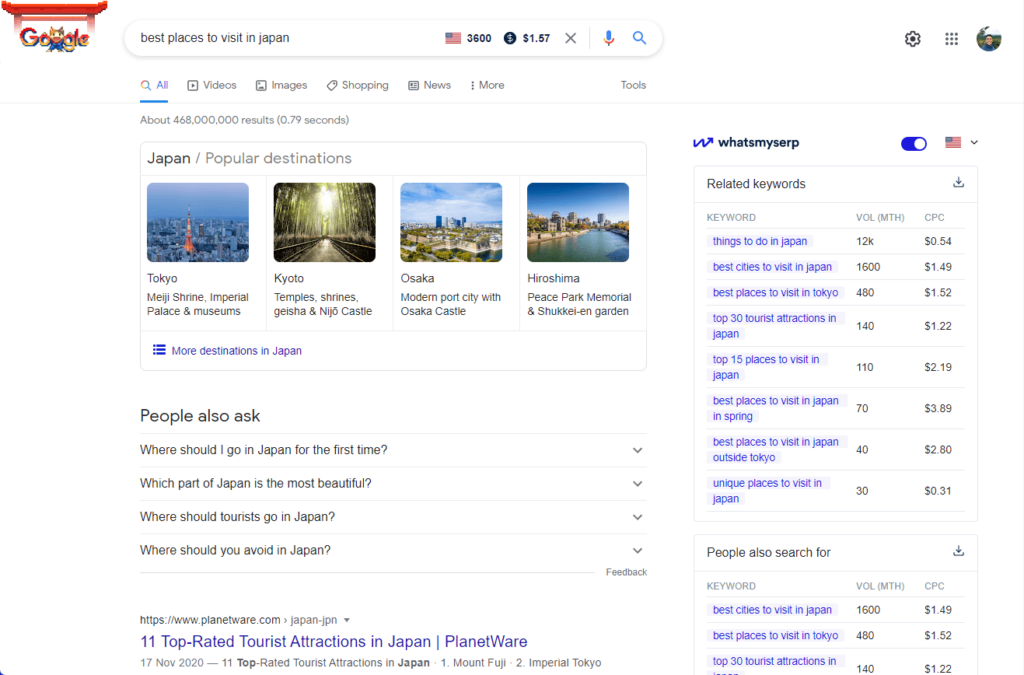 Other tools would let you see the competition. But you can manually gauge the competition by checking out the results for that search phrase and see whether or not the results are a good fit and if they come from reputable sources.
When searching for the main keywords you want to rank for, look for long-tail keywords — those phrases with three or more words. They are the easiest ones to rank for.
Once you have your keywords, simply use them across your content in a natural way. You don't have to apply them word-for-word. In fact, it's even better if you use synonyms or similar words to your keywords.
You must also use your keywords on the meta tags of your content.
Meta tags are texts embedded in the content of a website. They help search engines discover and understand what the web page or blog post is all about.
Primarily, there are two types of meta tags to consider:
Title tag: The title of the page or post (between 50-60 characters) that Google shows on the search results page.
Description tag: A 50-160 characters description of what the page or post is all about.
The Yoast plugin allows you to easily add meta tags to your blog posts and pages.
Once activated, you will see a Yoast option at the bottom of the post/page editor where you can add meta tags.
While editing any of your blog posts or web pages, scroll down until you see the Yoast section.
Change the SEO title and the meta description until you see a green indicator — which means the tag you entered is within the range that Google will show without cropping anything.
You can also check what the Google search result looks like for your blog post or page on mobile and desktop.
Chapter 6: Promote Your Blog
With great content and optimization, it's possible to start ranking for low competition keywords on the search engine results page and get a lot of visitors from it. This is called organic traffic.
Unfortunately, this could take time and is most often considered a long-term strategy.
To get visitors fast, you need to promote your blog. Aside from sharing your blog post articles with your family, friends, and network, there are other promotion tactics you must try.
Post on Pinterest regularly
Promoting your blog posts on social media is a great way to get visitors. However, I consider Pinterest special because it has a search engine function where users can search for pins.
Other social networks like Facebook, Twitter, and Instagram are great if you already have a lot of followers or you're willing to use paid ads.
When I started out, I used Pinterest to promote my articles through pins.
I used to spend an hour every week and automate all of the pins creation and posting through a platform called Tailwind. Other social media automation tools can't do what Tailwind can.
This translated to more than a thousand views on my Pinterest profile and a handful of visitors to my website. Not bad for spending an hour a week and letting Tailwind do the job.
If your niche makes use of images, Pinterest is a good way to promote your blog early on. To save time, use Tailwind to automate your pins creation and posting.
Write guest blog posts for other websites
Guest blogging is another way to effectively promote your blog.
Other websites give you the opportunity to reach their existing audience and let them know about your blog.
It's important that your content is high in quality so it gets a lot of shares, comments, and social media engagement.
This will help you generate organic traffic not only from the website where you posted it but also from other places on the web like Google.
Guest blogging is a long-term strategy and requires patience. You will need to start by reaching out to potential websites through cold emails or social media messages.
However, you can find a lot of opportunities for guest posting on top marketing blogs. Simply take time researching how other reputable bloggers got featured on top sites and how they did it.
Personally, I don't do guest blogging myself. That's because I prefer to spend the time writing more articles for the site especially since I already gained moments from Pinterest and SEO.
Different bloggers have different approaches when it comes to promotion. Others spend more time promoting than writing. Others like me spend more time writing than promoting. Check out what works best for you.
Chapter 7: How to Start a Blog Summary
It's been a long read! I never thought documenting my process of starting a blog, even if I already shortened many aspects, would take this long. But I'm pretty sure it's all worth it.
To recap, here are the steps to follow to start a blog in 2021:
Choose the right blog niche. Make sure to select one that you're interested in and has a large enough audience that you could make money out of it. It's also best to think about how you would monetize it (instead of waiting until you get 10,000 readers a month to do so).
Get a blog domain and hosting. When deciding on the domain name, make sure that it's memorable enough — but don't spend too much time on it. All of Bluehost's plans include a free domain name for a year. If you decide to host with Bluehost, make sure to get your money's worth.
Create your WordPress blog. Although there are a lot of blogging platforms, WordPress is the best choice if you want to make a business out of your blog. Make sure to familiarize yourself with the WordPress dashboard enough to know the shortcuts.
Design your blog. This step is exciting — this is where you install and customize a theme until you're satisfied with how your blog looks like. Try not to spend too much time here as you will still be changing your blog's design many times. I highly recommend Astra (free and paid) and Authority Pro (paid) as good starting points.
Write and publish blog posts. This is the center of your blog. Make sure to create a content strategy beforehand and write the best articles possible for your niche. optimize your blog content too for search engines.
Promote your blog. There are a lot of ways to promote your blog. However, I highly recommend looking into Pinterest (when applicable) and guest blogging as they seem to be the most effective of them all.
Congratulations! You now know how to start a blog from scratch. I hope this blogging step-by-step tutorial was able to help you. Feel free to bookmark this article so you can get back to it anytime you want.
Bonus: FAQ: Starting a Blog
As a bonus, you may want to read some of the frequently asked questions about starting a blog. If you have additional questions or concerns, feel free to drop them in the comment section.
What is the best blogging platform?
Technically, the best blogging platform is the one that's easiest for you to use and has all the features you need.
However, if you're leaning on the potential and how much you can do (considering you're still starting out), I would say the best blogging platform is WordPress.
There are a few others out there that are completely free to use (like Medium, which I particularly like). But remember — if the product is completely free, then you're probably the product.
How much does it cost to start a blog?
If you opt to use a free blogging platform, then you don't need to shell out any cash.
But if you want to start a blog that you actually own, the minimum cost would be around $35 per year.
Since the question is about the cost, I'm assuming here that this refers to paid blogging.
Here is a breakdown of the expenses of starting a blog at the bare minimum:
Domain name: Free for one year with Bluehost
Hosting plan: $2.75 per month (good for 36 months)
Total: $33 per year
Some bloggers estimate the bare minimum cost to be double that amount. That's because many of them recommend hosting services that require large payments upfront.
Many beginners don't have much capital to start with. Bluehost allows you to start with only $2.75 per month. The caveat here is that you need to choose a 36-months plan to qualify for the super low price.
How do I monetize my blog?
I mentioned in the first chapter that it's important to consider how you would monetize your blog. However, it's unlikely that you would earn anything right off the bat.
As for the monetization methods you can try, there are a lot of ways you can earn money from your blog like:
Affiliate marketing
Sponsored ads
Selling your own products
Selling your services
Membership programs
The most common monetization methods you would see are affiliate marketing and sponsored ads. But remember, since you own your blog, you can actually get creative and try out new ways to earn money from it.
What's the best blogging strategy for starting a blog in 2023?
The best blogging strategy to implement in 2023 is increasing your content velocity. It refers to the number of content you publish in a month. The more articles you put out, the better.
Naturally, this doesn't throw quality out of the window. Your articles have to be the best out there possible. They must address the search intent of the reader and be able to help solve his or her problem or needs.
In addition, you must also optimize your articles for search engines. That includes researching and using the best keywords, using semantics (synonyms), and making sure each article is as in-depth as possible.
Where can I get good themes for WordPress blogs?
For free options, you can check out the WordPress themes repository, Themeisle, and Themeforest.
For paid themes, I highly suggest the premium Astra theme or the Authority Pro theme.
If you need more diverse premium themes, ThemeIsle and ThemeForest also have good ones.
Remember, when looking for a theme to use, check first its demo site and the number of customization options it offers.
Personally, Astra is my number choice for this — but I know there are others on the marketplaces I mentioned above.
How do I start a blog for free?
If you want to start a blog for free, you can register for a free account on Medium, WordPress, or Blogger. Do this only if you're writing for exposure, portfolio, or fun — and not for business purposes.
If you start a blog on a free platform, you will be subject to the rules and restrictions of that platform. The way you can monetize will be limited to what is allowed.
Since your blog will be hosted on the platform's domain, you don't own anything on your blog. When you use your free blog for business purposes, you may not be taken seriously too.
If your problem is the likely cost, know that you can always start a blog for as little as $33 a year with Bluehost. That already includes a free domain name for a year.
Are blogs easy to start?
Starting a blog isn't that hard — but it needs dedication, patience, and perseverance.
In fact, the pre-writing parts can be done in less than an hour if you only apply minimal design changes from the theme you install.
The steps to start a blog includes:
Choosing the right blogging niche
Getting a blog domain name and hosting
Setting up WordPress
Designing your blog
Writing blog posts
Promoting your blog
The first four steps don't have to take too long. It's also not that complicated — especially if you follow my step-by-step tutorial. The only part that would take a bit of time is writing your blog posts.
What types of blogs make the most money?
Although all types of blogs can be monetized — some are harder than others — there are certain niches that are more profitable than others.
Top money-making blogs include those in the following niches:
Technology
Finance
Cryptocurrency
Travel
Health
Unfortunately, these niches are also saturated. But that doesn't mean you can't make a name for yourself. You can always stand out by going deeper (more niched) and publishing as many optimized articles as you can.
Is blogging still profitable?
Blogging would always be profitable — as long as people continue to find and read information online.
Even if content can be delivered in various formats these days (audio, video, webinar, etc.), written content will remain the standard, considering most content starts off in written form.
But that doesn't mean all blogs are profitable. Some do better than others while the majority don't earn anything at all. That is the reason why I recommend checking your niche of choice first.
Is still possible to earn money from a non-English blog?
Yes, though you may need to get creative on how to monetize your blog. As long as you get traffic (people visiting your website), you can always make money from that.
Before you start your blog, choose your niche carefully first. Then, create a content strategy and outline the possible topics you can cover. Find out too what keywords people use to find related information.
If affiliate marketing and sponsored ads aren't possible for your niche and language, consider selling your own products, services, or courses. If your niche showcases your expertise, you can always start a consulting business from your blog.
That's it! Feel free to drop down additional questions if you have any. Good luck with starting your blog!