Are you having problems choosing a niche for your blog?
Contrary to what others say, this part is not that easy — it's not as simple as blogging about what you love (especially if you want to make money).
When I started out, I had some sleepless nights going about which niche I should focus on. I felt like there were a lot of them I wanted to try out.
If you're in the same position (or maybe you don't know where to start), I have listed here various methods to help you come up with blogging niche ideas and choose one for you.
By the way, this guide is part of the step-by-step tutorial guide on how to start a blog. If you're interested in starting a blog, make sure to read it to learn all the basics of starting a blog.
With that, let's get started.
What is a blogging niche?
A blogging niche is basically a subject or area that you blog about. It's the topic category that your blog will focus on — a.k.a. the topics you will be writing about.
Some niches can overlap or include multiple topics. In fact, big blogs today started out at the sub-submarket level. Then, as blog post ideas get exhausted, the blog usually climbs up to the submarket level.
For example, if you start a smartphone blog, you will soon run out of blog posts to write. Eventually, you will write about other gadgets like tabs, smartwatches, and laptops.
That is how many tech blogs started out.
Sign up for exclusive updates, tips, and strategies
Why is it important to focus on a blogging niche?
If your blog doesn't have a specific focus, you will find it hard to get real traffic and earn money.
If you blog about a bunch of random things ­­ because you want to pursue your passions or just "start at the top" — it will be much harder for potential readers and customers to find your blog.
It will also be difficult for you to measure the results of your efforts because there is no way to track how well you are doing. In short, not having a blogging niche is not good for long-term success.
The only exception here is if you are already a popular figure. If that's the case, you're actually the niche — which means you can probably write anything under the sun and will still get a good following.
How to come up with blogging niche ideas
There are a lot of methods to get blogging niche ideas. Don't get pressured on sticking with one. The goal here is to collect as many niche ideas as you can.
If by the end you're still not sure what niche to get started with, here's my advice:
Start anyways. Simply select one from your list of niche ideas. If it doesn't work out, you can always start over. However, not starting at all would be worse than finding out the blog niche doesn't work.
With that, let's get started with the first one — the same one I mentioned in the step-by-step tutorial guide on how to start a blog.
1. The IVM Method
The IVM method — interest, viewership, and monetization — is the most used method in selecting a blogging niche. Though bloggers use different names, the point is the same.
In this method, you must do three things:
List down niches you're interested in
Find out how large the potential audience is for each niche
Consider the earning potential of each niche
After doing these things, you must have something similar below:
In the first step, all you have to do is list out all the niches you're passionate about.
You can brainstorm by asking yourself these questions:
What are the topics or niches I'm familiar with already based on what I know or used to do in the past?
What are the topic or niches I'm interested in even if I don't know much about them?
What are the topics or niches that I find interesting enough to want to learn more about them?
Now that you have a list, all you need to do is run them on Google Trends to see the interest for that niche over time (preferably in the past five years).
You will observe three types of trends:
A steady trend means that a niche has a stable popularity
If the trend goes up and down repeatedly, the niche is probably seasonal
Stay away from niches showing a downward trend
Lastly, to analyze the potential monetization of each niche, you can simply plug them on Google and add "popular blogs" to see the popular blogs in that niche.
Examine how each blog monetizes the site, which usually revolves around selling ad space, affiliate marketing, and selling products and services.
2. The Ikigai Method
Ikigai (ee-kee-guy) is a Japanese concept that means "purpose of one's life". Essentially, it's the reason why you wake up in the morning and work hard throughout the day.
How does Ikigai apply in selecting a blogging niche?
To find out your ikigai, you need to ask yourself questions that will help you find your passion. Then, take those passions and look for niches.
Basically, you will need to answer these questions:
What do you love?
What are you good at?
What can you be paid now? What are the things that you could be paid for in the future?
What does the world need?
You may have noticed that this is fairly similar to the IVM method, except for the introspection part and the consideration of what the world needs. More or less, you will have the same results as the first method.
3. The 777 Method
This method is popularized by Pat Flynn, the founder of The Smart Passive Income Blog.
With this method, you brainstorm niche ideas based on your (or your intended audience's) passions, problems, and fears.
The result looks something like this:
Simply get a piece of paper or use a mind mapping software and do the following:
List out your own or your target readers' top 7 passions, problems, and fears
From those 21 ideas, select your own top 10
Enter those ideas to a keyword research planner (Google Keyword Planner will do) to find out specific niche ideas
The best way to do this is to put yourself in the shoes of your target market.
For example, you may be planning to start a blog for first-time parents. Simply create a list of ideas out of the passions, problems, and fears of first-time parents and you will have good, targeted, niche ideas.
4. Find a Forum
Even with the rise of large Q&A websites like Quora, you will find plenty of active forums. They are a good way to find niches and blog post ideas you can be sure people are still talking about.
In fact, it's an underappreciated method of finding good blog niches.
For this, I recommend going through the Find a Forum website.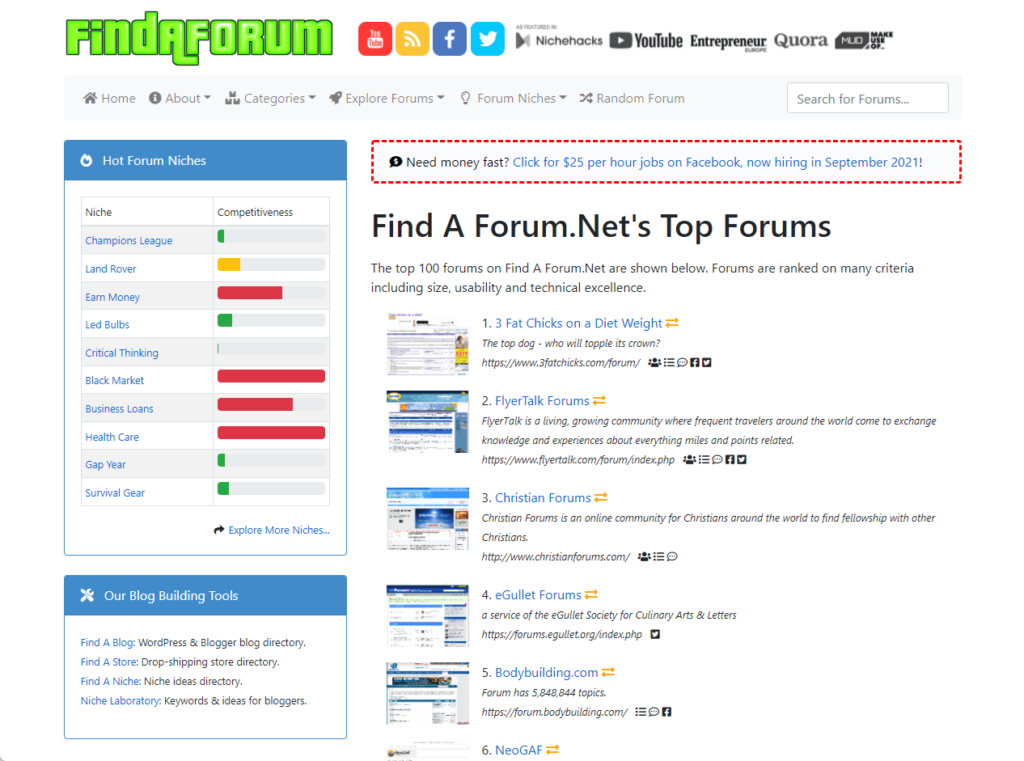 Here's what you need to do:
Go directly to their list of top forums
Find forums that interest you
Visit each forum and make sure they are still active
One advantage here is that aside from having a good list of blog niche ideas, you also access a database of topic ideas. Each post is potentially a question that you can answer in your blog.
It's also worth noting that there is a literal "Hot Forum Niches" box on the left side of the page. Aside from listing each niche outright, they also detailed how competitive each niche is.
5. Wikihow
Chances are, you have probably stumbled upon the Wikihow website before. As you may know, it's a popular website with a lot of how-to guides on almost anything under the sun.
For this one:
Go to the categories list
Select a category you're interested in
You will then see a lot of posts under that category
On the bottom, you will find a related topics section
Expound each topic by pressing the add button
The treasure is in the related topics section, where you will see specific niches that belong to that category.
For example:
Under the "Computers" related topics, you will see computer hardware, maintenance, security, troubleshooting, and many others — all good computer niches with a lot of potential post ideas.
6. Amazon Best Sellers
Finding niche ideas from Amazon itself is a really good idea especially if you're planning on building an affiliate website with a blogging section.
Since you will link to Amazon anyway, might as well find ideas from the source right away.
Most people go through the full store directory to see a massive list of product categories being sold on Amazon. Each category also contains subcategories that can be good ideas.
However, the real winner here is the best sellers section.
The list itself contains good niche ideas related to the best products being sold. You will also see on the left side various departments that list out the best products for that category.
Check out the category you're interested in. By considering the best sellers, you are also finding niches with high profitability and market potential — all good for affiliate marketing.
7. Affiliate Marketing Network
Another method you can use if you're planning on creating an affiliate website is by finding niche ideas straight from an affiliate marketing network like ShareASale, Clickbank, and many others.
Since I'm using ShareASale, I'm using it as an example.
Basically, what you want here is to check the top affiliate programs. Similar to checking Amazon Best Sellers, you also have a higher chance of finding profitable blog niches by checking directly the top programs.
In ShareASale, there is a Power Rank button on the Find Merchants page where you will be able to see the top programs.
On the list, you will see program keywords for each entry, which will give you a good idea of what niche to start if you want to make use of that program on your affiliate website.
8. Udemy Popular Topics
The last method on this list is checking out the popular topics on Udemy. As you already know, Udemy is an online course platform where course creators sell their courses.
The main categories don't tell you much. However, once you dive into the popular topics of each category, you will see good niche ideas you can start with.
For example, under the parent and relationships subcategory (from personal development), you can see entries like:
Parenting
Relationship building
Love
Child psychology
Counseling
Life coach training
All these topics are potential niche ideas you can focus on in your blog.
Another cool thing is that you can visit these popular topics, see the courses, and check out the course content. The topics under the course content will give you a good list of blog post ideas to start with.
How to validate your blogging niche
The next thing to do after you have a good list of niche ideas from the methods above is to validate them.
You definitely don't want to jump into writing blog posts for something without knowing how many people will visit your site.
In this step, you will basically run a version of the IVM method on all the niches you gathered from other methods.
1. Popularity
The first thing to check is the popularity of each niche.
If a website gets a lot of traffic, there is a good chance there are people looking for solutions or information on that topic. In other words, strong demand means high profits from monetizing your blog.
In this step, there are two things you need to know:
How many people are looking for this niche?
Are there any other websites offering solutions in that niche?
Use Google Keyword Planner to check keyword search volumes. The free version works well enough for occasional use.
Once you enter the niche on the tool, you will see the keywords that people use when searching for things related to the niche. You will also see a range of search volumes.
Personally, having keywords with 100 to 1,000 search volumes is the best. With that volume, the niche has a healthy search volume for its keywords. But at the same time, it's not too general or else more people would be searching for it.
Twinwords is a free alternative that provides better stats than the Keyword Planner.
You can also use spy tools like SimilarWeb and see how other blogs in the same niche are doing. With that tool, you can check their audience size as well as their most popular keywords.
2. Monetization Potential
The next step after finding a popular niche is to check how much other bloggers are making from that specific topic.
Even if that niche is popular, you definitely want to see if other bloggers or companies are making money from it and how they are doing it — offering content, courses, and/or services around the niche.
Basically, if a niche is lucrative, you will find more competitors in that space.
For this step, you need to visit other blogs that are making money from the niche. Examine each blog and analyze how they're making money. Most blogs you will see probably run ads on the site.
You may also want to check the following:
Check for an area or page where they sell their own products.
Check out their blog posts and see if they're recommending affiliate products.
See if there's a page dedicated to selling their own services.
Although there are other ways to monetize a blog, the ones above are the usual methods bloggers use to earn money. It's always a good idea to check first how much monetization potential your niche has.
3. List Out Blog Posts Ideas
For the niches that have good popularity and monetization potential, you need to check as well how much content you will be able to write or publish.
For this step, simply come up with at least 50 ideas for blog posts for that niche.
Although you can do this as part of content planning, this step is dedicated to checking out whether or not you can write enough posts about that niche. Meaning, you don't need to go into specifics about each idea.
To find more blog post ideas, you can always use keyword research tools, Wikihow, and forums. You can also visit competitor blogs and get inspiration from their blog section.
The point here is to see if you can come up with at least 50 blog post ideas.
If you don't make it to 50 or you're struggling to get to that number, it's a sign that the niche may be too specific and you need to move up or include relevant niches.
After going through the three validation steps, you will have a handful of blog niche ideas to start with.
All that's left is to select one.
Again, if you can't seem to choose one, just pick one out randomly. Since you already validated them, that means all the niches on your list are good ones. You will do well with any of them.
To get started with your blog, make sure to read my step-by-step blogging tutorial so you would have a good idea of what to do and how to start.
FAQ: How to Choose a Blogging Niche
In this section, you will read about the frequently asked questions about choosing a blogging niche. If you have more questions or concerns, feel free to drop them in the comment section.
What are the best niches to blog about in 2023?
Out of all the niches you can blog about in 2023, I recommend you choose topics that are popular. You must also check the potential for monetization for those niches.
From the things I have read about online (which I'm pretty sure you did too), the following are always trending:
NFT Gaming and Trading
Earning money during the pandemic
Courses to learn during the pandemic
Saving (and investing) money
Popular shows to watch
These are my own observations. If you stop and think about the news you have heard and trending posts on social media, you would see popular topics and niches that you can start with.
How do I know if a niche is profitable or not?
To learn how profitable a niche is, check out the top blogs for that niche. Examine the methods they're using to earn money. If they're selling their own products, check out the price and how many people are buying it.
Strictly speaking, you can make money out of any niche. Even if you can't sell a product or a service in that niche, you can always run ads. But that requires a lot of traffic for you to earn a substantial amount of money.
A profitable niche is one that can either gather a large amount of traffic for ads (like news websites) or one that allows you to use a variety of monetization methods to earn money.
What should I look for when searching for an ideal niche?
An ideal niche is one that has a good popularity, earning potential, low to medium competition, and is wide enough to have more than 50 blog post ideas at the start.
These are the things you must validate when choosing a niche to get started with.
On the other hand, make sure to not waste too much time checking on the most ideal niche for you.
There will always be a lot of idea niches out there. If one niche is not working out for you, you can always try another or add up another niche.
What are the best niches to go into if I'm a newbie blogger?
If you're a newbie blogger, it's best to blog about something you're interested in and has a lot of earning potential. It's important to keep the fire burning or else you will lose interest in blogging.
The truth is, blogging is a long-term war. You can't win in a few months' time. Although others have made good money within a year, it's unlikely you can replicate the same success every time.
That's why it's important you have enough interest to get started. Your passion will also keep you burning while writing the first batch of your articles (during the time when you might earning little to no money).
That's all the questions for now. Feel free to drop down additional questions if you have any.
Again, always think about starting right away instead of dragging this step far too long for fear of having a niche that's not good enough.