Back then, getting your Upwork profile approved wasn't this complicated. But again, the number of freelancers wasn't the same back then.
Imagine, in 2017 alone, there were over 57 million freelancers in the United States. In 2020, it rose to almost 65 million. (Source: Statista)
That's more than 8 million new freelancers, not counting those from other countries, especially Asia.
This influx is what led freelance platforms like Upwork to tighten up their supply. This is why it's getting harder for your profile to get approved.
If you have just started your freelance journey, this can be very frustrating. I know a few people who right away quit and went back to the corporate world all because their Upwork profiles were rejected.
In this article, let's go through how you can possibly get your Upwork profile approved. Let's get started!
Beware of Upwork Approval Services
Before we proceed, let me warn you about "approval services" that are rampant right now.
If you've been to several blogs and forums (to read about how to get your profile accepted), chances are, you have already seen these shameless plugs from different individuals advertising their services.
Here's an example:
And another one:
What these people do is use false and misleading information on your profile to bypass Upwork's account approval algorithm.
They do this by:
Changing your skills and categories to something related to mobile development or programming.
Moving your location to another country like Pakistan, the United Kingdom, or the United States.
Now, here's what will possibly happen in a few weeks or months:
You'll receive an email from Upwork that your account is on hold. Then, you'll be kicked out.
You'll be asking yourself:
"Did I do something wrong? I never did anything that went against Upwork's rules."
You never did anything wrong. But what these people did to get your profile approved was in violation of Upwork's Terms of Services.

No matter how frustrated and desperate you may feel, never buy into these services.
True, your account may be approved. But Upwork will catch up eventually and you will find yourself unable to access your account.
Worse, you might not be able to withdraw your earnings.
Sign up for exclusive updates, tips, and strategies
More Automated Than Manual
A key to understanding how to get your Upwork profile approved is knowing how the process works.
I have noticed many people expressing their anger towards Upwork employees and how "unfair" they are. But spoiler alert, these employees don't know you.
Stephane Kasriel, the former CEO of Upwork, revealed in a 2017 interview that there are over 10,000 new freelancers on the platform daily.
The truth is…
Upwork doesn't have the manpower to review all these new profiles manually every day.
That's why you need to understand that it's more like an automated elimination process. If you don't meet certain criteria, your profile will be rejected.
On the other hand, it doesn't mean that there are no humans behind this process. People from Upwork have confirmed that there certainly is a human element behind the process.
Although Upwork is mute about the specifics of this process, it's likely that the human element plays after a number of resubmissions.
In short, an Upwork profile for approval goes through an algorithm first before a human sees it.
Further reading: Despite this, I highly think Upwork is worth it. There's a reason why many freelancers opt to use Upwork more than any other freelance platform out there. Check out my Upwork review article to know more.
How to get your Upwork profile approved?
If you find your Upwork profile rejected the first time, don't get discouraged right away. It is not an indication whatsoever that you're not fit to be a freelancer.
As I told you earlier, the approval process is more automated than manual. So before you throw the towel, try out these methods first:
1. Use a Work Email Address
Before, you can simply use your personal email address like the one you used to sign up for Facebook or Twitter. They didn't care much about this step.
But now, as you can see from the image below, Upwork specifically asks for a work email address or a professional email.
This is the first step in passing the automated system of Upwork profile approval.
I used to believe that a professional-looking, sensible Gmail address like alancatantan@gmail.com will do fine.
But obviously, it doesn't seem to be what Upwork is asking. Anybody who uses such an email will receive a "We noticed you're using a gmail.com address. Would you like to use your work email instead?" notice.
A work email address is something that uses a custom domain, typically that of the business's name.
Unfortunately, you can't get a domain for free.
Fortunately, Bluehost has a super low hosting package which only costs $2.95 per month that comes with a free domain name for one year and unlimited email accounts on owned domains.
But if you only want to buy a domain, the cheapest place is on Namecheap. You can buy a domain with a new top-level domain (TLD) that's for sale like .xyz or .website for just a dollar. (Namecheap calls them "99 cent domains".)
Then, you can either buy Namecheap's Private Email Hosting Starter Plan for $0.79 per month or Zoho Mail Lite for a dollar a month.
If you don't want any hassle and you're only there for the work email address, I highly recommend Bluehost. You would only need the email to register.
Further reading: I used to think there was a way to create a professional or business email address for free. Unfortunately, unless you already have a registered domain, there's no way to make one for free. But I did discover the two cheapest ways to create a business email. Check it out!
2. Enter the Maximum Number of Categories and Skills
Once you have verified the email address, you will then be redirected to the application page where you have to specify your main service, categories, skills, and experience level.
Let's go over them briefly starting with entering the maximum main services or categories, subcategories, and skills allowed.
Though Upwork keeps on updating its application page, there's a chance that the current application page will only accept one service and 4-5 subcategories.
If more than that, just make sure to enter the maximum number of categories and subcategories.
For example, on my profile, I have listed "Sales & Marketing" and "Writing" as my main services with various subcategories under them.
The same goes for skills. Select the relevant skills you possess.
If you're at loss on what to write, check out the subcategories you have selected and start typing relevant skills on the form provided.
Upwork will show you a suggested list of skills based on what you have written.
Again, make sure you fill it up to the maximum number of skills allowed. But make sure to include skills that you really have.
Although Upwork will not test you to see if you're being honest, picking the right skills and subcategories will have an impact on the invites you will be getting as well as your profile's searchability.
Further reading: Let me put it out here while it's early — even if you're able to get your Upwork profile approved, getting a contract could still be a grind. Read through my Upwork tips for beginners article to gain a better understanding of how you can make Upwork work.
3. Select the Intermediate Experience Level
The next part is picking the right experience level.
Most people undervalue their experience and choose the "Entry" level instead (perhaps to avoid high expectations from clients).
However, if you want to start working at home as a freelancer and use a platform like Upwork, you should not label yourself as an entry-level contractor.
Doing so will give off a vibe that you're new to this and probably, you're not even sure what you're doing.
Here's an unpopular opinion:
If you're not sure yet what you'll be doing, or if you haven't taken the time to learn a new skill and gain experience in it, then you might need to think about whether you're ready for this or not.
Freelancing is not for the unprepared.
But if you have at least put in some groundwork and gained some experience, then you're at least on an intermediate level.
If not, hold off your application and gain some experience first.
Further reading: I know you want to start freelancing using Upwork. That's why I wrote a comprehensive article on how to be a freelancer to help those who want to shift from being an employee to an entrepreneur by starting a freelance business. Check it out!
4. Complete Your Profile 100%
The next part is completing your Upwork profile including your profile picture, title, overview, rate, portfolio, certifications, employment history, etc.
Your goal should be to show that you're serious about joining the platform.
There's a big chance that the human element of the approval process cares very much about your profile completeness.
To start, make sure you're using a good profile picture. Of course, that doesn't mean you have to look really good or that the picture has to be taken professionally.
Just see to it that you're using a clear, legit picture of yourself. Preferably, a good, smiling picture of you.
Next is your title. Aside from your profile picture, your title is one of the most recognizable parts of your profile.
Make your title stand out — like you really know what you're doing. Generally, clients, especially high-paying ones, are looking for specialists.
They don't hire generalists who are easy to spot i.e. profiles with titles like Marketer/Virtual Assistant/Web Developer/…
Here's a tip:
If you want to stand out, show your expertise.
The same goes for your profile overview. Take the time to create a good and converting overview section.
When it comes to your rate, don't be cheap.
Again, this has something to do with your perceived experience level and value. Don't ask for the minimum possible rate which is $3/hour.
You may not know it, but clients can actually see a suggested rate depending on their experience level.
Don't settle for the minimum rate.
You're only devaluing your skills and services that way. Of course, don't set it too high either or you might end up underdelivering — or worse, no one will hire you.
5. Showcase Your Experience
The lower part of your profile houses the different experiences you have that clients may or may not check.
However, it's important that you fill these up too to showcase your experience.
In the education section, some people only write their formal education. But you should also include any education you have, even informal ones.
Some items you can add include:
Online courses
Internship
Training
Seminars
Further reading: One of the easiest ways to enter the freelancing world is by becoming a virtual assistant. I wrote an article about how you can become a virtual assistant even without experience. However, if you prefer online training to receive certifications, I also compiled 7 of the best virtual assistant training courses you can take.
In the employment history section, you should enter all the experiences you have — whether formal or not, paid or free — that are related to the services you're offering.
You may have done sample work for someone or helped a friend on a project. Make sure to include them.
It's also vital that you support your employment history with some relevant portfolio pieces.
This may not be available right away during the first time you create a profile, but if this section is present, include any projects you may have done in the past.
For example, here's what my Upwork portfolio currently looks like:
Again, what's important here is you showcase your experience and not leave anything blank. This is part of achieving a 100% Upwork profile completeness.
Completing your profile may have a profound effect when a human moderator manually reviews your Upwork profile for approval.
6. Refine Your Categories
Normally, if your chosen services and skills aren't that saturated yet, you will be accepted immediately.
But if not, you will receive an email from Upwork saying that your application was denied because your skill isn't needed.
If this is the case, visit your profile settings and change your categories.
The easiest way to get to profile settings is to visit your profile and click on the Profile Settings button found in the upper right corner.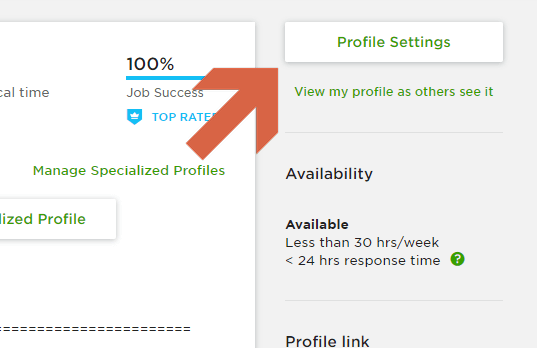 If you have been rejected the first time, you will notice that you're now able to select more categories than the first time.
Add your categories and subcategories up to the maximum allowed.
If not, change the combination of your categories and subcategories. Choose a category that's still related to your services.
For example, if you're a content writer and you have chosen "Writing" at first, you can change it to "Sales & Marketing" and select the relevant subcategories.
Frequently Asked Questions About Upwork Profile Approval
I do hope your Upwork profile gets approved. Though there are other freelance websites out there, nothing still beats Upwork in terms of legit clients and earning potential.
That's why I seek to answer all the questions related to Upwork approval. If you have any other questions, don't hesitate to comment it below so I and the others could look more into it.
How do I get my profile approved on Upwork?
I hope you read through everything in this article since that's what this article is all about.
But to answer your question, you have to understand first the Upwork profile approval process. That is, it's actually more automated than you think. They can't check every profile that gets submitted.
Once you nailed that part, you now understand that getting your Upwork profile approved has to check all the marks including:
Using a professional or business email address
Entering the maximum number of categories and skills
Avoid tagging yourself as "entry-level"
Completing your Upwork profile to 100%
Showcasing your experience, skills, and education
Refine your categories the first time your Upwork profile gets rejected
Naturally, you have to understand too that there are red flags that could get your Upwork profile rejected. The number one red flag I know is mentioning only ultra-mega-easy jobs like data entry and research.
If that's the only skill you know, I'm afraid you will really have a hard time getting your profile approved. You have to learn a few skills (and if possible, gain experience).
Why is Upwork rejecting my profile?
I know it's frustrating. But the answer is simpler than you think:
Supply and demand.
That is, there are too many freelancers offering certain services with only a few job posts. That's the reason why many aspiring freelancers who only know data entry and research get rejected.
Lately, I have also seen more and more posts about profiles in the copywriting and web designing categories getting rejected. It's the same story. As more people offer the same services in Upwork, there's always the chance that those categories will be red-flagged as well.
How long does it take for Upwork to approve?
According to Upwork, they will reach back to you within 24 hours. This is the longest you can expect before someone from Upwork reaches out to you.
You're probably asking this since you saw others who got accepted in Upwork almost instantaneously. That can happen if the chosen skills, categories, and even location of the freelancer are all green in Upwork's eyes.
You can rest easy that's not because of some Upwork politics.
Can I have two profiles on Upwork?
I know a few people who created an account in Upwork years ago who got accepted but they didn't touch their profiles ever since. Now, they want to use Upwork but they can't remember their passwords.
Some of them had an idea to open another profile in Upwork. Most can't get through Upwork's approval process. Others who passed found their profiles banned in a few months.
That's because Upwork Terms of Service only allow one account per person. Even if you get around this, sooner or later, they will catch up to you.
Are there any skills that could get your Upwork profile approved?
If you mean skills that Upwork highly favors (and could get you accepted almost instantly), then yes. Upwork is a skills marketplace. It wants the best talents to be on the platform.
Highly technical skills can get you approved almost instantly. These include skills like:
Programming and development
Data analysis
Blockchain skills
That's why many "Upwork approval services" change the skills and categories of their clients. They know that by simply changing the skills, an account could get approved right away.
However, and I warned you about this earlier, this is a breach in Upwork TOS unless you really do have the said skills. If not, your profile could get approved and you may use it for a while. But Upwork will close it down soon.
How to know or check if your Upwork profile is approved or not?
This is one of the common questions I found that's been asked on the Facebook groups that I'm part of. The main concern is that they didn't receive an email from Upwork for more than 24 hours.
If you didn't receive an email from Upwork for 24 hours, your profile is probably approved. To confirm it, try sending a proposal to a job and see if it goes through.
If it did, then you're approved. (Congratulations!)
Use Alternative Freelance Platforms
Depending on your chosen categories and subcategories, the approval may not take that long.
Or you may not get accepted at all even after countless revisions. It's unfortunate, but you will have to move on.
Further reading: It's unfortunate. But if Upwork doesn't really accept your profile, you can still earn money fast with other freelance websites like Upwork. I compiled that list for the sake of all those who weren't able to pass Upwork's approval process.
The truth is:
Upwork is already saturated right now with freelancers, especially on the non-technical side.
So there's really a chance that if you're only offering basic services, your Upwork profile may not get approved. This is simply a supply-and-demand thing — too much supply but too little demand.
If you really want to fulfill your dream of working at home via freelancing, here are my suggestions:
Start learning a new, in-demand skill
Create a freelancer profile on other platforms like Fiverr, FreeUp, or OnlineJobs
Find clients on your own (research and outreach)
Start networking professionally on social media platforms like Facebook and LinkedIn
In the end, if you're Upwork profile wasn't approved, don't think of it as a failure. Rather, treat it as an opportunity to grow and learn more. What's important is you never give up on your dream.
Now it's your turn. I would like to know what you think:
Are you having problems getting your Upwork profile approved despite following what's written above?
Do you have any more questions about how to get your Upwork profile approved?
Let me know by sharing your comment down below.