Finding a profitable freelance writing niche is a common problem for new freelance writers. But it's not because the niches are rare and hard to come by. It's more like there are too many choices out there.
I had the same problem when I started out. I tried writing topics about self-improvement, leadership, money, technology, and a few more. But I stuck with technology and freelancing.
If you're in the same situation right now, you have come to the right place!
I'll let you in about the truths I discovered when it came to writing niches. I'll then show you the most profitable freelance writing niches to focus on this 2021.
Let's start!
The Truth About Writing Niches
What do you mean when you say "niche"?
Most people think it's all about specialization on a certain topic or industry — that's usually the first thing that comes to mind, right? It can be broad like technology.
On the other hand, it can be more specific like software or web development.
A niche can also refer to a content type. I'm talking here about blog posts, social media posts, white paper, and others.
One of the truths I learned is that a "writing niche" can be about anything that's unique to you — more than a topic or content type. It can also be a form of writing like humorous content or drama.
Be that as it may, the most profitable writing niches usually revolve around certain topics and content types.
Why "the riches are in the niches"?
Freelance writers help in marketing the client's products and/or services. In addition, the content that a business produces shows its expertise in its industry/products/services.
Aside from that, content helps in increasing the client's website viewership, which increases potential subscribers for the client if he's running an email list.
Content can also expose the products or services to as many people as possible.
Some businesses, especially startups, usually write their own content. But as they grow, they have to outsource it to a freelance writer to free up their time. As you know, writing content takes a lot of time.
Now that you got a better understanding of why businesses hire freelance writers, here's another truth I learned:
The more knowledgeable you are about a certain topic, the more you can connect with the client's customers.
This is true because you understand the products, services, the needs of the readers, and the industry as a whole. Writing about something that you genuinely have knowledge about shows in the content.
How does niching down benefit you?
For one, the rate you can ask is significantly higher if you're a subject matter expert (or at least has a lot of experience writing about it). That's because you're able to bring more value to the table.
Since you know what you're writing about, you're also able to write faster (and easier). The faster you write, the more projects you can take on. Better projects mean more income for you.
Niching down also enables you to land better contracts easier (and faster). High-paying businesses prefer to hire specialized writers or those they call "niche writers".
It's also easier to sell your services if you have a lot of experience.
Sign up for exclusive updates, tips, and strategies
Profitable Niches in 2023
Take note that the profitability of a niche highly depends on supply and demand (more of that in the FAQ section). Some niches are undeniably doing well compared to others.
But changes in circumstances (or events like the pandemic) could affect the niches. For example, topics related to travel used to be popular and "in demand".
That's why the most profitable niches could change anytime. However, what I listed here has a higher chance of staying in the long term.
1. Cryptocurrency
I wrote a lot of cryptocurrency-related articles back in the day when I was a virtual assistant for a Czech client. One of the things I was tasked with was writing articles about Bitcoin, crypto wallets, and many more.
As of the time I'm writing this, the price of Bitcoin is already near $40,000. It's hitting an all-time high now. Surely, the bubble may burst any time soon but many people are becoming more interested in it.
Though cryptocurrencies are clearly volatile, the trend is here to stay. In fact, almost everyone knows the words "cryptocurrency" and "Bitcoin" now. Many are even investing heavily in Bitcoin since its price (once again) inflated.
This is the reason why there's an increasing interest again in cryptocurrency topics.
The effect of this is that blockchain-related companies are now scrambling to find writers to publish more content about cryptocurrency to attract as many readers as possible to their websites.
This is why you will notice a lot of demand for cryptocurrency writers right now.
2. Ultimate Guides
Ultimate guides are long-form content with more than 2,000 words (or 3,000 words, depending on who you ask).
These are in-depth articles that are well-researched and should provide the reader with as much information as possible.
These are not your usual 500-word posts that can be done in a few minutes. An ultimate guide usually has a lot of elements in it including images, studies, quotes, and statistics — all to better convey information to the reader.
Though the content is long, the article has to be exceptionally written. It should not sound like a research paper. It must be conversational (and entertaining, as much as possible).
The demand for ultimate guides is not as great compared to others on this list. It's extremely expensive for marketers and business owners to pay writers for long-form content.
Others will rather hire writers to publish more short-form content.
But most of them know that long-form content tends to perform better. That's the reason why most of the articles here on the site are long-form — they absolutely do a lot better than short ones.
Those who can afford will always lean more on publishing long-form content.
On your side, long-form content is easy to sell as a package. I once had a contract with an Australian client that was worth $1,000 a month for two long-form articles plus a few minor deliverables.
To start writing ultimate guides, find a niche topic that you enjoy writing about. You can also try niches that bore you the less. You need to take this into consideration since writing long-form content is draining.
Ultimate guides are usually bookmarked for future references. Do your best to include all the relevant information so the readers don't have to visit other websites.
3. Ebook Writing
Although the length of ebooks depends on the need, they're usually longer than ultimate guides. On the other hand, many ultimate guides are repurposed into ebooks (and the other way around).
Ebooks make great lead magnets that help marketers and business owners collect email addresses from readers so they can, later on, send sales emails and newsletters. This makes writing ebooks lucrative.
Remember that ebook sales are estimated to reach more than $15 million.
But writing ebooks take time. That's why many outsource this and ask writers to sign a non-disclosure agreement — business owners usually slap their name across the book like they actually wrote it.
Once you land a contract for writing ebooks, it's easy to upsell other writing services. For example, you can offer to write blog articles or social media posts on the topics and ideas mentioned in the ebook.
Many clients will prefer to give you more projects if they like your style of writing. After all, if you're the one who wrote the ebook, then you're more than qualified to write shorter content or any related content.
I personally had no experience writing ebooks. But I once helped a client with the outline of his book. That work earned me $400.
As for the specific topics, they may vary. It can be about anything — technology, health, or even pure story writing. If it's a non-fiction ebook, it's usually to teach the reader about something (think "how to").
4. Finance Topics
Finance has been one of the top writing niches for years now. It totally makes that the idea of talking about money generates money. Even during a pandemic, inflation, or deflation, people will talk about money.
You can be certain that there will always be a demand for finance writers.
So how profitable is this niche?
Well, by estimation, the financial services industry is expected to reach $26.5 trillion. People spend millions of dollars a year on financial services and products like credit cards and loans.
Companies that provide such products or teach you how to use them most likely allocated a lot of money for marketing. This makes this niche extremely profitable and stable.
Those who have a background in accountancy, banking, and other related work have an advantage. Many writers are trying to break into this niche but a lot of them don't have the experience or the expertise.
Clients who are looking for subject-matter experts are expected to pay more.
5. Technology Topics
The technology industry is the least affected by the pandemic given that it even added $163 billion to the market. Technology has been instrumental in keeping many businesses in the game during these trying times.
Right now, there's a lot of demand for technology writers.
Note that this is a very broad niche that includes computers, mobile devices, software, and many others. It definitely helps if you have a background in technology or even a bit of know-how with modern stuff.
This niche is perfect for those with technical experience when it comes to under-the-hood technology topics like programming and machine learning. There are many programmers but only a few of them know how to write.
Combine this niche with a specialized form of writing like blog posts, white papers, or ultimate guides, and you have yourself a stable writing work with high-income potential.
The good news here is that you can actually learn about technology more easily than any of the niche topics listed here. You can seek out guest posting opportunities and start with general tech topics that don't need technical expertise.
6. Email Writing
If you have subscribed to newsletters, check out the sales emails you received. Many of them were not written by the marketers themselves since they hire email writers or email marketers to handle them.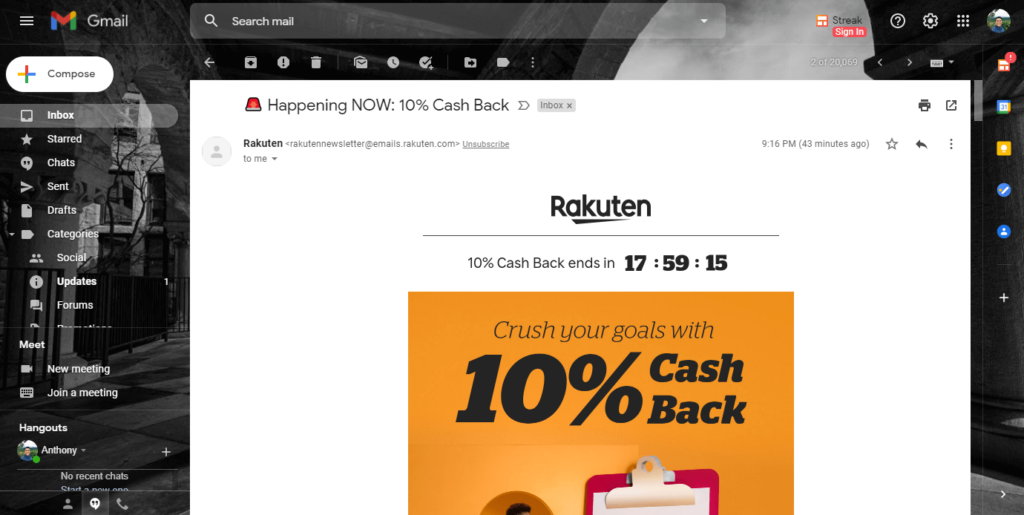 It makes total sense for marketers and business owners to invest in email marketing.
The return on investment is high — one email has the potential to generate $38 for every dollar spent. With this ROI, they will not hesitate to spend large sums of money here.
Writing emails may sound a bit easy. But the email you send has to compete with hundreds of emails. That's why it helps if you know more about copywriting, psychology, and sales tactics.
As for the emails, you may have to write emails related to sales, newsletters, and sequences. It definitely helps to know about how sales funnels work and how to use email marketing platforms like ConvertKit or MailChimp.
Writing emails can get really lucrative. I know someone who gets paid more than $1,000 for a few emails only. The bulk of that income comes from the commission whenever his email makes sales for the client.
7. Online courses
E-learning is a booming industry. It's expected to grow by $325 billion by 2025.
People have been realizing that you don't need to undergo traditional methods of learning to make it big. This idea is heavily reinforced by Elon Musk's declaration that you don't need a college degree to work at Tesla.
Various people have turned to creating online courses to supplement their income during the pandemic. They don't write all the content of their courses since it takes too much time.
They hire writers to handle the "written" part of their courses.
If you want to write in the online courses niche, it definitely helps if you have a background in teaching. Having knowledge about what the online course is teaching also helps.
The good thing about writing for online course creators is that it's easy to upsell other services like social media posts, emails, blog articles, and video scripts.
Other niches to consider
I wanted to end this article here. But I figured that it would be a bit unfair for other niches out there that are slowly emerging and may become as profitable as those listed above. With that, here are other niches to consider:
Video script writing
Video is slowly becoming one of the top preferred content types. Businesses are now using videos to reach more customers. In addition, many subject matter experts are now using video to teach others about their expertise.
Some of them use YouTube to supplement their income via ads or affiliate products.
That's why many are hiring video scriptwriters to handle the script. Many video creators look good on camera but many of them are bad at composing a script (many of them don't use a script at all).
Travel
Travel was one of the top niches to write on before the pandemic. The crisis has nearly destroyed many travel-related companies. That leads to the demand for travel writers vanishing almost overnight.
However, smart marketers and travel bloggers know that the best time to create written content about travel is now.
The reason is that by the time the world gets better, those published content will already have ranked on Google.
Though this is not one of the most profitable niches today, it's still worth a look as there may be a few smart ones out there who are already starting to publish travel-related content.
Note that one of the primary factors of being hired as a travel writer is experience. Many of them will either require the writer to live in a certain location or have been to the destinations they would like to write on.
Digital marketing
This space is pretty saturated — almost everyone nowadays knows something about marketing. No offense to good people out there who want to make it big by writing content on digital marketing.
The demand for digital marketing writers who have actual experience is pretty high. The income is high, too. But you need to prove those who need a digital marketing writer.
If you want to get started, learn more about content marketing, SEO, and social media marketing. Get experience too by doing what you learn yourself.
Frequently asked questions about the writing niches
I have included an FAQ section here to answer some of the questions you may have. If you can't find your question here, feel free to ask it in the comment section below and I may add the question here.
How to pick your freelance writing niche?
When it comes to picking your freelance writing niche, remember three things:
Start with a niche topic that you're interested in. You should also determine your niche form of writing.
But don't get stuck on it. You can always switch to another niche anytime you like. Watch out though for any niches that stand out to you and for the articles that stand out to your clients.
You will usually know that you're a good fit for a certain niche topic because of the client's feedback on your writing.
Don't be afraid to try out every niche that interests you. More than usual, you will be able to strike on a profitable niche topic or on a related niche.
As for your niche form of writing, it will be more of a preference. You will grow to love one form more than the other. That's what happened to me as I realized I like writing blog posts better than any other type of content.
How to validate your freelance writing niche?
The problem with most beginner writers is choosing a niche topic with a market that isn't that huge or usually saturated with general writers. (Think leadership or life topics that almost anyone can write about.)
The key here is finding businesses with big budgets.
Try and check on freelance platforms like Upwork to see which companies need writers. If they're willing to pay something in order to hire a writer, then they usually have a good budget.
You can also try finding guest posting opportunities. It's a good way to see if you would like to write articles on that specific niche.
Guest posting can also get you seen by prospective clients, which works as an ad for your writing on your behalf. It also helps since you would need a writing sample anyway to show to your prospective clients.
How to start with a niche you don't have experience in?
Simple — write while you learn.
Don't believe what they say about "fake it until you make it". It reflects in the writing if you don't know what you're talking about it. Your clients and audience may be able to smell it too, which may damage your reputation.
At the very least, learn as much as you can about the niche. Learn it like it's going to be your job for your whole life.
Documenting your learnings also works. It will serve as notes for your learnings and a potential sample for your prospects. As you get to know more about the niche, you will be able to give out your own opinions about it.
This makes you think like a thought leader for that industry or niche.
Why are some freelance writing niches more profitable than others?
It's all about supply and demand — the more technical the niche gets, the fewer writers there are. That's why leadership and life niches are not so profitable — they're so saturated with general writers.
This is the same reason why there's a high demand for technical writers (with contracts that pay handsomely). Not everyone has the experience and among those who have one, only a handful knows how to write well.
You also need to look at how the content will be able to influence the business's bottom line. The more the content can help in selling the client's products and services, the more profitable that niche is.
It's easy to spot opportunities like this.
Businesses that are paying big to advertise their need for a writer to help with that specific type of content have big marketing budgets. Sniff them out and you will know which niches are profitable.
Start niching down now
There's wisdom behind the famous quote "the riches are in the niches". Niching down is one of the best decisions you will ever make as a freelance writer.
Many writers hold back because of how niching down "narrows down" your potential clients. But that's the point. You should narrow it down and focus on high-paying niches and clients.
Personally, it's one of the best things I ever did. After realizing that most of my clients are in the technology industry, I decided to focus on it. Besides, I love technology.
Now it's your turn:
Have you picked a niche already? What's your reason for picking that niche?
Do you have additional questions related to writing niches?
Throw them down (your thoughts and questions) in the comment section below.