Curious about how the freelance industry is doing these days?
If you search for "freelancing statistics" or any of its variants online, you will find a lot of results that list even the tiniest fact about the industry.
That's not my goal here today — what I want to show you are the most important freelancer statistics that (I think) you will find helpful.
Please note that it's impossible to find the "latest" freelance statistics for each item. That's why you may find some that are known for a few years already.
Well then, let's get started!
The Growth of the Freelancing Industry and the Gig Economy
The other week, I read a response on Reddit about how it's getting a little tight here in the freelancing industry.
That got me thinking — what's happening with the whole industry over the past few years? Is it growing too much?
Well then, here are some figures and facts that could answer those questions:
1. More than 1.56 billion freelancers in the world today (possibly)
People know little about freelancing and online gigs. But now? I could hear something related to it every day (when I go out of the house).
For the 1.56 billion figure:
If you base it on a 7.9 billion population in 2021 (the figure was retrieved in February 2022), that's 19.74% of the total world population.
What's interesting here is that it's estimated that there are around 1.5 million freelancers in the Philippines.
That represents around 1.35% of the whole 110.8 million population in the country. For every 100 persons, one of them is a freelancer.
Well, that explains why you could hear something related to freelancing wherever you go in the Philippines these days.
By the way, if you want to add yourself to that number, I've got a beginner's guide to freelancing here.
2. Most freelancers have a bachelor's degree
How many freelancers that you know graduated from college?
Surprisingly, I realized that all of the ones I personally know have a bachelor's degree, which is consistent with the results of a report published by Payoneer.
This is certainly true here in the country where "going to college" is expected, even if the person doesn't know what he or she truly wants to do yet.
It's also possible that the opportunities for freelancing magnetize those who already finished college.
Those who didn't go to college usually found other sorts of employment (not online) while it's rare for post-graduates to seek other careers.
3. Freelancers with a post-graduate degree are paid more
In instances when post-graduates seek a career in freelancing, they are often paid more compared to those who only graduated high school and college.
According to the same Payoneer report:
Highschool graduates have a $22 average hourly rate
Those with a bachelor's degree have a $24 average hourly rate
Those with a post-graduate degree have a $30 average hourly rate
It's understandable though since post-graduates can do more advanced freelance work — which leads to a higher average hourly rate.
4. 53% of businesses are more willing to use freelancers
Will companies need more freelance workers?
Fortunately, according to an Upwork report, the pandemic has increased the willingness of 53% of businesses to use freelancers.
This is further supported by its finding that 71% of hiring managers plan to sustain or increase their use of freelancers.
The report rationalizes that:
Because remote work enables employees to work together at a distance, another spillover of remote work is that it also makes it easier to collaborate with professionals outside the firm.
The report further states what work area tends to be passed on to the freelance workforce:
Information technology and networking
Web/mobile/software development
Design and creative
On the downside, we are not seeing this that much here in the Philippines as of now. Most businesses here prefer to formally employ a person.
5. Freelance job openings increased by 25%
As businesses are more willing to hire freelance workers, there seems to be a 25% increase in freelance job openings around the world.
The figure was taken from a report that came from tracking the movements of the top 50 fastest growing and declining jobs on Freelancer.com's global marketplace.
The platform's CEO, Matt Barrie, told CNBC the following:
The uptick reflects a shift in the post-Covid-19 global jobs landscape, as employers reevaluate budgets and opt for a more flexible workforce. But it also indicates a growing interest among employees to move toward independent work.

Freelancer.com's CEO Matt Barrie
Anyways, the number of freelance job openings leaped by 41% compared to how it was the previous year the report was published.
This is observable across all freelance marketplaces and platforms out there — including Upwork and Fiverr.
6. The Philippines is the #6 fastest growing freelance market
Ever wondered which countries have the most freelancers?
Well, the results are published in Payoneer's 2019 Global Gig-Economy Index:
USA – 78%
UK – 59%
Brazil – 48%
Pakistan – 47%
Ukraine – 36%
Philippines – 35%
Personally, I was a little shocked that the #1 and #2 spots came from a first-world country. I expected poorer countries to top the results.
Payoneer's blog states that:
Freelancing in the US has been fueled by a rise in professionals who are leaving their full-time jobs in order to enjoy the flexibility of freelancing.
India used to be ahead in the race of the US until the pandemic. More people from the US realized that "freelancing doesn't have to be a side gig".
Depending on how you see this, you can also see the same trend here in the Philippines as more and more Filipinos leave traditional jobs to seek out freelancing work.
7. Interest in freelancing peaked in 2022
Since I also do SEO consulting on some of my clients, pardon me if I can't help checking out Google Trends.
Well, it turned out that interest in freelancing did peak in 2022:
Most of the interest came from:
Bangladesh
Pakistan
Nepal
India
Kenya
The same can also be observed in the Philippines:
Most of the interest from the Philippines came from:
Bicol
Caraga
MMAROPA
Northern Mindanao
Region 12
These facts only confirm that freelancing is rapidly growing — both inside and outside the country.
8. Non-freelancers are thinking of freelancing in the future
Heard of someone planning to quit their full-time work and become a freelancer?
It turns out that it's happening all around the world. People are jumping into freelancing head first.
This is the full finding on this matter from the Upwork report where I got this from:
For the first time, as many freelancers said they view this way of working as a long-term career choice as they do a temporary way to make money. In addition, the share of those who freelance full time increased from 17% in 2014 to 28% this year.
The conclusion came from a survey that Upwork did where 63% of the participants indicated that if they had the choice, they prefer freelancing over a traditional job.
What this means is that we may see an even greater influx of people rushing to the new gold rush that is freelancing.
Sign up for exclusive updates, tips, and strategies
Freelance Income and Earnings Statistics
It's no secret that freelancers enjoy a higher rate and income than their full-time counterparts.
But by how much? Are men and women paid the same?
Here are global freelance statistics related to freelance income and earnings that you might find interesting:
9. The average hourly freelance rate is $28 (worldwide)
Did you know that freelancers from first-world countries are paid more?
But on average, the average hourly freelance rate is $28 according to a Payoneer global freelancer income report.
Those from North America earn an average of $44 per hour while those from Western Europe earn an average of $31 per hour.
An average rate of $28 per hour translates to $2,800 per month on a 5-hour 5-day workweek — equivalent to at least 140,000 pesos.
Unfortunately, I can't find a single report on how much Filipino freelancers make (or what the hourly rate is) on average.
But I found 2017 statistics that state freelancers from the Philippines earn $780/month, equivalent to at least 39,000 pesos.
That's really small since $780 per month only equates to around $7.8 per hour on a 5-hour 5-day workweek.
10. Female freelancers are paid less than men
Who would've thought that there is a gender pay gap in freelancing?
According to the same Payoneer report as with the previous item, female freelancers are paid only $23 per hour on average.
With the $28 per hour basis, that means women are paid only 82% of what clients pay male freelancers.
The only exception here is South America where women are paid $26 per hour on average compared to the $22 per hour rate for men.
On the bright side, this disparity (18%) is way below what you get in a traditional employment market — which has around a 37% difference.
11. Software and financial consultancy are the highest-paid work worldwide
Aspiring freelancers always have this question in mind — what career fields pay the most in freelancing?
Fortunately, Indeed put up a list (last updated February 2021) of the highest-paying freelancing jobs:
Software consultancy ($92,219 per year)
Financial consultancy ($83,487 per year)
Web development ($78,367 per year)
Videography ($77,008 per year)
Human resources advisory ($75,576 per year)
For reference, a $92,200 annual income translates to 4.6 million pesos, which is equivalent to 384,000 pesos per month income.
Virtual assistance also made it to the list — for $56,860 per year, equivalent to 236,900 per month (surely not the average here in the Philippines).
12. Freelancers work around 46.66 hours/week on average
How many hours do freelancers work?
Freelancermap.com asked its community to share details of their freelance work schedule and got the following results: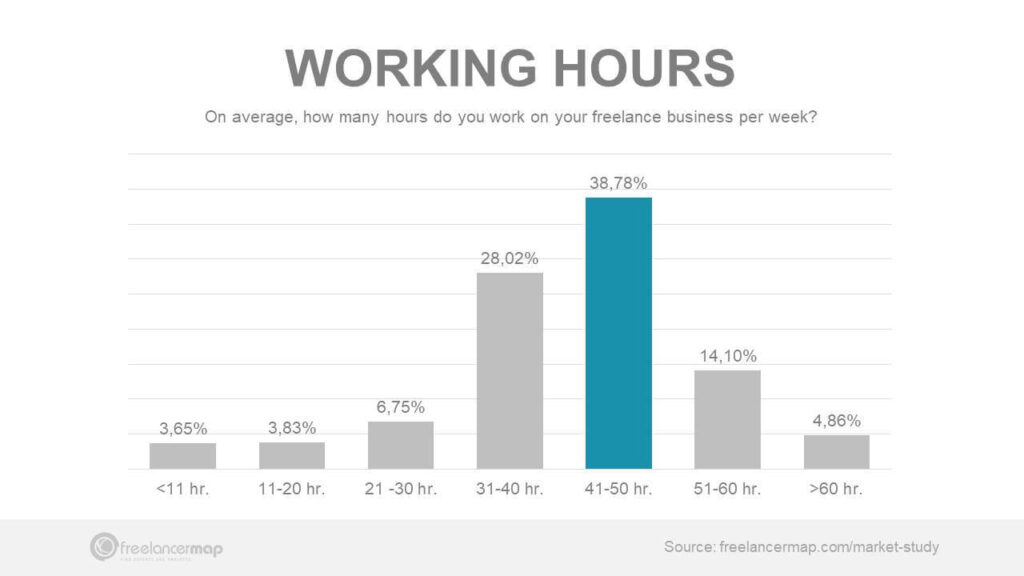 The result was that majority answered they were working 41 to 50 hours per week, equivalent to 8-10 hours per day (Monday to Friday).
They did ask their community two years before they got the results above — and the results are still similar.
Some people may say they are working only a few hours per week. But they could be excluding non-billable hours (like finding more clients).
If you are working way more than 47 hours per week, don't get discouraged, especially when you are spending a lot of time on non-client work.
13. Personal growth, flexibility, and out of necessity are the top reasons for freelancing
Do freelancers work for money?
Of course! But that's only part of the reason. In fact, a survey revealed that only 7% of the respondents say they freelance for money.
On the other hand, most of them say it's for personal growth (40%), followed by flexibility, and then out of necessity.
Well, once again, it's no secret that freelancers earn a lot. However, many of us value the flexibility and personal growth freelancing gives us.
On the other hand, freelancing isn't always cakes and rainbows. If you're feeling burnt out or stressed, this article might be able to help.
14. More than half of all freelancers are not being paid on time
Do your clients pay you on time?
If the answer is no, then you are like the 58% of responders of a survey conducted by PayPal regarding the gig economy.
As many freelancers know, delayed payments have strong negative effects:
Damage the working relationship between the freelancer and the client
Might cause the freelancer to "not take the work seriously"
Plant a seed of distrust in the heart of the freelancer
Most of my clients pay on time. On the other hand, I don't blame those who needed to follow up since I know how busy their schedule is.
I haven't experienced yet a client that took forever to pay (okay, I have one or two that take three to four follow-ups but are completely manageable).
If you're having a problem with this, it's possible that invoicing is the problem. Check out my article about writing an invoice here.
Freelance Work and Opportunities
Another area that is of great interest to freelancers is the work and opportunities available in the industry.
For example, what specific markets or skills are the most profitable? How about the most popular ones?
Below are freelance statistics related to freelance work and opportunities that you may find insightful:
15. Finance and marketing top the highest average hourly rate
Curious which markets, niches, or industries pay the most?
That's one of the questions that new freelancers want to know. But even if you can fairly earn huge sums of money through strategy, there are certain markets that pay more.
A Payoneer freelancer income report revealed the highest paying fields in freelancing:
Finance – $41 per hour
Marketing – $34 per hour
Multimedia production – $33 per hour
Information technology – $29 per hour
Project management – $28 per hour
The same report also confirmed that the most popular fields don't necessarily pay the highest rate.
This is what I've been saying to people as well since more specialized and uncommon skills are paid more than common ones.
For reference, the most popular fields of work in freelancing include:
Web and graphic design – 22%
Other – 19%
Programming – 14%
Content writing – 10%
Multimedia production – 9%
16. Most freelancers find *new work on online marketplaces
This one is fairly debatable. I have seen various freelance statistics online with top results that vary from each other.
I chose the one from the Payoneer freelancer income report since it's the latest I can find:
71% from online marketplaces like Upwork, Fiverr, etc.
10% word-of-mouth/referrals
6% other
5% LinkedIn or professional networking site
5% from social media platforms
The place where the respondents were taken is also a factor:
If the survey was sponsored or done by a freelance platform, then you can easily derive that most people will vote for online marketplaces.
If the survey was done on a Facebook group filled with freelance tribes and communities, then most people will vote for word-of-mouth and referrals.
On the other hand, we can derive that most people find work on online job boards and marketplaces and through word-of-mouth or referrals.
17. Most freelancers juggle 2-4 projects at a time
How many projects do freelancers juggle? Do they have multiple clients?
It turns out that according to this survey:
Most freelance workers handle 2-4 projects at a time
Followed by those who either work with only one project or do it with 5-9 others
Only a few have more than 10 projects at one time
When I was a new freelancer, I really wanted to know how many projects freelancers handle at a time so I'll have an idea of what the normal was.
After years of freelancing, I kind of understand now why most only handle 2-4 projects at a time (can come from different clients).
Because 2-4 is the optimal number of projects where you can earn much without burying yourself and robbing you of your precious "me time".
18. Most freelancers work at home
Where do freelancers work most of the time?
Well, according to a report, most freelance workers typically work at home — answered a whopping 86% of the respondents.
What followed are these:
Local coffee shop – 40%
Remote city or location (work-travel) – 25%
Client offices – 21%
Speaking from experience, working from home is one of the best feelings in the world.
On the other hand, it doesn't mean it's not worth working in other places as well. Sometimes, a change of pace could help increase your productivity.
19. The majority of freelancers became self-employed within 1-3 years
Should I let go of my traditional job and pursue freelancing completely?
A few friends asked me that very same question — to which I replied that it would be a better idea to ensure they have enough clients to support their cash flow.
From a survey, it seems that most people take 1-3 years to become self-employed:
High-performers take less than a year
Followed by 4-6 years
The longest time frame that a respondent answered was 7-10 years
It took me a few months to fully dive into freelancing and let go of my employment at a bank here in the Philippines.
Looking back — it was rather risky since I only had two clients at the time. But it was to the point that what I made at the bank in a week, I could fully cover in a day freelancing.
Freelancing Platforms and Marketplaces
This article wouldn't be complete if I don't include freelance statistics related to marketplaces and online freelancing platforms.
Here are some of them:
20. Freelancers.com, Upwork, and Fiverr are the top freelance platforms
If your main source of clients is freelance platforms, then make sure to create a profile on these marketplaces:
Upwork
Fiverr
Freelance.com
These are the top freelance platforms in terms of total users (clients and freelancers) according to this source that compiled info on these platforms.
I made an account on these platforms myself — though I only seemed to find success on Upwork (and a little on Fiverr).
Freelance.com seemed to be a good one. Unfortunately, it seemed a little shady to me during the time that I was actively seeking out clients.
21. Fiverr gets 58.8 million visits per month
I was curious how much traffic freelance platforms get.
So I checked Similarweb and got the following results for June 2022:
Fiverr got 58.8 million visits per month
Upwork got 43.3 million visits per month
Freelancer.com got 6.4 million visits per month
I don't know why Freelancer.com only had 6+ million visits per month — but it's consistent for at least three months.
But as Upwork and Fiverr are the top freelance marketplaces around, it makes sense for them to have that much different versus Freelancer.com
22. Most freelancers on Fiverr are in creative, consulting, and content services
What are the most common categories that freelance workers on Fiverr do?
Creative – 33%
Consulting – professional services – 21%
Writing, journalism, or content services – 17%
This makes sense since Fiverr doesn't seem to be the best place to get tech professionals or developers.
On the other hand, you can definitely find a lot of people in the creative niche and writing industry who offer really low prices for their services.
23. Media buying is the highest-paying work in Upwork
Did you know anything about media buying?
Apparently, it's the highest-paying freelance work in Upwork right now where professionals typically charge $50-$200 per hour.
That's according to the Upwork team who came up with the top 15 highest-paying work on the platform:
This is how they describe media buying:
Media buyers help businesses determine the ideal ad placement to suit their specific budget and targeting needs. Placement options might include physical, print, digital, and broadcast advertisements.
After media buying comes these:
Public relations manager – $50 to $100 per hour
Photographer – $40 to $100 per hour
Business consultant – $28 to $98 per hour
24. Clients on Upwork take 3 days to hire someone
When I was new, I always get anxious when a prospect doesn't reply to me right away.
According to this compilation, it takes 3 days for a client to interact with freelancers and hire one of them for projects.
Now that I hire freelancers myself from Upwork, I can definitely understand why this is the case.
Short story — you want to wait while proposals roll in before you talk to someone. It's also a good idea to sleep on your hiring decision first before pulling the trigger.
If you're having a hard time finding clients on Upwork, you might benefit from my Upwork proposal mistakes article. Check it out.
Interesting Freelancing Statistics and Facts
Before I end this article, I want to share some interesting freelance statistics I found, especially ones that concern the Philippines.
Here they are:
25. 54% of Google's workforce are freelancers
It's not only small businesses that hire freelancer workers.
This Bloomberg article revealed that more than half of the workforce in Google are actually freelancers and contractors.
That means, out of 220,000 workers in Google:
120,000 of them are contractors/freelancers
Only 102,000 are full-time employees
26. Most freelancers aren't concerned about artificial intelligence
Have you read the article in The Guardian in 2020 about GPT-3?
Since I'm in the content industry, that article made a lot of noise when it first came out — with many people speculating that content writers may run out of jobs someday.
Interestingly, according to this report, only 8% of the respondents were concerned about the impact of artificial intelligence on the freelance industry.
Now that I use artificial intelligence tools myself, I can certainly say that there's no need to be worried about them (yet).
For example, while I use Jasper and SurferSEO, there's no way these tools can provide good work all on their own.
At the very least — they're simply tools that can make the work easier and faster. They wouldn't be able to replace an actual person in the next decade.
27. There are more female freelancers in the Philippines
Though we know now that female freelancers are paid a little less than their male counterparts, it's interesting to know that there are more of them in the country.
According to this compilation, there are three times more female freelancers than male freelancers in the Philippines.
I can't say I completely agree with this since I know more male freelancers than female ones — but that can be different when you include everyone in the country.
28. The most common freelance work in the Philippines is virtual assistance
Do you want to become a virtual assistant?
Well, that's certainly what most Filipino freelancers do — at least according to this compilation.
This is understandable though since virtual assistance has a low barrier of entry and literally anyone can do it.
Of course, there are different kinds of virtual assistants. But I know that there are clients who need the most basic help online.
Do you want to learn how to become a virtual assistant for free? Check out my free virtual assistant guide.
29. Thousands of dollars are lost from freelance scams
Even if I believe that Upwork is the most secure freelance platform there is, I know that there are still plenty of people there who got scammed.
In fact, according to this news article, thousands of dollars are actually lost to scams — and that's on the Upwork platform alone.
Hopefully, we can find a solution to this soon. But as always, the first defense against scams is awareness.
Anyway, that's all the freelance statistics that I find really helpful.
There are other questions I have that I wish to address here soon once I find a good source:
What is the payment platform of choice for freelancers?
How many freelancers reportedly get scammed every year?
What are the top websites/places where freelancers learn a new skill?
If you know a good source that answers these questions, kindly let me know in the comment section below.