So you have decided to become a freelancer.
When I started doing this full time, it was risky. I straight away quit my day job to focus on my freelance career — a month after my marriage. I would be lying if I say it was all too easy.
It wasn't. In fact, I had sleepless nights trying to figure out how to make things work.
But let me tell you this: all the hardships you will be facing as a freelancer are all worth it in the end.
In this article, I will be sharing what I learned so you too would know how to be a freelancer yourself.
Let's get this started!
What does it mean to be a freelancer?
A freelancer is a self-employed individual who isn't particularly committed to a single client. But most importantly, a freelancer is an entrepreneur who operates a freelance business.
The idea itself that freelancing is a business creates a whole lot of difference. The problem here is that many people operate a freelance businesses like an employee.
Here's what I mean:
As an employee, you're trained to do as you're told. Your workload is given to you. There's no need to go out there and find out what you need to work on.
This is how a lot of freelancers think. Once you already have a client, you stop finding more since the job is already there. This leads to a plenty-famine cycle.
So let me say this now while it's still early…
Freelancing isn't a walk in the park. Don't believe what other "freelance gurus" teach you there. You can't earn a thousand dollars by working an hour in a week — not if you count the hours spent finding a client.
Pros and Cons of Being a Freelancer
Before we discuss the nitty-gritty, remember this:
Being a freelancer is just like any other thing — it has advantages and disadvantages. It may be lucrative, but it's also demanding.
There are numerous advantages when you're a freelancer like:
Being your own boss: You have clients — not bosses. Remember, you're operating a business.
No need to commute: You can stay home 24/7. At the same time, you can also bring work with you wherever you want to go.
Control over work hours and workload: You don't have to wake up at six in the morning to go to the office. You work at your own pace as long as you meet your deadlines.
High earning potential: You're not strapped to a fixed monthly income. Depending on how you operate your business and how you expand it, the potential is basically limitless.
Opportunity to learn more: You don't have to get bored doing the same thing again and again. You can learn new skills and expand your services.
On the other hand, there are also difficulties and challenges that come with being a freelancer:
Tax, insurance, and other payables have to be done yourself: No one will pay your taxes and insurance for you. Fortunately, you can settle your payments online.
Need to find leads consistently: You will need to find clients (your customers) yourself. That's why if you want your freelance business to go big, you have to teach yourself marketing.
Poor management can lead to irregular income: Heard of the feast-and-famine cycle? Freelancers who don't think of freelancing as a business will often experience this until they learn how to manage themselves.
Need self-discipline: This goes without saying but all the freedom that comes with freelancing will come back and bite you if you don't practice self-discipline.
If you want to have a successful freelance business, you really need to level up your self-discipline. For example, you will need to learn to manage your time efficiently.
Sign up for exclusive updates, tips, and strategies
Examples of Freelance Services and Skills
The services or skills you can offer are as many as the available arts, crafts, and disciplines out there. There are just too many that there is at least one or two you can start with.
But if you want to check the top skills and services that are in demand right now, Upwork publishes a top 100 skills post every quarter.
Here is Upwork's press release for the third quarter of 2019:
As you can see, you don't need sophisticated skills to earn big as a freelancer. I know freelancers who write for a living without any formal education in English. I even know one who earns more than $10,000 a month writing emails for clients.
The bottom line is, you don't have to be a programmer to become a high-earning freelancer.
When I started out, all I had was my wits, courage, and eagerness to learn. The level of writing I had today was very different — and not in my wildest dreams did I ever think I will be earning money as a freelance writer.
So if you think you don't have any skills, don't back out right away. There are a few services you can still offer to clients even if you think you don't have any useful skills or experiences.
Here are a few examples of what you can do in this situation:
Assist Clients Virtually
Virtual assistants are those who provide professional (remote) administrative, technical, or creative assistance to clients.
Many freelancers started out as virtual assistants, especially those who felt they had no technical or high-selling skills.
Truth be told, I started as one. My very first job on Upwork was to research information about churches in Aurora, Colorado.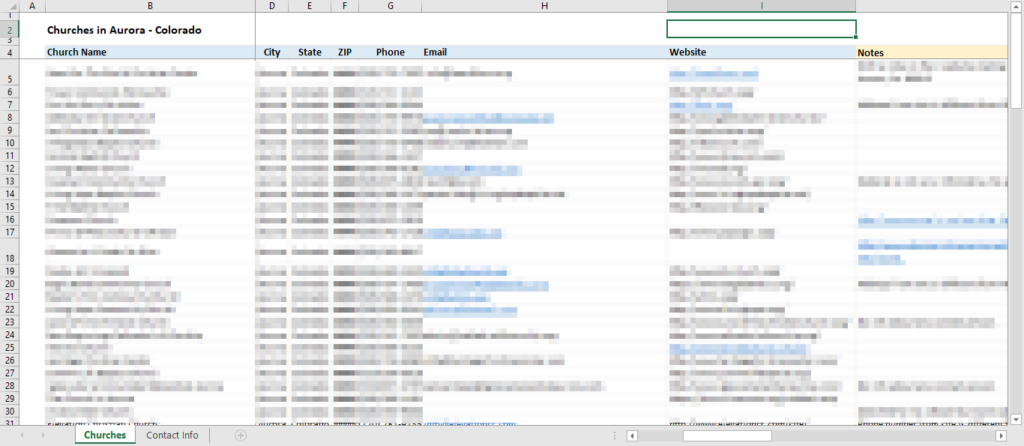 As a virtual assistant, your role is to support your client in any way possible.
It could be as simple as organizing his documents and cleaning his email inbox. Or, it could also be deploying an article on WordPress.
Not too hard, right?
That's why there are a lot of virtual assistants right now.
You don't need any specialized education or certification to become one. Clients are always looking for someone to outsource some of their tasks.
There's just one obstacle — the competition is super high.
Meaning, it will be hard to land high-paying gigs as a virtual assistant, even with the assistance of freelance platforms.
According to a post on The Week, there are more than 5,000 virtual assistants on Upwork, 74,000 on Guru, 26,000 on Freelancer, and 5,000 on PeoplePerHour.
Those figures were still from 2017 and they don't include virtual assistants not listed on those platforms.
But if you're looking for a quick freelance opportunity, there are a lot of executives and business owners out there looking for someone to help them virtually.
Further reading: Becoming a virtual assistant is one of the easiest paths you can start with as a freelancer. However, it doesn't mean you should just dive right away without knowing more about it. If this is something you would like to go with, I created a comprehensive guide on how to become a virtual assistant even without experience.
Be a Customer Service Representative
Customer service representatives are the ones who answer questions, handle requests, and even solve the customers' problems. This conversation can be done by voice or through chat.
Chances are, you know a person or two who are working at a call center. Some of them are customer service representatives while others are telemarketers.
Fortunately, companies, especially big ones, will always need customer service personnel. In Upwork alone, you will find a lot of these jobs.
Here's an example of a job post from Upwork looking for an entry-level customer service representative:
It's a low-barrier service you can start with even if you don't have any technical skills.
At the most, you need to be able to speak (and write) the required language fluently, follow instructions, and a whole lot of patience.
Those who experienced working as a customer service representative in a BPO (business process outsourcing) company will be able to demand higher prices than first-timers.
Depending on how you expand your business, you could become a serious competitor to large BPO companies.
Write and Edit Content
You can also become a freelance writer by writing or editing content for your client's business. As long as people continue to read, there will always be writing and editing jobs.
In fact, there are a lot of people looking for writers and editors than virtual assistants and customer service jobs.
To give you an example, here's how many available freelance writing jobs right now are available on Upwork:
Though not shown in the previous sections, virtual assistant jobs and customer service jobs only average at around 2,000 available jobs.
There are different types of writing services including:
Content writing
Copywriting
Creative writing
Research writing
And others
Freelancers without much experience in writing can easily find clients who need content writing. I even found a few who are willing to train freelancers on how to write for the web.
Although it's fairly easy to find clients who need content, make sure you're choosing your clients wisely.
Particularly, make sure that you're paid fairly.
Further reading: Finding freelance writing opportunities can be tricky. Fortunately, there are things you can do to find these opportunities without having to beg. Check out my guide about how to find freelance writing jobs to learn more.
What freelance services should you offer?
If you think you don't have specialized skills, I suggest you start offering simpler services like virtual assistance, customer service, or writing and editing.
I've read many blogs and subscribed to a lot of online courses enough to know that people have different opinions in regard to this.
To save you the trouble, here are some ideas:
Start with an easy service or skill. If you feel like you have no special skill, start by being a virtual assistant, or a customer service representative. The experience you gain from these services will give you an insight or idea of a skill or service you want to master later on.
Start with what you know. Let's say you're familiar with Photoshop and you used it many times before to edit an image. Did you know that there's a constant need for graphics? You may be able to find one online and offer your services for a price.
Connect your education to a skill. If you have studied nursing, take advantage of that! You can write for clients who need medical content. You can also provide customer service for a medical company.
Start by asking what your ideal clients need. This is also another way to start a freelance business. Let's say you want to provide services to financial advisors but you're not sure what exact services yet. You can start by connecting with them on Facebook or on LinkedIn and ask about their challenges. Then, you can study the skills you need to be able to provide that service.
If you're still confused, just try each of the ideas above and see what works best for you.
Successful freelancers didn't start from one point of entry. Some have opted to start with easier services and specialized later on. Some also researched their ideal market first and gained a skill to offer.
By the way, don't overthink this part. I know how tempting it could be. But the truth is, whatever you choose today may not be the same after a year. So just pick one and learn everything you can.
If it doesn't work out, you can always try another.
What freelancing equipment and tools would you need?
At the very least, you need a computer (desktop or laptop) and stable internet. And no, you don't really need to have the best equipment that exists today to get started.
When I started my freelance business, I was using a 5-year-old Samsung Series 5 Ultrabook laptop.
Eventually, I bought additional accessories like a Bluetooth keyboard and a mouse to make things more comfortable.
Depending on your services, you might also have to buy additional equipment and tools like:
Microphone
Extra monitor
Extra computer unit
Online software and platforms
And others
If you don't have a computer yet and you're wondering whether to buy a desktop or a laptop, I recommend buying a desktop computer.
Both options have units with high power, efficiency, and storage potential. However, desktop computers tend to be cheaper and more upgradeable than their laptop counterparts.
When I decided to upgrade my rig, I chose to go with a Dell desktop computer with an additional monitor.
I also bought another laptop so I can still work on my business even while traveling.
Further reading: If you don't have a computer or a laptop yet and you want to buy one, you need to know the particular specs of the unit you will be buying. One of the articles I wrote was about choosing the best laptop for virtual assistants where I discussed the specs you need in a unit depending on your job. Although it's highly targeted at virtual assistants, the article works for just about any services or skills you might be offering as a freelancer.
Do you need samples and portfolios?
You really don't need past samples of your work to start earning as a freelancer. But on the other hand, having samples, even unpublished ones, will give leverage to the amount price you could ask.
Here's the truth:
Some clients will ask for samples and some will not.
Although it's not always required, having work samples has benefits. One of them is that you will be able to demand a higher price from clients.
Here's what I mean:
Because I already have a portfolio of my past work, which clients find impressive, I'm able to demand premium prices for my services.
But what if you don't have any samples?
Depending on what you're offering, you can quickly whip up samples that would fit what your prospective client needs.
Before I had plenty of published articles, I started out by sending clients unpublished articles via Google Docs.
If you're into writing, you can also house your samples of platforms like Contently. For artists, you can use Behance. Or if you like, you can also create your own website or blog and house your samples there.
How much should you price your services?
This is one of the struggles I had before.
Charging too low doesn't seem right, and charging too much feels like you're being too demanding. Some people, to solve this dilemma, let their clients decide (totally wrong).
To better understand how you can price your services, let's understand first the concepts of hourly pricing and fixed-rate pricing.
Hourly pricing simply means you're paid for every hour logged in that you worked. If you worked for 20 hours this week and your rate is $10 per hour, your earnings for this week are $200.
Fixed-rate or project-based pricing means you and the client negotiated on a certain price according to deliverables that need to be submitted. If your price of a single infographic is $200 and you finished it within 3 hours, you get paid $200.
Personally, I prefer project-based pricing.
As you become more efficient in your service, you will also need fewer hours to finish it. What took you 9 hours before will now take you only 2 hours to finish.
However, hourly pricing is preferred on other services like VA and customer service. These types of services are more suited for hourly pricing.
Value-Based Pricing
There's also another popular pricing system that's called "value-based pricing". It's a form of fixed-priced basing that's based on the value you're providing your client with.
Meaning to say, the more valuable your service is to your client's cash flow, the higher the rate you will be able to demand.
This system is usually used by marketers as it makes sense for their service.
For example:
An email marketer who can bring his client an additional $10,000 will not hesitate to charge 10-20% of that amount. Since clients will be able to earn more, they will most likely agree. They will see you as an investment rather than an asset.
The good thing about value-based pricing is that it doesn't take time and effort to calculate. All that matters is the result.
At the end of the day, it will not matter to the client if that email marketer only took 2 minutes to write that email that brought $10,000 to his client.
Minimum Hourly Price
Hourly pricing is sometimes looked down by others as it's seen as a less profitable way of pricing. Not true! Hourly pricing certainly fits the bill for a lot of freelance services.
But for hourly pricing to be more effective, you should establish a minimum hourly price based on:
Overhead expenses
Preferred salary
Number of billable hours
Basically, to get the minimum hourly price, you will have to compute the annual salary you want and divide it by the number of billable hours per year.
Here's a good graphic that shows how to do this:
Take note that you shouldn't treat your minimum hourly rate as the basis if you're quoting per project.
Don't just estimate how much time it will take you to finish a project and then convert that into project-based pricing. At the very least, consider scenarios where it might take a longer time than you anticipated.
Make up Your Prices
If you still can't wrap your head around it, just make up your price. There are no rules when it comes to pricing.
No one will set you on fire for setting up your own price.
When it comes to how much you want to charge for your services, there's really no exact formula. There's no perfect price. What's important is you and the client agrees on it.
So if you can't come up with a rate, just make one up! There's no need to worry about it too much. You can always change it whenever you want to.
How to find clients?
There are many ways to find clients for your freelance business including (but not limited to) your own community, on social media platforms, freelance platforms, and even through outreach.
Freelancing is a business. As projects come and go, you will need to have a constant flow of clients to your business. Without them, your business will die.
I know — it's easier said than done.
We are all programmed to relax once we don't feel any threat. That's why when you still have an active project, you're more likely to relax and forego finding new clients.
I should know. I've been there. This is why many freelancers experience the plenty-famine cycle I told you about early on.
Your Own Community
Unknowingly, there might be someone in your own community who needs your freelance services. That's why it's always a good idea to let your community and network know about your business.
Although we're talking about working at home, it's a good idea to look at your community. Of course, don't expect your community to automatically know you're open for business.
Let them know that you're open for business. Share what you do and how it would benefit them.
For example, when I was still doing graphics-related services, I landed a small gig within my community.
This particular client liked it which lead to further projects.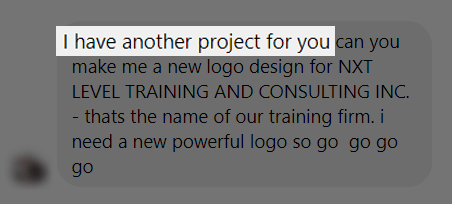 Start informing your community and local friends about your new business. Post it on Facebook and message them via messenger. Use whatever method is available and get the word out.
Research and Outreach
This method is a two-part approach since you need to research viable clients first then, reach out to them. Simply, all you need to do is ask them if they need your freelance services.
Let me expound…
The first step is to identify your target clients and find them online.
Where do they spend their time online? Are they on forums? On LinkedIn?
Further reading: As you find more viable clients, you need a place to enter all their details and keep them organized. One way to do this is by using a CRM (short for customer relationship management) tool. I wrote an article that compiled the best free and paid CRM tools for freelancers.
Then, engage them in a conversation, know their challenges, and see how your services may be able to help them. Alternatively, you can straight away tell them your services and if they need one.
Fortunately, most companies nowadays have a strong online presence. You would be able to find most of them online. But make sure to find the key persons you need to get in touch with.
And once you do, send them an email and pitch your freelance services and skills.
Here's an example of an email you can send:
Hey John,

I love your blog, especially your article about content marketing.

Anyways, I have noticed that articles related to blogging do quite well.

I actually have a few ideas I would like to pitch to you if you're interested.

By the way, my name is Joe and I help marketing agencies like [agency A] and [agency B] increase their website traffic through content marketing.

If you're interested in knowing more about my work, check out these links:

[link 1]
[link 2]
[link 3]

Let me know your thoughts.

Regards,
Joe
To increase your chances of getting business, research the company and key person first and think about how your service would benefit them.
Social Media
Social media is a good place to find clients. It's where many of them hang out and express themselves.
So is it possible to find clients on Facebook? LinkedIn? Twitter? Or even Instagram?
This might be perplexing for others — but you can absolutely find clients through social media.
There are two ways to do this:
Build your authority and online presence and wait for offers/connections/messages
Actively seek out potential clients
For example, after updating my LinkedIn, I have been receiving messages like this:
You can also use a research and outreach strategy on social media.
For instance, you can find groups on LinkedIn or Facebook where your clients hang out. Then, you can send them a message and pitch your services.
Here's a screenshot of a conversation I had on LinkedIn with a client:
Note that using social media to message clients and using email tactics is quite different.
On social media, you have to be genuine, sincere, and respectful. Don't throw a fit if a prospect will not accept your friend request or reply to your DM.
Start with freelance platforms
Using freelance platforms is a good way to find clients. Unlike doing any outreach yourself, the clients on these platforms are already searching for freelancers. All you have to do is get in there and find the right client.
But be careful when finding clients from these platforms as there are many low-ballers and scammers out there.
Here are examples of platforms you can use:
Upwork
Upwork is one of the most popular freelance platforms out there and houses the most legit freelancers. As of 2018, it's estimated that there are at least 16 million freelancers in Upwork (Vox).
Yes, it's pretty tight in there. This led Upwork to regulate new freelancers which resulted in some having problems getting their profiles approved.
Further reading: Since Upwork became more strict with new applications, many freelancers have tried creating an account there and failed. But don't give up yet. Try my Upwork account approval guide first and see how it goes.
Finding freelance clients in Upwork is similar to how you find full-time jobs from job sites:
You pick a job posting and submit a proposal. When a client likes your proposal, he will send you a message and set up an interview.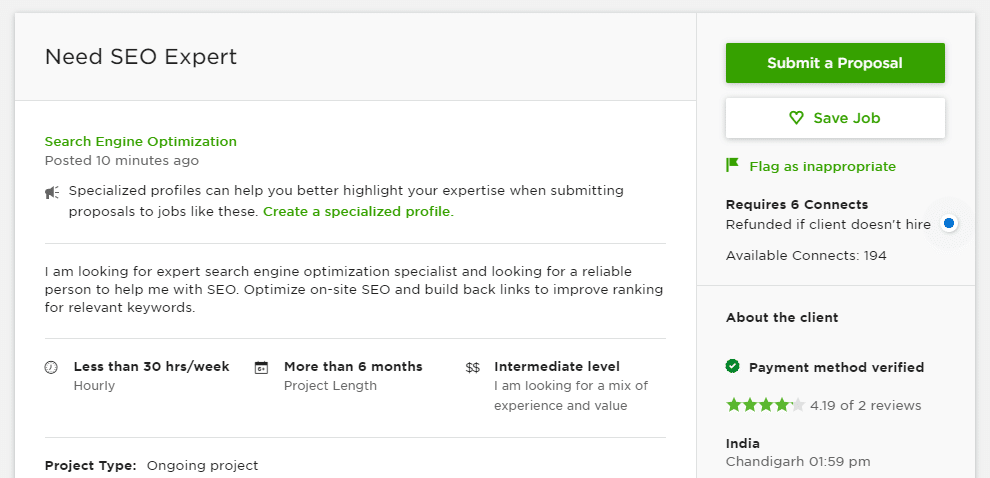 Like I said earlier, there are a lot of low-ballers and scammers even on Upwork. Some even question if Upwork is still worth their time and money (it is).
When choosing a job, always check the following:
Client's history
Feedback to clients
Average hourly rate paid to see if it fits your rate
At the same time, you will have to practice common sense. Once a prospect asks for money as a prerequisite as a condition for work, that's surely a scam.
Further reading: As you know, it's a good practice to not put all your eggs in one basket. If you're willing to try to find clients on freelance platforms, you should use another platform aside from Upwork. Check out my article about the other freelance sites like Upwork to earn money fast.
Fiverr
Fiverr is another freelance platform that's a bit different from how Upwork works.
In Fiverr, you create gigs. Then, potential clients will send you a message. Your gigs will then appear on the feed when a potential client searches Fiverr.
Like this:
In some aspects, waiting for potential clients to contact you isn't a good idea. But once you start getting clients and receiving excellent feedback, finding more clients becomes easier as they will be the ones who will go to you.
FreeUp
FreeUp is the new kid in the freelance town. Though it was built only in 2015, FreeUp grew quickly and became one of the most reliable freelance platforms.
Unfortunately, not everyone is accepted in FreeUp. That's because they have an internal team that recruits, interviews, and vets hundreds of freelancers. According to them, only 1% of applicants are accepted.
From experience, as long as you know what you're doing and you can put it into words, you will be fine. After you sign up, they will set a non-voice interview with you and ask you about your offers and experience.
Honestly speaking, you will like to have more difficulty getting approved on Upwork than here.
Skill-Specific Sites
There are still other sites and platforms out there you can use. There are even sites for specific jobs.
Here are some of them:
Writing
Design and graphics
Virtual assistant
If you're offering a different service than the ones I have listed above, there may be platforms out there specifically designed to help freelancers as they connect with clients.
How to get paid?
If you're using freelance platforms, getting paid is easy. Those platforms have their own payment features.
For example, in Upwork, clients have to register their credit cards first. Then, Upwork will bill them directly for any work done by freelancers.
Any earnings you gain will be displayed on your account and will be sent directly to your bank account.
But what if you're not with these platforms?
Easy! All you have to do is use payment services like PayPal or Payoneer.
Currently, PayPal is the most popular online payment tool in the world. As of the 2nd quarter of 2019, PayPal has more than 286 million active accounts (PR Newswire).
In addition, PayPal has an invoicing feature you can use to quickly ask your client for payment.
Payoneer is a popular PayPal alternative known for its higher exchange rate. Similar to PayPal, Payoneer has a payment request feature:
Personally, I recommend Payoneer over Paypal.
I use both and in terms of conversion rates, Payoneer has the advantage. But I only recommend it if you transfer amounts that are higher than $200. If less, use PayPal.
Further reading: Since Payoneer isn't as popular as PayPal, there are a few others who have concerns over the legitimacy of Payoneer. Since I started using it, I transferred more than $38,000 worth of transactions. I wrote more about it in my Payoneer review article.
Frequently Asked Questions About Starting a Freelance Business
My goal is to turn this article into the most comprehensive guide about starting a freelance business (without turning this into a book). One of my attempts to do that is to answer relevant questions about starting a freelance business.
Naturally, not all the questions are here. So if you have a question that's not listed here, fire it away in the comment section and maybe I could include it here.
How do I start freelancing?
Oh boy, I sure hoped you didn't jump right away into this section since the whole article talks about this topic.
But anyway, let me answer this as briefly as I can…
The first thing you need to do is to understand that freelancing isn't a simple self-employment scheme. Sorry to tell you to do this but freelancing is more complicated than that. Freelancing is a business.
Since it's a business, you need to remember that in order to survive, you need a constant flow of leads and clients. You shouldn't stop finding new clients even if you already have a few.
Once you have that ingrained, you can now proceed to the next part. Now, this varies for different people.
If you already have a service or skill to offer, you can start finding clients.
If not, try finding a problem you want to solve and learn a skill you can use.
You can also reach out to potential clients and get to know them first. Then, you can decide which of their problems or challenges you want to solve and what skill to learn.
That's it! Different "freelance gurus" teach different ways to start freelancing. But you know, there's really no perfect way to do it. Do your thing and double down on what works.
How can I get a freelance job with no experience?
When I started freelancing, I also didn't have any experience. Heck, I even believed I don't any have profitable digital skills I can use. I knew a thing or two but I thought I could make money out of them.
My answer to this question is to just start doing!
I didn't have any experience but I did it anyway. I found a few clients, learned from the experience and moved on. I picked up a few more skills in the process which I was able to use in my future work.
If a client asks you for experience, be honest. Your client will be able to smell it miles away when you're telling him or her that you're someone you're not.
Or, if the work the client is asking for is something you can easily create, delay your response. Create the "sample" your client is asking you for.
This is what I did when a few of my writing clients asked me for writing samples for niches that I didn't have any experience writing in. I quickly went to Medium or LinkedIn and wrote an article there, showed it to the clients who were asking, and boom!
However, I know this isn't something anybody can just apply to all services. But what I'm telling you is that you should find a way to make it happen.
What is the easiest freelance job?
I'm not sure what's the motive behind this question. Is it to know which job you should do first? Or are you in need of money fast?
For me, the easiest freelance jobs are those that don't need a lot of creativity. These jobs are repetitive and purely effortless. (I might as well go to length to say that these jobs are boring.)
These jobs are:
Tagging images
Writing captchas
Data entry
Yes, these jobs sound like what you could find on Amazon Mechanical Turk where "workers" are paid peanuts. And to tell you the truth, I don't think these jobs are worth your time.
However, if you're referring to freelance services you can offer even without experience (or much skills), then my answer is:
Virtual assistance
Customer and tech assistance (customer service representatives)
Freelance writing and editing
These jobs may seem easy but at least they're worth it. You could learn a new thing or two from them and even find use them as the basis for your specialization.
Can you still become a freelancer without using platforms like Upwork and Fiverr?
This is another misconception that few believe. You don't need to use freelance platforms to be a freelancer. Those websites only exist to help you connect with prospective clients.
There are lots of ways to connect with clients. You can even design a system where they will be able to find you (instead of you finding them).
For example, you can use LinkedIn and build your own tribe over there. Eventually, people who need your services will find their way to you.
You can also start your own blog and share your thoughts and experiences. I know many clients who usually Google their problems and instead find a service provider to help them.
There are a lot of ways to start freelancing aside from using freelance platforms. On the other hand, they are good places to find work when you need one immediately.
What freelance jobs pay the best?
This is an interesting question. Once upon a time, I also asked the same question myself.
Freelance services related to marketing and sales have a lot of potentials to earn more. Examples are email copywriting, lead generation, advertisement specialists, and others.
The reason is that, you can always arrange a commission-based contract with the client. You earn too when the client is earning from your work. This is how many email copywriters are earning by the thousands from a single email only.
If by the hour, then jobs that are more technical in nature like software development, web design, and data analysis earn more. Most contracts from these services are hourly.
Is it worth it to be a freelancer?
Look, I get it. As a freelancer, you're basically "sacrificing" the security you get from your full-time employment. You're actually risking yourself in starting a business that may fail a month after you started.
But here's the thing:
Freelancing will give you the freedom you need to focus on the things you want to do the most. You don't need to do a job that you don't like. You don't have to work with someone that's not a good fit.
How about the salary?
Take it from me — it's definitely worth it.
Before I focused on freelancing, I worked at a bank. After a month since I married my wife, I resigned. Sounds scary, right? What am I supposed to feed my family?
But no. Immediately, I was earning as much as four times the amount I was earning in the bank. That was during the first few months. It grew even further, especially when I switched to freelance writing.
However, it wasn't magic nor pure luck. I was preparing myself before I resigned. I already started finding clients that I could work with. I never stopped finding clients even when I had a few ones.
That's why I definitely know that starting a freelance business is worth it.
Is freelancing difficult?
It's not a walk in the park. But it's not rocket science either. It's very doable but only if you put in the effort — and lots of it.
At the very least, it's not actually the work you have to worry about — it's finding clients. The work is easy.
Yes, it may seem euphoric once you receive your first pay from your first ever client. It may make you forget about finding new clients. But once you do, the income will stop as well.
This is why some freelancers find freelancing difficult. They just can't put up the system to continuously find clients. They still have the "employee mentality".
However, once finding clients becomes a habit for you, freelancing becomes easy. Work and pay are consistent and continuous. No need to experience the plenty-famine cycle when you keep on finding clients.
Start Your Freelance Business Now
That's it for the freelance business starter guide. I hope you will be able to take action from what you learned and kick off your freelance career.
It might be a bit bumpy at the start. But as you get the hang of it, things will get easier and smoother.
My number one tip is to keep on finding clients. Even if you have 2 active clients, continue your marketing efforts. Aside from having a steady stream of projects, you will also have better choices in case you decide to expand your business in the future.
Now it's your turn. I'd like to know your thoughts.
Do you have any questions on how to be a freelancer that is not discussed in this article?
What do you think about freelance platforms? Do you find them reliable?
Let me know by sharing your comment down below.