When I was still a new freelancer, I didn't have to worry about remembering all my clients, keeping track of all my projects, or how my outreach and client acquisition is doing. I could remember all of them.
But as my business grew and my client list swelled, I knew I had to find a way to keep it all organized. Failing to do so would've cost me my business.
That's when I started using a CRM tool.
I have used a few of them in the past trying to find the perfect fit. Currently, I'm content with using Streak. But if a new need arises that my current CRM tool can't handle, then I'll have to find another one again.
But there's no need for you to experience what I've been through…
It takes time to jump from one CRM tool to the next. That's why I compiled them all here, including CRM tools I know are great but haven't tried (since I know they're either overkill for me or too expensive for my needs).
Let's start with my "current" favorite!
1. Streak (Freemium)
Do you know why I like Streak?
It's because I don't have to open another app/software/website to be able to access my client database. Everything is in Gmail! And as a freelancer, it's always open on my browser (though I try not to check on it too much ?).
I enjoy using Streak because everything I need for a CRM tool is here. Features like view tracking, send later, and even snippets. I can save canned responses, lines, or paragraphs and use it on any of my emails.
In addition, the database kind of feels like an Excel or Google Spreadsheet. When adding new information such as contacts, notes, and organizations, all you have to do is double click on the cell and enter the information.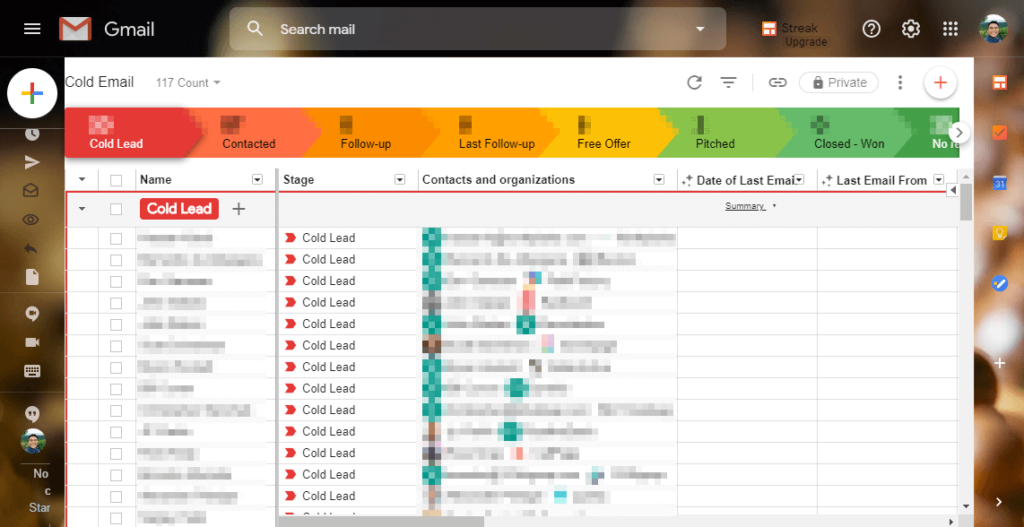 For now, Streak has everything I need from a CRM tool (though you might find it too simplistic for your taste). Although it doesn't have a dashboard like most CRM tools do, its database has a line tab that contains my current stats.
By the way, did I tell you that although Streak lives inside Gmail, you can also use it for project management?
You can add different "pipelines" or databases related to sales, project development, job search, or even customer support. You can also link everything together!
Streak has a free plan which is ideal for startups with few contacts. You would still enjoy most of its features, although most advanced features like formulas, reports, and data validations are off-limits.
If your business is already well-established and you've got a lot of contacts, then you're better off with Streak Pro which costs $49 per month (when paid annually).
Sign up for exclusive updates, tips, and strategies
2. HubSpot (Freemium)
If you've been searching and reading about CRM tools before you came to this page, chances are, you have read about HubSpot. Or, if you've been reading articles related to business, marketing, sales, or customer support, you would know about HubSpot because of their popular blog.
Before Streak, I was using HubSpot CRM.
I also like their tool except for the fact that you have to visit the CRM website to make full use of it. (With their recent updates, you can use HubSpot on Gmail too but the functionality isn't as robust as with Streak.)
Unlike Streak, HubSpot CRM is a full-blown tool and can be integrated with all of its software and tools including a marketing hub, sales hub, service hub, and a CMS hub. All of them are part of a larger complete CRM with each own dashboard.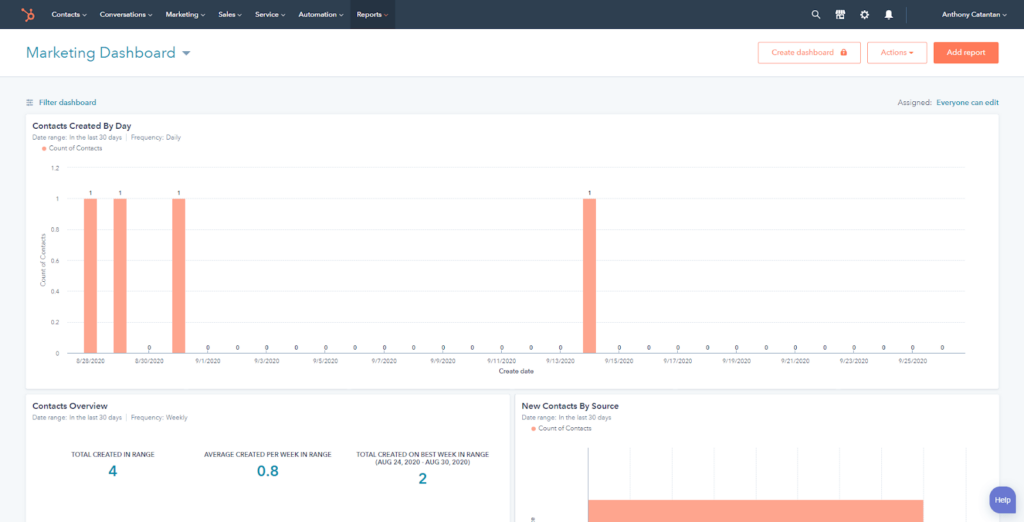 HubSpot CRM is easy to use. But I wouldn't lie and say it's "simple" to use.
The truth is, it could get complicated real quick and you could end up on a strange page you never knew existed. Almost every box and item in HubSpot is clickable!
Although HubSpot CRM is ideal for bigger companies, as a freelancer, you can make full use of its free CRM tool. It has everything you would ever need like contact management, task (and activities), email tracking, meeting scheduling, and more.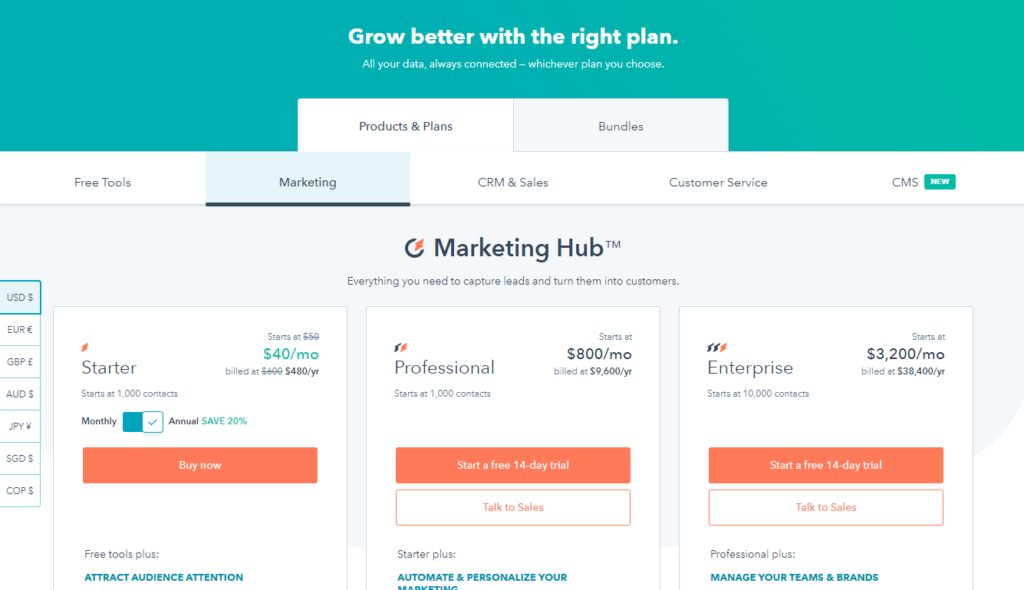 If you decide to use other marketing tools like landing pages, bots, email marketing, or something, you should consider upgrading to a "Starter" plan that costs $40 per month.
HubSpot's offers are a bit complicated, so better if you check it out here.
3. Bonsai (Paid)
I came across Bonsai while searching for a way to set up "real" recurring payments for clients. Instead, I stumbled upon a platform that was designed top-to-bottom for freelancers.
Bonsai brands itself as the #1 freelance product suite.
To be honest? They're closer to the truth than you could have ever imagined. Aside from having a client CRM, you also get a time tracking feature, accounting, invoice management, project management, and more!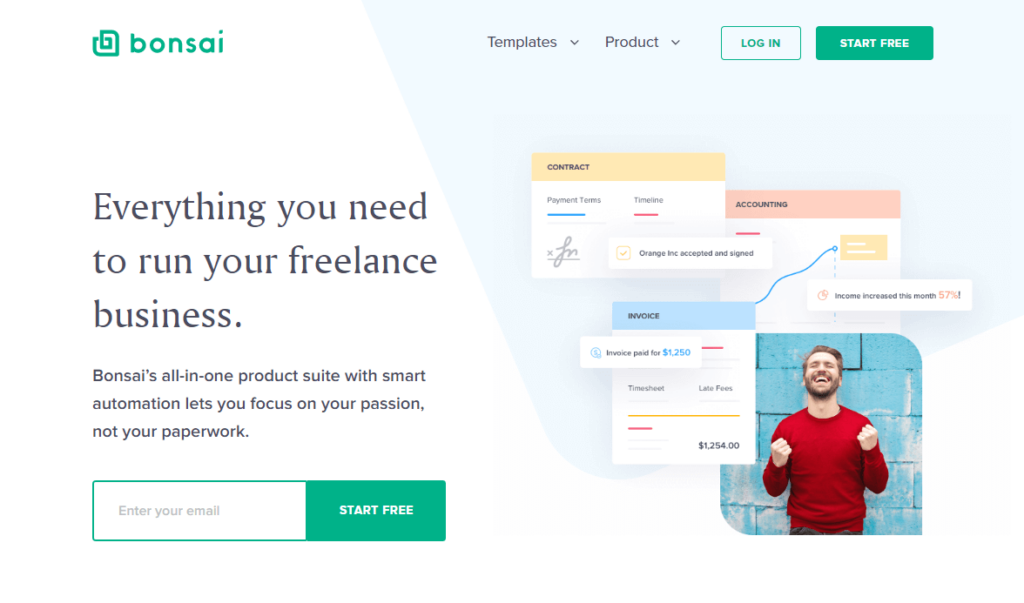 Bonsai's client CRM looks pretty neat and clean. You get a list of all your clients and connections and you could click on each one to check the details. The details page of each client contains the basic information about your project, notes, and even payment from that client.
Compared to other CRM, Bonsai looked simpler. In fact, as you can see from the image above, a client's page looks more like a profile page. There are no annoying buttons and boxes everywhere. It looks clean and organized.
Unfortunately, Bonsai doesn't have a free plan.
If you would like to take a peek at how Bonsai works, you could try them out with a "limited" plan which will allow you to fill in the CRM with contacts. However, you will not be able to use any other feature aside from other contacts and their information.
The good news is, Bonsai doesn't really cost that much.
At $19 per month ($192 when paid annually), you would be able to use all its features across different devices. If you're using a different platform for contracts, invoices, or time tracking, with Bonsai, you get everything you need in one place.
4. Agile CRM (Freemium)
After getting my feet wet with HubSpot, I also tried Agile CRM (though I don't remember why I stopped using it).
If there's one word that fits Agile CRM perfectly, it's "fast" – which is probably why they named it "Agile" in the first place.
Seriously, it's really fast compared to most CRM tools I tried. I can't speak for sure for those with thousands of contacts. But if you disliked the loading time when using other CRM tools, better try out Agile CRM.
The CRM itself is also as robust as HubSpot (though less confusing). A client's page contains a timeline of every interaction you have with him. There are also tabs for notes, events, tasks, deals, campaigns, etc.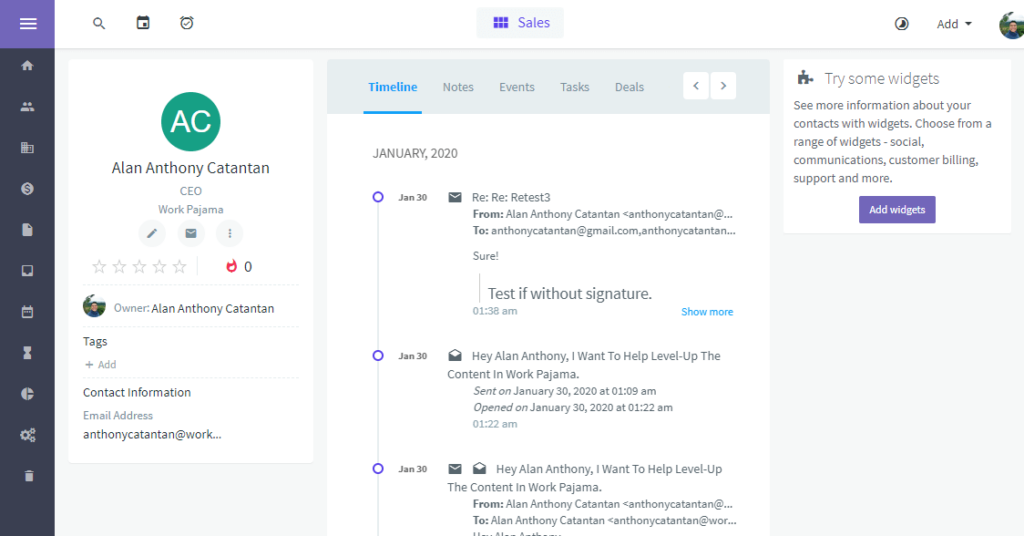 Although it's a CRM, you can also use it for sales and marketing. There are even features related to marketing automation like email marketing, newsletters, email tracking, and others.
The best of all? It's got a free plan good for 10 users and 1,000 contacts and companies.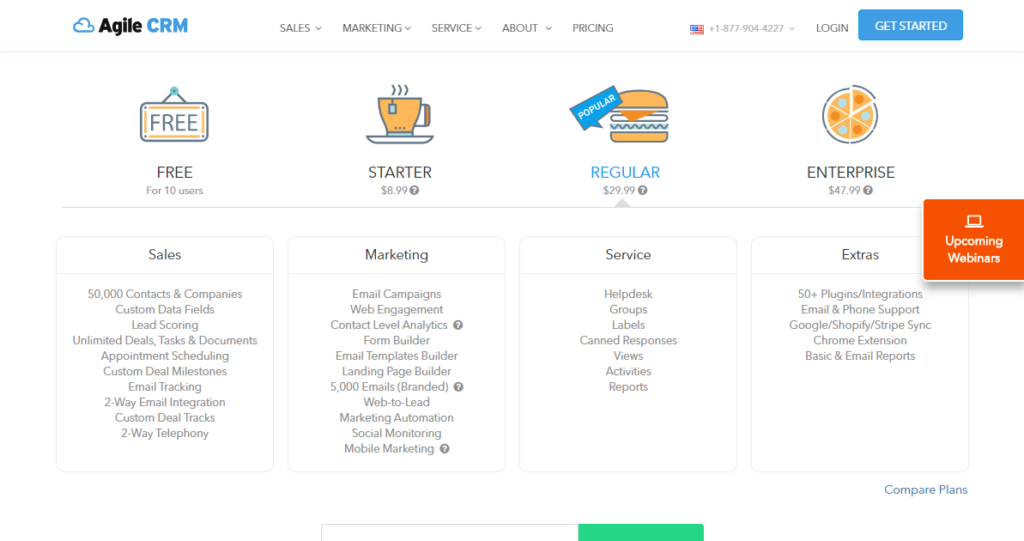 The free plan, however, doesn't include marketing automation and social monitoring tools. For that, you will need at least a "Starter" plan that costs $14.99 per month ($9.99 per month when paid annually) good for 10,000 contacts and companies.
5. Bitrix24 (Freemium)
Bitrix24 isn't just a simple CRM tool…
It's a suite of tools for teamwork and social networking. It's a one big giant platform comparable to HubSpot (or even bigger) with features and tools designed to support a business from zero to hero.
In a sense, you can use Bitrix24 as a file server, project management tool, form builder, messenger, HR system, invoicing, email marketing, and a dozen more in addition to its CRM features.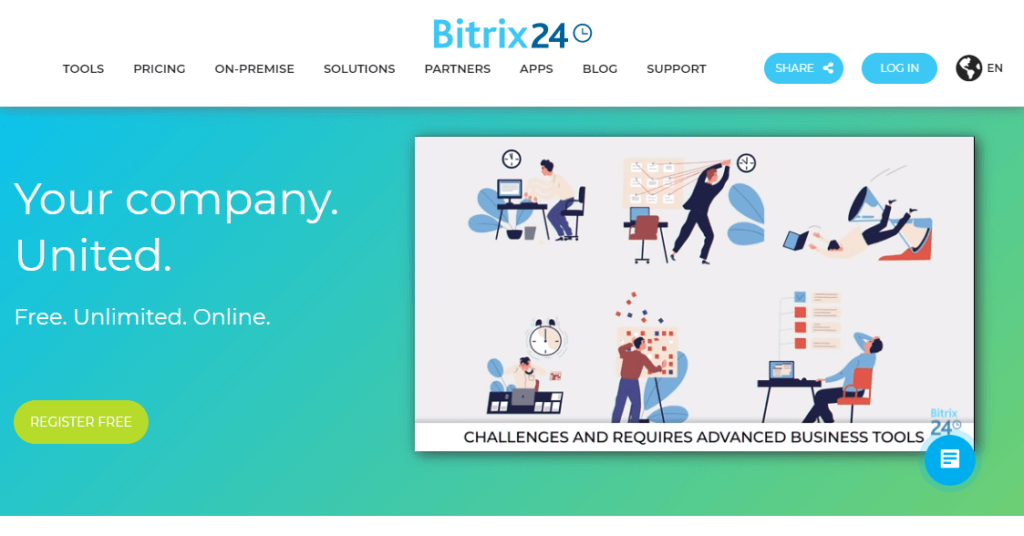 At first glance (image below), Bitrix24 looks like a combination of Yahoo and Gmail.
As you expect, almost every element on the page is clickable. From the dashboard alone, you will already know that this tool is much more complicated than that.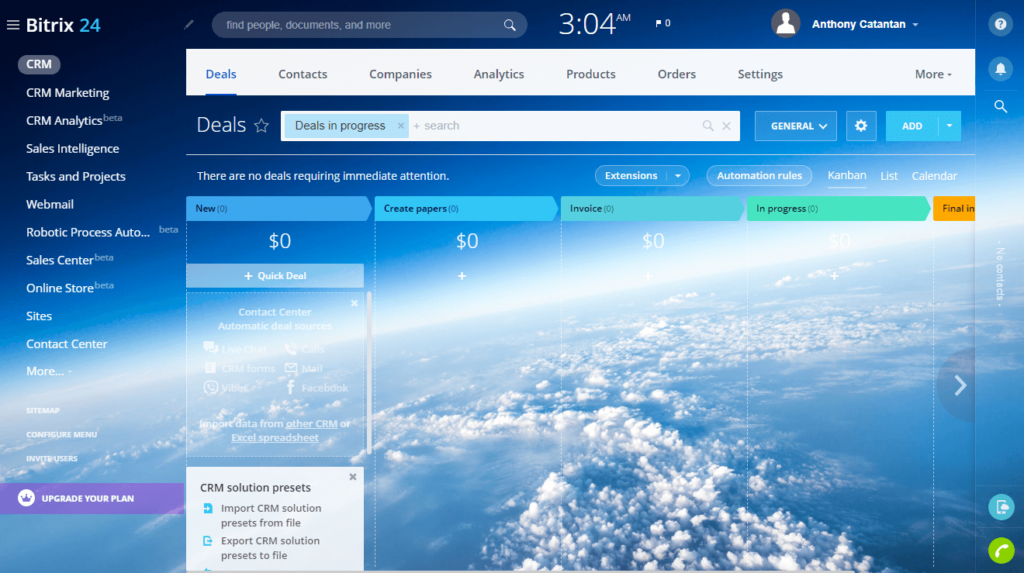 Bitrix24 has a free plan with access to basic features for almost every tool in the platform except for CRM marketing and sales intelligence.
Currently, their free plan also allows unlimited users in light of the recent pandemic. (I expect this feature to go away as things normalize.)
For access to advanced features, you got to upgrade to one of Bitrix24's special plans. The "Start+" is the lowest tier and costs $12.48 per month. Bitrix24 also has an on-premise solution that starts at $1,490.
6. Zoho CRM (Freemium)
Similar to Google and Microsoft, Zoho has everything, but cheaper.
I like using some of Zoho's tools since many of them don't cost as much as others and the quality is also top-notch. In fact, I've mentioned Zoho in one of my guides about the cheapest ways to create a business email.
Zoho CRM is part of their sales and marketing apps.
As such, it's designed to give you a larger picture of how your business is doing in terms of getting leads, marketing, and sales. Zoho CRM's dashboard is one of the most complete dashboards I have ever seen in a CRM tool.
Although this tool has a tendency to get complicated really quickly (like HubSpot), they managed to keep the user interface simple to use. All the features you need access to are listed at the top while the different pages under that feature are listed on the left sidebar.
(Figures shown below are samples only.)
If you're a freelancer who uses a lot of Zoho apps, you don't need to think twice about using Zoho (especially if you're using their email service provider).
You also don't have to worry about the price since Zoho CRM has a free plan (though it's not that easy to spot it on their pricing page).
The free plan includes all the features you would need in a CRM tool like leads, contacts, accounts, deals, tasks, and even advanced filters.
The "Standard" plan costs $12 per month and will give you access to more advanced features and social tools.
7. Betterlance (Free)
How about a CRM tool that adds new leads to your list every month? Sounds like a dream come true, right? Not anymore since the angle that Betterlance is looking at is being a CRM tool that gives you leads every month.
Betterlance's sales team uses different prospecting tools to find leads by matching your criteria to people who might need your services.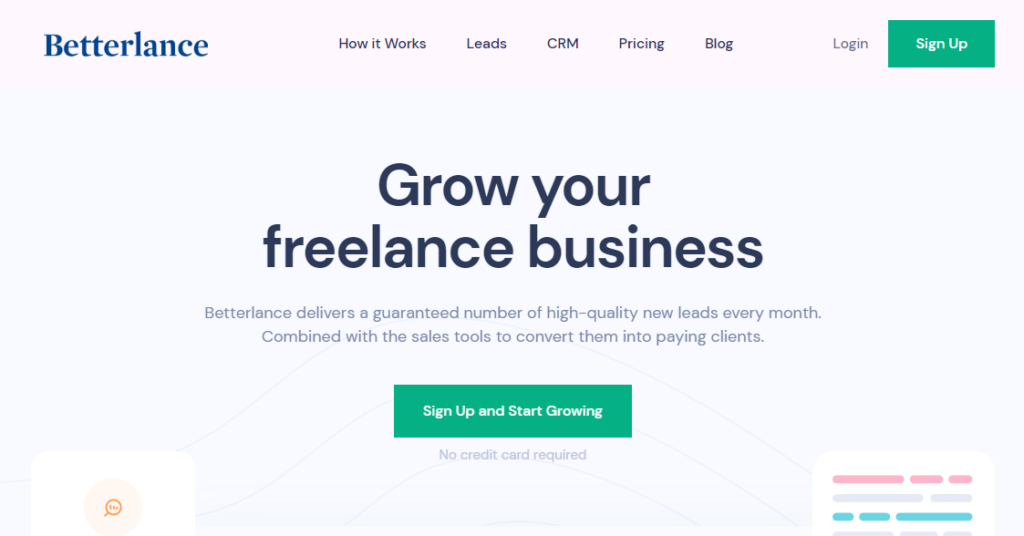 Depending on your needs right now, you would have mixed feelings about Betterlance. Like what you've read earlier, Betterlance focuses on providing freelancers with leads and automatically enters them into the CRM tool.
However, Betterlance's CRM tool only has basic capabilities. It's literally just a list of all your contacts, including the leads the platform will be giving you, with an added feature of sending your contacts an email.
The CRM tool itself is completely free. You can enter your own contacts by yourself and send them an email and automatic weekly follow-ups.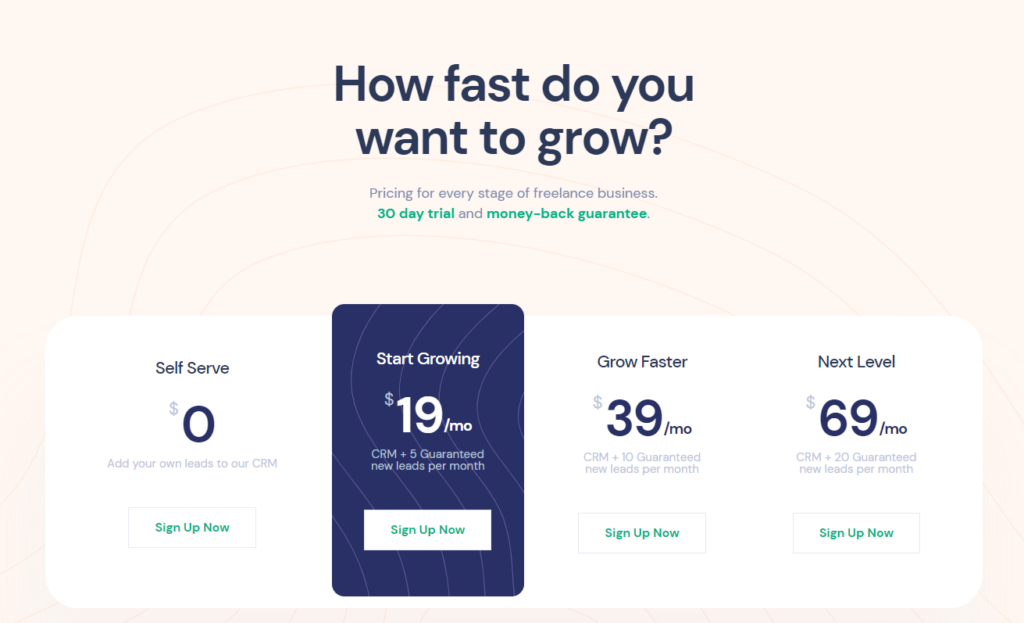 If you want to receive guaranteed leads every month, you would need to subscribe to their business service plans.
The starting plan, "Start Growing" costs only $19 per month and will give you 5 leads per month. (You can have each lead replaced if you're unhappy.)
Honestly, Betterlance is only good if you want to receive leads every month. If you only want to use their CRM tool, you're better off using Microsoft Excel (no offense, Betterlance).
Take note that their main business is about prospecting and lead generation so you shouldn't hold their basic CRM tool against them.
Improve Your Freelance Business With a CRM
This may sound counter-intuitive, but you really don't need a CRM tool to start a freelance business. However, a CRM tool will help you manage your business better especially when things start to go out of control.
Personally, having a CRM helped me manage all my contracts and send a message to the right person at the right time. Since I'm using Streak, which also has a project management capability, I'm able to keep track of all my writing projects without leaving my inbox.
If you're like me who keeps my Gmail open, then Streak might be a good fit for you. If you're looking for a robust CRM tool with all sorts of features, try HubSpot, Agile CRM, and Bitrix24. If you want a CRM made for freelancers, then Bonsai is your guy (or tool).
Now it's your turn…
Are you using another CRM that's not on this list? What's the best thing you like about it?
If you're looking for a CRM tool, try one on this list and let me know your choice.
Comment your thoughts down below.