A few months ago, I had to reach out to founders and business owners because of an online business opportunity.
I wanted to test it out first by sending a few emails so I thought of creating a business email address before purchasing a domain name (to avoid investing in an idea that might not be feasible).
After a few hours of research, I found out that you really can't create a true business email address without having a domain first. There's no way you can create a business email entirely for free.
Fortunately, it doesn't have to cost that much. In fact, you could have one right now for just a dollar per year. Hold tight and let me tell you how…
Do you really need a business email?
This is something that I have thought long and hard before creating my own business email. As someone who doesn't like any hassle, I prefer to use my professional Gmail account for business transactions.
But using a business email actually saved me from a lot of problems down the road. One of them is that I don't have to prove to the recipient how "I'm a part of this and that company" since they can see it from the email address alone.
I'm willing to bet that there are a lot of readers here who are not fully into "creating a business email" yet especially that you can't create one for free. (For you out there, this might be the push you're waiting for.)
Here are a few reasons why you should consider setting up a business email address:
A business email address makes your business (and you) look more credible and legitimate. It's hard to make someone trust you that you're part of this and that company or you're the owner of this "certain" business if your email address alone doesn't support that.
A business email address carries your brand with every email you send. Aside from promoting your brand with every email you send, the emails feel more official (as opposed to being personal).
Since a business email address makes an email seem more official, you can also expect a more professional response.
Furthermore, you need a business email address to be able to use certain tools and services online such as ConvertKit, AgileCRM, and Hunter.io. These tools will only allow you to register an account using a verified business email address.
(Personally, I prefer to use a business email address when dealing with matters related to that specific business. Since I already purchased a domain, I have decided to take it a step further by creating a business email address.)
If you already have a website for your business, you don't need to think twice about this. You need a business email address so that your customers will be able to identify you once you or a customer reaches out.
Sign up for exclusive updates, tips, and strategies
What do you need to make a business email?
Technically, you need two things to be able to create a business email address. The first one is a registered domain (like www.workpajama.com). The other one is an email service provider (or mailbox provider).
Without diving down into the technical mumbo jumbo, the domain name represents the administrative realm for the mailbox. It's the literal address where emails are sent to and from.
On the other hand, the email service provider is the email hosting provider that implements the sending, receiving, accepting, and storing of emails.
Because of these requirements, many domain registrars out there have email hosting options. There are also web hosts that include free email hosting in their subscription plans.
Finding the cheapest ones take time. To save you the trouble, check out these two methods I found to be the cheapest ones to create a business email address:
Method 1: Get cheap hosting with an email feature
This is perfect if you don't have yet a domain name and a website and you're planning on creating one in the future.
Getting web hosting will typically include a free domain (or at a super less price) and free business email features.
For this, I highly recommend Bluehost. Their basic shared hosting plan only costs $2.75 per month with 1 free domain and 5 business email accounts.
Once you select a plan, the next step is to run a search on your preferred domain. If your chosen domain name is available, Bluehost will bring you to the next page. Otherwise, you will have to choose another domain name.
Since you will be using the domain and web hosting for business email purposes (for now), deselect the rest of the package extras since you will not be using any of them.
You will then see the total price of your package go down.
If you opted for the 36-month plan, you will only have to pay $2.75 per month — that's $99 in total. Choosing either the 12-month plan or the 24-month plan will actually cost you more in the long run.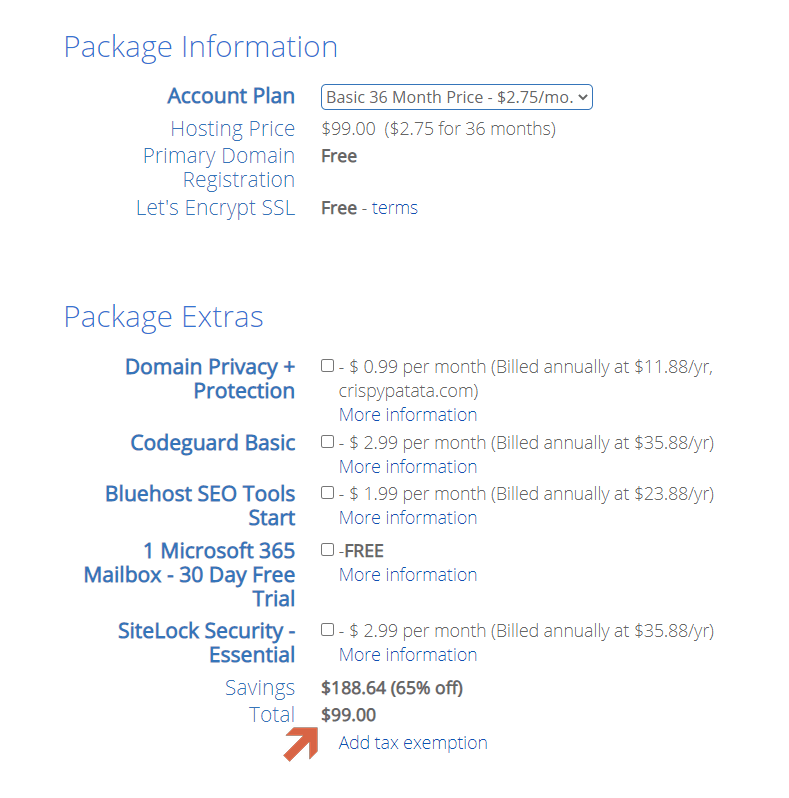 After you finish the payment transaction, Bluehost will send you an email about how to log in to your web hosting control panel. This is the place where you will be able to manage your website and business email accounts.
All that's left now is to create your business email address on Bluehost. Simply visit the "Email & Office" section of the control panel and find the "Create" button.
Then, specify the details of your new business email address such as the username, password, and the storage space you would like to dedicate. Later, you would have to choose a webmail interface too.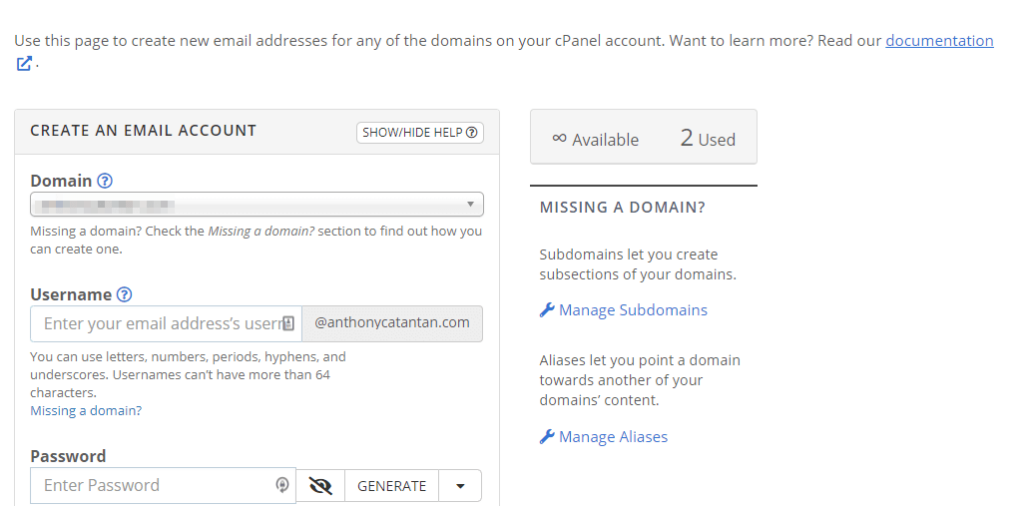 That's it! If you would like to check your email, just get back to the list of email accounts and click on the "CHECK EMAIL" button.
Every time you want to check your email, you will have to log in to the webmail interface.
Fortunately, you can access your Bluehost business email account in Gmail. Bluehost has a detailed explanation of how to do that on their knowledge base.
Method 2: Buy a domain and connect with a free email service
This next method costs way too less than the previous one. In fact, all you really have to do here is to buy a domain and connect it with Zoho mail.
To push the costs down, buy a domain from Namecheap and choose a top-level domain that's on sale. For example, I was able to buy a domain from Namecheap for only a dollar per year — nothing more, nothing less.
Check out how much it costs to buy an XYZ domain:
If you don't want any hassle, Namecheap has a paid email service that you can use to create your own business email. It costs about $10 per year, making the total cost to $11 per year. But that's not what I recommend.
Unbeknownst to some people, Zoho Mail actually has a forever-free plan. To avail, visit the Zoho Mail page first. Make sure to select "Business Email" and click the "Sign up for free" button.
The first thing you will see is a table that contains the paid plans of Zoho Mail, which actually start very low at only a dollar per month.
But if you would like to use their service for free, you have to scroll a little until you see the "Forever Free Plan" box.
Click the "Sign up now" button to proceed.
Then, you will be prompted to sign up with the domain that you already have. This is where the domain you purchased from Namecheap comes into play.
Note that you can also buy a domain straight from Zoho Mail.
The prices may be a bit low, but you will not be able to find TLDs that are on sale like on Namecheap. This is why I always recommend buying cheap domains from Namecheap.
After that, you will have to go through some steps to configure your account and connect your domain with Zoho.
Basically, you will be giving instructions to your domain from Namecheap to pass on all emails to your Zoho Mail account.
Here's what the webmail interface on Zoho Mail looks like:
Don't worry if you somehow got lost in the process of connecting your Zoho Mail with your domain (or maybe you find the instructions on Zoho confusing), Namecheap also has a similar guide that will teach you how to set up Zoho email for your domain.
Nice and easy! With this method, all you have to do is pay for the domain on Namecheap which only costs a dollar per year.
The only caveat with this method is that you can't access your Zoho Mail using Gmail...
Zoho Mail locked the forwarding and SMTP features on their Forever Free Plan. If you want to be able to access Zoho Mail with Gmail, you have to upgrade to one of Zoho Mail's paid plans.
Frequently Asked Questions About Business Emails
I had lots of questions too before I created my own business email. In fact, I must have asked 3 of the questions below and had a hard time finding the answer (since no one answered these questions directly).
But anyways, here are some of the frequently asked questions about this topic:
Can you create a free business email without a domain?
No, without a registered domain, there's no way you can create a business email that would reflect the domain name of your business. Your best chance of creating a professional email without spending a dime is on Gmail.
There are lots of alternatives to Gmail. But the bottom line is that you would only be able to customize the username part of the email address, not the domain name (since you would need your own domain for that).
Can you create a business email in Gmail?
You can create a Gmail account that looks professional, but you will not be able to change the domain. No matter how much you make your username look professional, the domain will still be @gmail.com.
But if you were able to create your business email somewhere, like in Bluehost, you may be able to access your email from a Gmail account (doesn't work with Zoho's forever free plan).
Can I get a business email without a website?
Yes, you certainly can create a business email even without a website.
But you must have a registered domain first to be able to do that. As you can see from the second method I outlined in this article, you can buy a domain from Namecheap for as low as a dollar per year.
You could then connect this domain to Zoho Mail's forever free plan.
That way, the only expense you will have is the domain. But if you have plans to create a website in the future, you should consider buying the cheapest shared hosting from Bluehost.
Can I create a business email for free?
Yes, if you already have (or bought) a domain name beforehand.
Zoho Mail has a forever-free plan which allows you to host your business email for free. However, if you don't have any domain name yet, you will have to buy one (Namecheap has a $1/year domain).
Create Your Own Business Email Easily
In the back of your mind, you know how important a business email is especially if you will be corresponding with customers or clients of your business.
But it's either the cost or the hassle of creating one that's holding you back.
In terms of the cost, as you can see from the methods I shared above, it's certainly possible to create a business email address that's almost free (a dollar per year is almost a negligible spend).
However, if you don't like the hassle of setting it up and would prefer to spend a little, you could always use G Suite for that. To save you a bit of money, register your domain through Namecheap instead of Google.
Now it's your turn…
Do you know of a better idea to create a business email address without spending too much?
Were you able to find a way to make a business email address entirely for free (including the domain name)?
Don't hesitate to share your thoughts below.