Sending creative gifts to your freelance clients is one way of making them feel special. Aside from being a kind gesture, it is also a nice way of letting your client know that you appreciate your business relationship.
But the problem is that finding a good gift for a client isn't easy. The fact that you're here means that you too are finding ideas online on what to give to your client.
Before we proceed with the "presents", let's talk about this first…
Is it "okay" to send gifts to clients?
For freelancers, the short answer is yes.
Sending a gift to a client (or to anyone, actually) is an important aspect of building good relationships. Outside of a business setting, the gift can be as simple as time and physical presence.
The problem, no matter how "harmless" it seems to send a gift, is that there is a risk of "gift-giving" being seen as a bribe.
In fact, in an office setting, doing so could spark corporate issues that may result in the suspension of both the receiver and the sender.
So when can you consider the sending of a gift harmless? Or rather, when is it not a "bribe"?
To answer that, I like what the Institute of Business Ethics published about the ethics of gifts and hospitality:
One principle to consider is whether there is an expectation that the business relationship will be influenced. If so, this is a bribe, not a gift…

The timing of gifts/hospitality is also relevant. An offer shortly before or after, or during a tendering process, for example, is inappropriate as it can be construed as a bribe, offered with the intention of closing the deal'.
As long as the gift was not meant (or timed) to influence a decision, or when you and the client know that the gift will not affect your relationship in any way (other than having you as a top of mind), then it is just that, a "gift".
But in case your contract with a client has clearly stated a "no gift policy", then that's a clear indication that gift-giving is not allowed.
If you really want to express your gratitude, then you can simply send a thank you letter instead.
Personally, if you're working as a freelancer, I don't think sending a gift to your client will be seen by someone as malicious or risky. You don't have pesky officemates who will gossip about it.
Sign up for exclusive updates, tips, and strategies
How much should you spend on client gifts?
It actually depends on how much you're willing to budget.
Although some sources say it should only be somewhere around $20, the answer depends on what you want to give to your client (and probably how much you're earning).
For example, let's say a single project from a certain client will net you somewhere around $10,000 for a span of three months. If you want to send your client a gift, I don't think a $20-notebook will do justice.
At the very least, you should spend at least 1% of what you have received. But again, there is no standard rule for this, so I should better leave this to your judgment.
Be that as it may, don't pressure yourself into buying a gift you can't afford. If your budget is only $20, then so be it.
What's important here is the thought of "giving a gift". Your client will love it, no matter how cheap or expensive the gift may be.
Examples of Creative Gifts You Can Send to Clients
Because we all have different budgets, I have prepared here all kinds of gifts that you can send to your clients. I also arranged them from the least expensive to the priciest ones.
This is in no way an exhaustive list, but all of them are good ideas.
Before you buy any of the gifts below, make sure that you know your client really well, or at least know some information about him or her. Don't forget to learn your client's address as you will be needing it.
1. Accessory organizer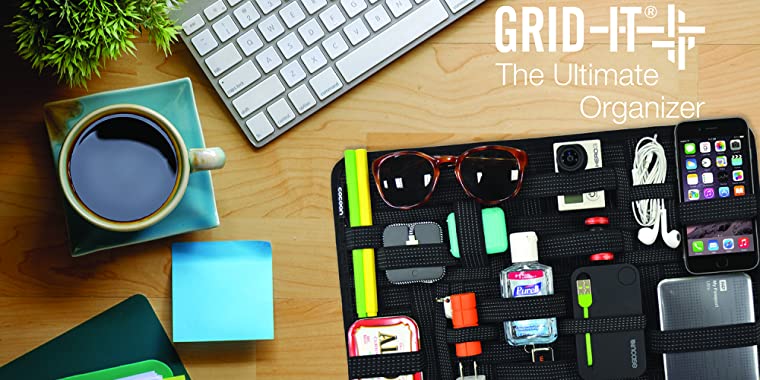 The best gifts for clients are those that he or they can use, and everyone can make use of a good accessory organizer, like the one shown above.
This item is useful no matter who your client is and what he or she does when not working. The accessory organizer from Cocoon works with gadgets, makeup, tools, and other supplies.
It's not only good for storing your client's things but he or she can also use it on trips, as the organizer is designed to hold items firmly in place.
This product is available in two colors: black and gray. The black one costs $19 while the gray one is slightly pricier at $24. Its dimension is 9.75″ x 15″, which is plenty for organizing digital devices and personal effects.
If your client is adventurous and you feel that the price tag of the accessory organizer is way too low, you can add in a backpack from Cocoon, which ranges from $43 to $99, depending on the bag's design and size.
Who doesn't like chocolates? Well, I certainly do, and 9 out 10, your client does too. So if you're thinking of sending your client a good food gift, this chocolate cookies gift basket from Barnetts might do the trick.
For only $25, your client will receive an elegant-looking gift box with twelve chocolate-covered cookies. While writing this section, I can't help but think about how good these cookies will taste, especially when you dip them in milk.
But anyway, this gift works for any occasion be it a birthday, Valentine's Day, Easter, Christmas, you name it. Take note, however, that this product contains allergens such as nuts, wheat, eggs, and peanuts.
If your client is health-conscious, then you should think twice before sending him or her some chocolates. On that note, you can try sending your client healthy foods like this classic fresh fruit basket gift.
3. UV light phone sanitizer
Covid has been a major pain since 2020 and has made people paranoid about being exposed to others. If you find your client mentioning the pandemic a few times, then giving him or her a phone sanitizer works really well.
This Johns Avenue UV phone sanitizer and charger is one of the best out there, considering it only costs $32. It sanitizes anything that can be fitted into it with its six germicidal UV-C bulbs.
Aside from sanitizing your phone, it also works as a phone charger. It has a speed charging capability of 7.5 watts for iOS and 10 watts for Android.
Most UV light sanitizing boxes are as small as this doesn't have any phone charging feature.
The box is good for items up to 6.6", which will fit even plus-size phones (looking at you, Samsung Note 20 Ultra). But if you need something twice as that, this UV sterilizer box from Babyfeel works well, too.
4. Corkcicle drinkware
The truth is, I almost didn't include anything related to drinkware in this article. However, these products from the Corkcicle Store caught my eye because of their well-designed drinkware, like this walnut wood coffee mug.
That one only costs $34. Their mugs all have triple-insulated stainless steel, useful for keeping your drink hot for three hours. They also have a shatterproof, crystal-clear lid with a detachable silicone gasket.
If your client was in the military, and assuming he or she still likes military stuff, Corkcicle also has a woodland camo-colored canteen sport. It is a bit more expensive, but it is also quite bigger.
Their sports canteens can also maintain your drink's temperature longer than their mugs. They are still made of triple-insulated stainless steel, but the canteens can hold your cold drink cold for 25 hours and your hot drink hot for 12 hours.
5. Smart mug
The last drinkware on this list is this smart gravity-induction mug warmer, which can warm any beverage at 131℉/55℃. If you notice that your client keeps on drinking hot stuff during meetings, then this is a good choice.
Since it has gravity induction technology, there is no hassle in turning it on and off. When your client places your mug on it, it will automatically activate and warm the mug. Once your client removes the mug, it will shut off on its own.
This product only costs $36. If that's too cheap for your client, then you can try the more luxurious Ember temperature control smart mug. What it does is keep the hot drink at a temperature your client prefers.
What's even more amazing is that the Ember smart mug can be controlled with a smartphone. All your client has to do is pair the Ember App with his or her phone to set up the temperature and receive notifications.
6. Back and neck massager
Who doesn't need a good massage these days? I know your client needs one too. Unfortunately, going out is not a good option, as your client may catch unwanted viruses and sickness.
That is why sending him or her a back and neck massager like that one from Nekteck will do. At a measly price of $42, the product can certainly alleviate muscle soreness, eliminate fatigue, and ease neck stiffness.
Did I mention it is good for relaxation too?
In addition to that, this machine is equipped with a built-in infrared advanced soothing heat function, which can improve blood circulation and make the massage even better. There are also three-speed strength levels to enjoy.
7. Amazon gift card
If you're not sure what to send, how about you let your client decide? Some people don't really have a defined taste in what they want. Others also have sporadic cravings and wantings that you really can't guess what's next.
In that case, sending your client an Amazon gift card works really great. However, sending it via email seems unceremonious sometimes. When possible, try ordering a physical one with a mini envelope.
That's why the link I gave above will direct you to buy a physical copy of a gift card. The gift card will be enclosed in a thank you mini envelope. It will open up flat to display the gift card in the center.
You can buy a gift card for as low as $10. However, I suggest you buy at least the $50 card. The other one seems too low and will not give your client freedom to buy something aside from super cheap stuff.
8. Noise-canceling headphones
This one actually came to my mind the other day when I had a call with a client and I felt he could use noise-canceling headphones. So I set out on a mission to hunt for one that has great quality but isn't too expensive.
Alas, I found the Vankya Hybrid Active Noise Cancelling Headphones, a highly-rated product with reviews that I'm satisfied (and confident) with. To top it all off, it only costs $59.98, a low price for great noise-canceling headphones.
Your client will love these headphones as they will be able to reduce ambient noises by up to 90%. It also has a Hi-Fi audio sound and a deep bass, with dual 40 mm large-aperture drivers that can deliver frequencies up to 40 kHz.
Another cool thing about this product is that once you charge it to the maximum, it can reach a 30-hour playtime. A 10-minute quick charge can provide your client with two hours of use.
Bonus points for the carrying bad and foldable design.
9. DNA testing kit
This is perhaps the most interesting client gift idea here. There are a few personal DNA kits out there, but the most amazing one that I found was the 23andMe Personal Genetic DNA Test, with 2,000+ geographic regions and trait reports, all for $99.
As a Latter-Day Saint (Mormon), I'm always game for everything related to family history. But I'm pretty sure that if your client is a family man or woman, he or she will appreciate this gift as this will reveal the ancestral story.
What I find amazing with this kit is that you will get reports about the traits that make you "you", like freckles and hair photobleaching. Other cool examples include musical aptitude as well as taste and smell preferences.
By the way, let your client know that the results are encrypted under his or her control. Furthermore, if your client has a noticeable Asian ancestry, you might skip this one since there are only four Asian regions available.
10. Kindle Paperwhite (with books)
If your client likes to read books and he or she doesn't have an ebook reader, then you should definitely send a Kindle Paperwhite. As an ebook reader, this product is perfect, especially at a price of $129.
Adding books will make your gift even better. You have two choices here: buy individual books and send them to the Kindle, or the more convenient one, which is to simply bundle Kindle and Kindle Unlimited (for the same price).
You can only do that if you purchase the product and select "Add a Gift Receipt" during checkout. You should also take note that the free 3-month Kindle Unlimited subscription will auto-renew for $9.99 per month after three months.
This Kindle Paperwhite is available in four colors: blue, sage, plum, and good old black. The product I recommend has only 8 GB of storage, which is enough for ebooks. But you can always upgrade to 32 GB.
Build Long-Lasting Relationships
Sending a gift to your client is one of the best ways to build long-lasting relationships. If you have any clients that have been with you for a while, it's always a good idea to send them something as a way to say thanks.
Furthermore, you will become top of mind for that client. You will forever be known as "the freelancer who sent me [something]".
But before you send your client a gift, make sure that you know him or her. It would be a fatal mistake to send your client something that he or she doesn't like or worse, is allergic to it. So better know your client better.
Now it's your turn:
Did you experience sending a gift to your client? How did it turn out?
Do you have more ideas for a creative client gift? What is it and how much does it cost?
Share your thoughts in the comments section below.