If you want to start earning as a freelancer but you're worried because you feel like you don't have any skills, don't worry, you're not alone. In fact, I was in the same boat when I started out as a freelancer.
Most people think that you need to know something special in order to earn online. But that's not true. Some of the things that you have learned in your life can be used to make money online.
For those of you who want to start earning online, I have created this list of beginner freelance jobs that you can take even without specialized knowledge. If you feel that what you know is lacking, then consider it a list of quick freelance skills you can learn.
Let's start!
What freelance skills can be learned quickly to earn money?
Disclaimer: Please don't consider this list exhaustive. There might be a few ones that are not on this list that you can quickly apply or learn to earn online. What I'm sure of is that everything here will enable you to find an online opportunity quickly.
If you have any other suggestions or additions, please don't hesitate to comment them down below so that I can add them to this list.
1. General Virtual Assistant
In the most basic sense, virtual assistants help clients with administrative, technical, or creative work, remotely. Think of it as becoming a personal assistant for someone, but you only help him or her online.
The cool thing is that you can actually start working as a virtual assistant even without experience.
I should know, I started out as one. In fact, my first task as a VA from a client I found from Upwork was to research different churches in Aurora, Colorado.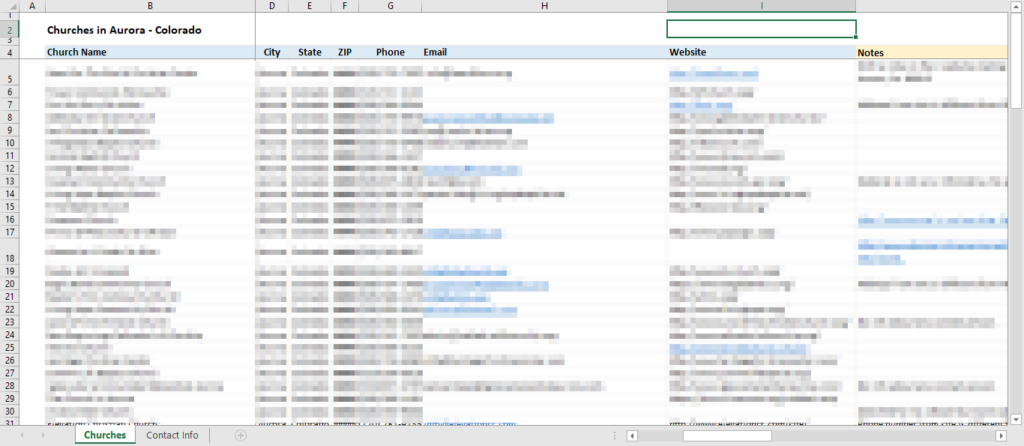 The job was easy. All I had to do was to research churches in the area specified using a tool, find some information about them, and copy-paste them into a spreadsheet that the client has prepared.
Does that seem like a specialized skill for you? Nope, it was plain and simple.
One thing you should know though is that there are different types of virtual assistants, mostly differentiated by what they "specialize" in, like:
Admin
Social media
Graphics
Ecommerce
Real estate
Content
For starters, if you really don't have any other skill aside from knowing how computers work, then you can be a general or admin virtual assistant. It has the easiest tasks and is mostly about:
Internet research
Email management
Documents and files management
The content of this job post is an example of a task that you do as a virtual assistant.
You also don't need any specialized equipment. To start working, all you need to have is a laptop or a computer and an internet connection. Any software you will need to use is usually provided by the client.
Further reading: For those who want to improve their shots as a virtual assistant, I have prepared a list of the best virtual assistant training courses to take. Learning them might give you an edge in the field.
2. Content Writing
Writing is probably one of the most ancient jobs in the world.
Even with the rise of different types of media like videos and audio — add to that the threat of AI taking over writing jobs — companies will always need someone (a human) to write their content.
That is why you will see an abundance of freelance writing jobs available on Upwork:
When you say content writing, it refers to the process of creating written web content, usually for digital marketing purposes. Written content has many forms, with the most popular ones being:
Articles
Blog posts
Video scripts
Podcasts scripts
Social media content
What I like about content writing is that you will never run out of writing opportunities. What's even better is that whenever you land recurring clients, you will not have to keep on finding new ones since most will prefer you to write for them continuously.
The downside is that there may be times when you have to write about topics that you don't like that much. That's why it's important that you niche down and focus only on topics and industries that you enjoy writing about.
But take note that not all niches are made the same. There are those that can be considered "more profitable" than others, such as:
Cryptocurrency
Ultimate guides
Ebook writing
Finance
Technology
When you become a niche writer, you can ask for a higher rate, especially when you have a track record of writing articles in that niche. It also helps if you're a subject matter expert or if you're experienced in that certain niche.
Further reading: There are freelance writing online courses out there that will teach you further about content writing. I also included a course there about how to use WordPress, which is really a sought-after skill.
3. Editing and Proofreading
One time, I wrote for a startup recruitment firm. When I finished the article, there were two people who went through my article and mercilessly edited it to the point that it's almost discouraging on my part.
That client paid me handsomely, which is why I'm certain that those editors were paid the same or probably even more, considering how expert they seemed at their work.
If you're knowledgeable about English grammar and structure, you can earn a lot of money as a proofreader or an editor. In the past, I too hired a few people to go through my writing and check for errors.
By the way, you should know that proofreading and editing are not exactly the same thing.
Editing: This usually comes first and is concerned with correcting issues related to sentence structure and language clarity.
Proofreading: This comes after the editing process and is more like a surface-level check, or the final check that's done on the article.
However, they're usually pooled together and it's often assumed that whenever you have a proofreading or editing contract, you have to do both. You can always ask your client for clarifications.
When finding an opportunity, you can always try freelance platforms. There are usually proofreading and editing jobs there put out by agencies and companies. On the other hand, if you know content writers, you can also ask them if they know of such opportunities.
4. Social Media Management
Social media management is another work you can take on right away for a simple reason: you already know the ins and outs of the most popular social media platforms. All that's left to learn is the strategies you need.
Social media management is the process of managing the online presence of a certain profile or page on social media platforms and creating publishing, promoting, and managing content across these platforms.
The most common platforms for social media management are the following:
Facebook
Instagram
Twitter
LinkedIn
Pinterest
If you have an account on these platforms and you know how to use them, then you are almost there.
The difference between operating your own account and someone's online presence is that you need to think of social media management as a means to increase the presence of that brand or company.
This means you need to:
Research the brand or company's target audience
Design a social media strategy
Build a content calendar
Create content specific to a platform
In addition, you also need to respond to the fans and followers on social media. Engagement with others is key to growing the online presence, which is why social media management is more of admin work, rather than marketing.
To make your work easier, you will need to learn how to use social media management tools like:
Buffer
Hootsuite
CoSchedule
There's a lot of opportunity in social media management. Lots of companies have dormant social media handles simply because they don't have someone to do the work for them.
5. Social Media Marketing
If you have studied marketing in school, or have little experience with it, you can combine your knowledge with what you know about social media. Since this is still about marketing, it also helps if you know some copywriting.
Social media marketing is often confused with social media management as they're both social media-related opportunities. However, social media marketing is more about using social media to market and grow the business.
While social media management is centered around managing social media accounts, social media marketing focuses on designing and executing a strategy that will enable the business to generate leads and make sales.
Be that as it may, both of them share similar metrics on the social media platform themselves:
Share
Followers
Comments
Email signups
Website clicks
The difference is, that social media management is more focused on increasing the online presence while social media marketing is about driving that presence into sales. That is why social media managers and marketers usually work side by side.
Another thing to note here is that it would be helpful if you have some knowledge about social media advertisements. Some clients task social media marketers to run some advertisements to help with the marketing efforts.
6. Customer Service
Personally, I know quite a lot of young people who are mostly working night shifts in call center firms. What they usually do when their contract expires is apply to a neighboring call center firm and negotiate for higher pay.
The truth is, you can find your own customer service clients even from freelance platforms like Upwork.
As you may know, call center firms only act as middlemen between agents and the clients themselves. Unfortunately, this middleman cuts as much as half of what the clients are paying, which is big when you think about it.
That's why if you experience working in a call center firm, you can always use that advantage to try and find clients of your own and eliminate the middleman. This enables you to demand a higher rate.
By the way, there are different kinds of customer service work that you can take including:
Customer service representative
Telephone research interviewer
Customer success manager
Customer support engineer
Implementation specialist
Call center agent
Live chat agent
Although each has its own "qualifications", all of them require you to have effective communications skills and can handle (or endure) irate customers over the phone while remaining calm.
The downside to most customer service jobs, however, is that you will have to attend work in a fixed time, ala-employee style. Unlike other opportunities out there, you will need to follow a schedule, which is the time when the target customers are awake.
7. Transcription
Transcription is simply the process of converting an audio or video recording into text. In other words, the end product is a word-for-word written copy of that audio or video recording.
Before the internet, transcription services were already here. Clients mail a disc or a tape to the transcriber and after the job, the transcriber will mail back the document. This process usually takes days.
Now that we have the internet, there is still a large demand for transcription opportunities from different industries including:
Podcasters
YouTubers
Executives
Coaches/mentors
Transcription doesn't require a special skill. In fact, all you need to do is to listen carefully to what you hear from the audio or video file, type it into a document, make sure the grammar is correct, and send the document to the client.
On the other hand, it's not really that easy to do. Yes, it doesn't require some kind of skill. But it will need a lot of patience especially when the audio is not that clear or when there are a lot of background noises.
As for finding opportunities, freelance platforms and direct contact aren't your only weapons. There are a lot of websites out there that you can use to land a transcription opportunity.
You can check out:
Now, if you have plans on staying a bit longer as a transcriber, you should definitely look into buying some transcription tools like a foot pedal or specialized software that will help transcribe faster and easier.
8. Email Work
If you have subscribed to newsletters, then you must have known by now that companies regularly send emails to their subscribers. Most of the time, those emails were written in advance.
That is why there are a lot of opportunities involving email work including:
Email writing
Email marketing
Email automation
Fortunately, you don't need any other skills aside from knowing how to write (persuasively). I even know a guy who didn't finish his schooling but he's now earning thousands of dollars a month from writing emails.
Some opportunities may be in your favor if you have a talent at selling since a lot of companies are using email marketing to increase their sales. But if not, you can settle with writing emails, usually in the form of newsletters.
If you want to further increase the opportunities available to you, learn how to use email marketing platforms like:
Mailchimp
Convertkit
Aweber
Most of them have free learning resources on their websites. You can also practice on them since most of them have free plans good for a limited number of contacts (or a limited number of emails you can send per month).
9. Video Scriptwriter
After Google, YouTube is the second most-used search engine in the world. With more than two billion logged-in users every month, companies are always hustling to take even a tiny bite out of that number.
That is why you will see a lot of job posts looking for video scriptwriters on different freelance platforms:
Aside from well-established companies, they are also a lot of self-made gurus, coaches, and mentors who are using YouTube to reach their target audience. Some also use videos to supplement their income.
That is why I consider video scriptwriting as low-hanging fruit in freelancing. However, you must take note that writing for videos is different compared to when you're writing content that is meant to be read.
For example:
Script for videos is usually kept short and sweet. The "less is always more" quote is true when it comes to videos.
Most scripts include visual and audio elements to help the editor during editing.
Telling a story is central to grabbing the viewer's attention.
If you want to start working as a video scriptwriter, you can always try and hit on job posts found on freelance platforms. On the other hand, you can also try finding clients via social media, especially ones that have active channels on YouTube.
10. Graphic Design
In the past, I was a technical writer for a Software as a Service (SaaS) company based in South Africa. When December came, he asked me if I knew someone who knows how to do a graphics design.
Turns out, he needed someone to do a basic design for their holiday shirt.
Fortunately, I dabbled a little bit with Photoshop. Of course, I wouldn't say that it's everything that you need. But knowing how to use image-editing tools is helpful in landing opportunities.
Anyways, that opportunity started out as a chance to design their shirts. Eventually, I started designing elements on their websites and some more opportunities sprung from that single moment.
The point here is that, if you have a flair for design, there are a lot of graphic design jobs that you can take. In fact, with the help of platforms like Canva, it's even easier now more than ever since there are already templates available.
Some of the things that a graphic designer is tasked with doing include:
Designing website elements (logo and banner)
Designing social media posts and advertisement banners
Retouching ecommerce photos
If you don't have any experience yet but you like to design stuff, you can try and head to Canva and see some of their templates there. You can also check out some Photoshop tutorials on YouTube and try them out on your own.
Sign up for exclusive updates, tips, and strategies
Spot Low-Hanging Opportunities
As you can see, there are a lot of low-hanging opportunities that you can grab now even if you think you don't have any special skills. You may have an experience or two that will enable you to earn online right away.
My #1 advice to you is to look inward first. Do what I call a "skills audit" and see what skills you may have learned from certain experiences that you had, maybe from a group project that you did before or from a summer job you took.
Like I told you in the introduction, I was in the same boat a few years ago, and I was still able to find opportunities. What's important is that you keep on trying and never give up. There will always be a long-hanging opportunity that you have spotted yet.
Now it's your turn:
Of the ten opportunities listed here, which one do you think you can do right away?
Do you have any questions regarding beginner freelance jobs?
Share your thoughts down below and I'll respond to them.